By Lt. General P.C. Katoch (Retd.)


Former Director General of Information Systems, Indian Army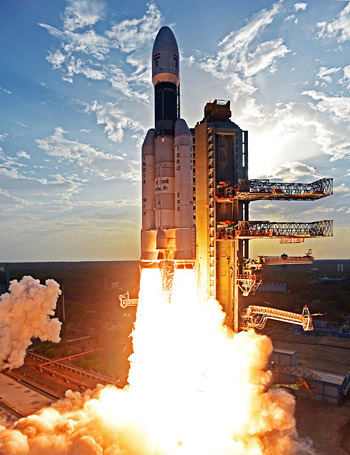 GSLV Mk III lift off
When India fired the high thrust cryogenic engine CE-20 launching GSLV Mk-III in its first experimental flight from Sriharikota on june 5, it was a monumental leap drawing the curtain on what the US sanctions prevented ISRO from doing in 2003, even as the US seeks strong ties with India in wake of all round Chinese aggression. If there were no sanction, India's GSLV Mk-II would have been operationalised in 1999 and GSLV Mk-III launched in 2003. ISRO launched a project to build a cryogenic engine in 1994 and the knowledge their engineers acquired through pilot projects like the development of a 12-ton thrust engine, one-ton and seven-ton engines in the 1980s came in handy. According to ISRO scientists, the engine CE-7.5 can be called an indigenous version, working on a staged combustion cycle, with Russian design. While work to develop a high thrust CE-20 engine began in 2002, the technical issues of its predecessor delayed the project.
On April 15, 2010, the engine failed 800milliseconds after ignition during the launch of GSLV-D3 carrying GSAT-4 satellite. ISRO used one of the last two Russian engines for their next launch, but the liquid fuel boosters failed. Another attempt at launch using an indigenous cryogenic engine on August 18, 2013 had to be aborted. Developing CE-20 engine and testing it was equally challenging, as it was a completely new technology than CE-7.5. CE-20 engine was designed to provide double the thrust and lift double the payload weight than the previous engine. While GSLV Mk II saw first success in January 2004, ISRO continued with some 200 tests over the years on the systems and sub-systems of the CE-20 to improve the design and analysis to make it flight ready. Technology enabled making changes concurrent to testing the sub-systems.
When ISRO successfully launched the 640-ton GSLV Mk III rocket on June 5 from Sriharikota carrying the GSAT-19 satellite, India got established in the global heavy payload market and set the ball rolling for future ISRO projects including Chandrayaan-2 and manned missions that can carry Indians into space. After the rocket, nicknamed 'Fat Boy', fired by a high thrust indigenous cryogenic engine lifted off at 5.28 PM, GSAT-19 (the county's heaviest satellite) was placed in a geosynchronous transfer orbit 15.53 minutes later, few seconds earlier than scheduled. The nickname 'Fat Boy' is interesting considering the thermonuclear bomb that the USA had struck Nagasaki too was nicknamed 'Fat Boy', the one dropped earlier on Hiroshima being smaller and carrying nickname 'Little Boy'. Prime Minister Narendra Modi congratulated ISRO by saying, "GSLV-MKIII D1/Gsat-19 mission takes India closer to the next generation launch vehicle and satellite capability. The nation is proud." It may be recalled that just one month earlier, on May 5, ISRO had launched the GSAT-09 or SAS (South Asia Satellite) – PM Modi's gift for integrating South Asia.
In February 2017, ISRO's PSLV rocket had carried an astounding 104 satellites into space. The successful launch of GSLV Mk III, which cost ISRO Rs 300 crore has not only set the stage for ISRO's manned mission, it has also proved the efficiency of CE20 indigenous cryogenic engine, a completely new technology designed to double the thrust and capability to lift double the payload than the previous GSLV Mk II, which could only carry a 2-tonne payload. The development of this advanced indigenous engine has put India into an elite club of select nations (US, European Space Agency, Russia, China and Japan), which have mastered the cryogenic engine technology'. GSAT-19, launched by GSLV Mk III, is a multi-beam satellite to monitor and study the nature of charged particles and influence of space radiation on satellites. ISRO had employed two new technologies for GSLV Mk III at the launchpad: an accoustic suppression unit using a tower with 600 tons of water, and; a solid propellant plant to prepare the 200 tons each of propellant loaded in each motor. The suppression unit splashed water on the rocket when it lifted off. Two days after the sucessfult launch of GSLV Mk III putting GSAT 19 in orbit, it sent back a selfie shot by high-resolution cameras that had been fitted on the rocket. India now looks forward to ISRO launching Chandrayan II. Given the dedication of ISRO scientists, indigenous launch of the first Indian astronaut into space should be coming through in next few years.
Photo Credit: ISRO