By Lt. General P.C. Katoch (Retd)


Former Director General of Information Systems, Indian Army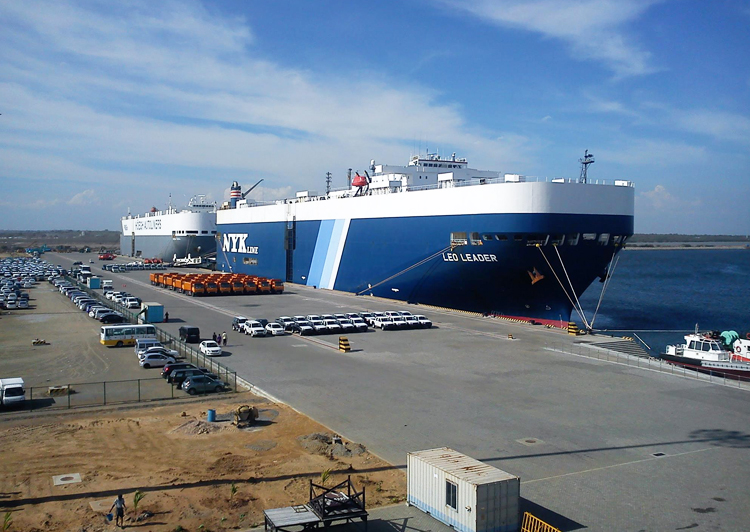 Hambantota Port
Sri Lanka's Hambantota port has been officially transferred to China for 99 years by the government of Prime Minister Ranil Wickremesinghe. It may be recalled that former President Mahindra Rajapaksa had given Hambantota to China for the first phase of development. Last year, the present Sri Lankan government declared Hambantota Port a "white elephant" that was bleeding the nation and adding to its huge foreign debt, a large portion of it owed to China as repayment of loans for infrastructure projects launched by the Rajapakse government in 2008-09. The default of Premdasa perhaps left no option for the Ranil Wickremesinghe government to hand over Hambantota to China for servicing the debt on the loan it took from Exim Bank China to build the port; for the $ 1.5 billion Hambantota Port development in Phase 1, 85% of the finances came as loan from China's Exim Bank, at an interest of 6.5%), the repayment amounting to SL Rs 9.1 billion ($ 60 million) annually. Why current deal is for 99 years (read permanently) is something that Sri Lanka could have avoided. This is just the beginning of the debt trap that Sri Lanka will find very difficult to recover from. Notably, the first phase of development of Hambamtota under Premdasa cost $ 650 million and commenced operations in 2011 but by December 2016 instead of being able to adhere to the agreed debt repayment schedule, the cumulative losses rose to over $ 3 billion. China's debt invasion of Sri Lanka had begun in 2008-2009, which has now been compounded by the 99-years Hambantota deal.
China's Merchants Ports Holdings Company Ltd, which also has the contract for Colombo Port, gets charge of the operations under a $1.12 billion deal with 70% stakes. Three years back, an article in the China Daily stated that China plans to build 18 bases in the IOR. This must have been a rare lapse and heads may have rolled because China immediately denied such plan. However, it is pertinent to note that the original article not only outlined a blueprint for the establishment of 18 Chinese "Overseas Strategic Support Bases" in the IOR, but also recommended three specific categories of such facilities: fueling and material supply bases for peacetime use (like Djibouti, Aden and Salalah); relatively fixed supply bases for warship berthing, fixed-wing reconnaissance aircraft and the naval staff ashore rest (Seychelles); and fully functional centres for replenishment, rest and large warship weapons maintenance (like Gwadar in Pakistan). Gwadar gives China immense strategic advantage because of its proximity to the Persian Gulf and the Strait of Hormuz. While China has already dispatched naval troops to Djibouti and plans to deploy PLAN to 'safeguard' Gwadar, given the strategic location of Sri Lanka, Hambantota is a major jewel in the crown of China.
Over the past decade, not only has China engaged in ports development projects in Myanmar, Bangladesh, Pakistan and Sri Lanka, Chinese economic ties with Africa, and the concomitant rise in its naval profile across the IOR have been conspicuous. The magnitude of investments like in Sri Lanka (Colombo and Hambantota) knowing full well the economy of the country, pay back is aimed to be retrieved in strategic terms. When a Chinese nuclear submarine and warship docked at Colombo in yesteryear, the nuclear submarine did not dock at the Sri Lanka Port Authority (SLPA) berths in Colombo mandated to accommodate military vessels but instead at the Colombo South Container Terminal (CSCT), a deep-water facility built, controlled and run by the China's Merchants Ports Holdings Company Ltd through an aid project costing $650 million. The CSCT may be better suited for submarine dockings, but it is also a 'Chinese enclave' within a Sri Lankan administered harbor, the berthing itself being a violation of protocol. Similarly, in Maldives, China's Integrated Development Project rides on huge concessional loans and aid financing from China. The loans are on such high rate of interest that Male will default unless given a waiver. So the waiver will come with a strategic price - in exchange to 'control' over maritime projects as done in Sri Lanka.
Sri Lankan is confident they would be able to repay the loan but look at what is happening in Pakistan with the CPEC (one-way traffic to benefit China): January to June 2016, Chinese imports to Pakistan surged by 30% while Pakistani exports to China dropped by 8% with Pakistan blaming Beijing's trade barriers and the FTA that is tilted "against" Pakistan; Pakistan's current account deficit rose 121% between July 2016 and February 2017 – heading to almost double that of India; despite billions of dollars of investment promised by China, Pakistan received only $1.3 billion in that period. So, is the CPEC largely being financed by intra-Chinese transfers or 'debt'? Like Hambantota, CPEC started with loans that will eventually be converted into equity. The Chinese company has agreed to sell to SLPA 20% of its stake in 10 years but what would happen in event of default in repayment is anybody's guess. The agreement prohibits military activities and overall control is vested with Sri Lankan Government but PLA personnel would already be present in Hambantota right from the development of the first phase. Many would be unaware that China had actually asked the Premdasa Government to position a company of PLA at Hambantota, which was refused. But all Chinese development projects across the globe have PLA personnel including Chinese Special Forces in civil attire. In addition, Chinese nuclear submarines and warships in the past have merrily docked at CSCT, Colombo, violating a similar agreement.
What should worry Sri Lanka is getting drawn into the Great Game unfolding in the IOR. China has recently commissioned its second aircraft carrier, is building another six, and with her nuclear submarines and warships already crisscrossing the region, plans to deploy two CBGs in the IOR for the time being. What is of great concern is the mounting all round aggressive attitude of China. What Sri Lanka needs to ponder over is that if future Chinese actions lead to multinational conflict in the IOR, Hambantota and CSCT, Colombo may become targets?