| | |
| --- | --- |
| | The Author is Former Director General of Information Systems and A Special Forces Veteran, Indian Army |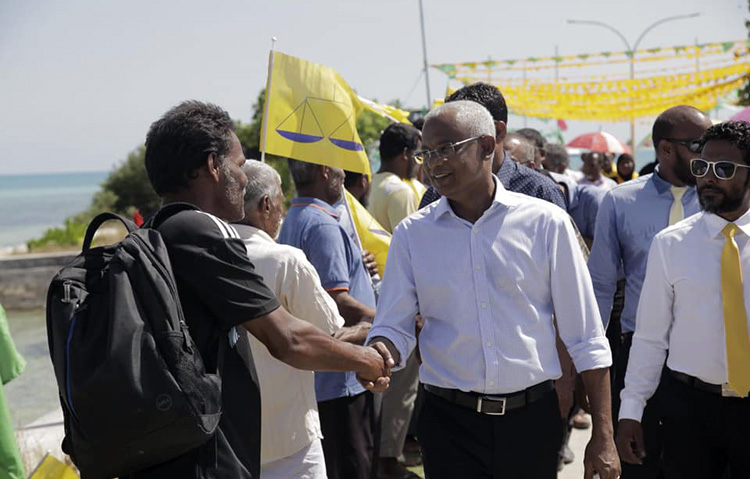 Mohamed Solih the new President of Maldives
Maldives has turned a leaf with the surprise defeat of President Abdulla Yameen in the recent elections. Mohamed Solih, consensus candidate of the joint opposition has emerged winner. Yameen incidentally is half-brother of former President Maumoon Abdul Gayoom, yet Yameen had no compunctions in throwing Gayoom into prison. The joint opposition that propelled Solih to the electoral win includes the MDP, the Jumhooree Party, the Adhaalath Party and former president Maumoon Abdul Gayoom's own faction of the Progressive Party. Solih is proponent of multiparty system since 2001. Solih is also close friend of former President Mohamed Nasheed, but his nomination as consensus candidate came after months of infighting among opposition parties. But the political future of Maldives is not clearly defined as yet. The results surprised Abdulla Yameen equally who was fully backed by China. But aside from his legacy of violence, intimidation and endemic corruption, the tipping point perhaps was the biggest corruption scandal; $79 million stolen from tourism revenue and used to bribe legislators, judges and government officials. A big surprise has been the Supreme Court cancelling the order to reinstate opposition law makers; effect of the bribes paid by Yameen government? A cross section feels the fragile joint opposition may not last long.
As per media, Prime Minister Narendra Modi is likely to visit Maldives in November. But rather than relying on declarations and agreements during high-level visits, India needs to emulate China in sustained engagement with Maldives at 'multiple' levels. Maldives also needs monetary help in getting out of China's clutches. India is still talking with US about latter's plans for USD 113 million Asian investment to compete with China's BRI, which US lawmakers want to raise to USD 60 billion. It would be prudent to get part of this investment in Maldives. Maldives as Chinese pivot in the Indian Ocean concerns not India alone. Pressure from the US, 'Quad' and strategic partnerships need to be exerted on Maldives to save it from becoming a protégé of China and pariah state, like Pakistan. Yameen himself remains defiant. He conceded defeat to save face but simultaneously called police to raid Solih's election offices and reportedly ordered tablet computers from China to alter election results. His political party, 'Progressive Party of Maldives' (PPM), has challenged election results saying Yameen had won the election (implying results were rigged) and passed a resolution they will not accept Solih as the next President. For China, Maldives is a maritime pivot along its Belt and Road Initiative (BRI). Chinese President Xi Jinping visited Maldives in September 2014 and secured Yameen's support for China's 21st century maritime silk route. Since 2016, China is developing Gadhoo island, 437 km from Male; likely future supply-berthing-maintenance base, similar to what China has in outer islands of Seychelles. China has debt-trapped Maldives by USD 1.3 billion during Yameen's 5-year regime; which represents more than quarter of its GDP. China will extract its value in strategic terms with Chinese firms engaged in some 17 projects in Maldives. Yameen's Finance Minister Ahmed Munavvar told Parliament in April 2018 that public debt will be around MVR43 billion (about USD 2.75 billion) or 60% of GDP by end 2018, but IMF predicts Maldivian debt to reach 121% of GDP by 2020. Maldives has signed Free Trade Agreement (FTA) with China, second country in South Asia after Pakistan, and Maldives' markets are flush with Chinese goods without import duty. Tourism is largest industry of Maldives, accounting for 28% of GDP and more than 60% of its foreign exchange receipts. Chinese tourists are the largest in number visiting Maldives, averaging over 300,000 annually. Chinese investments in Maldives, together with being maximum contributor of tourists, places Maldives firmly in China's grip. Also, Maldives is under specter of Islamic radicalization, backed by China, Pakistan and Saudi Arabia. Rapid growth of Islamist radicalization can be gauged from the fact that by end 2017 Maldives had sent some 400 ISIS fighters to Syria-Iraq. While Abdulla Yameen enjoys radical Islamists support, Islamist radicalization in Maldives also casts dark shadow over South India. Presently, there is euphoria in Maldives over 'win' of democracy.
The opposition is aware of China's debt trap, dependency on China by way of goods and tourists, and realizes need to retain the country's sovereignty. Need to balance ties with India and China is also being talked about but China can be expected to exert more and more pressure at multiple levels to keep Maldives firmly in its clutches; diplomatically, economically, even attempt breaking the fragile opposition unity through political warfare. Turning Maldives around will be a test for Indian diplomacy.