| | |
| --- | --- |
| | The Author is Former Director General of Information Systems and A Special Forces Veteran, Indian Army |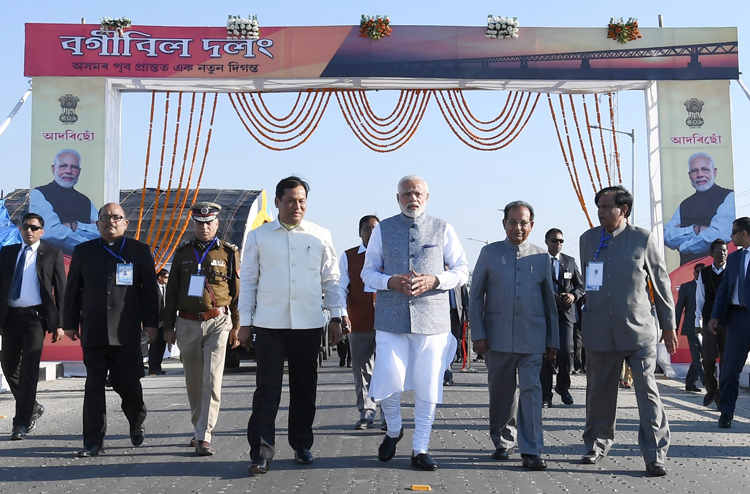 The Prime Minister, Narendra Modi at the dedication of the India's longest Bogibeel Bridge to the nation, at Dibrugarh, Assam on December 25, 2018. The Governor of Assam, Jagdish Mukhi and the Chief Minister of Assam, Sarbananda Sonowal are also seen.
On 25 December 2018, Prime Minister Narendra Modi inaugurated the 4.98 km-long Bogibeel Bridge, the longest rail-cum-road bridge on Brahmaputra River. Foundation stone for this bridge was laid 21 years earlier by the then Prime Minister in 1997 though work started only five years later in 2002. The bridge, situated 17 km downstream of Dibrugarh and Dhemaji, spans the Brahmaputra River, and will connect Assam's Dibrugarh town with Dhemaji. It will not only reduce the distance for the people of Arunachal Pradesh and Assam but also facilitate faster movement of troops and supplies to the Sino-Indian border in Arunachal Pradesh. Located just over 20 km away from the Assam-Arunachal Pradesh border, it can also serve as an alternative to the Kolia Bhomora Setu in Tezpur, in providing connectivity to around five million people residing in Upper Assam and Arunachal Pradesh. Hindustan Construction Company (HCC) was awarded a contract to construct the superstructure of Bogibeel rail-cum-road bridge in November 2011.
The Prime Minister, Narendra Modi flagging off the first passenger train passing through the Bogibeel Bridge, at Dibrugarh, Assam on December 25, 2018.
Bogibeel Bridge will give easy and direct access to upper Assam from the rest of the country through Brahmaputra's north bank, in contrast to the current route through Guwahati in the south bank which is long. Due to its location, the bridge will be of strategic importance to India as it will significantly enhance India's ability to transport troops and supplies to its border in Arunachal Pradesh. Bogibeel Bridge was earlier slated for inauguration by the Prime Minister but was delayed by a year for whatever reasons. Chief Engineer of the Northeast Frontier (NF) Railway's Bogibeel Project, Mahendra Singh told media on December 13, 2018 that 99% of the bridge's construction work has been completed and that rest of the work which includes 'final finish' would be done before December 20. Whether the 'final finish' was kept pending due to availability of the Prime Minister or timing it for greater impact closer to general elections will remain a mystery. However, we as a country that pride in ourselves for being the only country that can stand up to China need to ask ourselves why it should take two decades for building a 4.98 km rail-cum-road bridge over a river when the technology to do so very much exists in the country?
The Prime Minister, Narendra Modi addressing the Public Meeting, at Dibrugarh, Assam on December 25, 2018.
The media naturally would not mention what the project cost at the time of its sanction, and what it has finally cost. Can we take a cue from Chinese President Xi Jinping inaugurating the 55 km long Hong Kong-Zhuhai Bridge, connecting Hong Kong to Macau and the mainland Chinese city of Zhuhai on October 23, 2018, just 'nine years after construction first began'. How long are we going to take shelter behind the slogan "China is China and India is India", and leave it at that? While inaugurating the Bogibeel Bridge, the Prime Minister must have been indicated the road leading into Assam and Arunachal Pradesh from north end of the bridge, which he may have even seen from the air. What he would not know is that this road was completed just two-three years back and handed over to the CPWD. For kilometers the road traverses through rice fields on both side, but though built on high bund, no riveting has been done on both sides. As a result, the road is already caving in on the sides every 50 metres. The road beyond the rice fields too is cratered frequently. Many of the roads leading to forward posts do not have place for crossing of vehicles, on account of which one-way convoy system has to be resorted to which is hardly conducive to quick mobilisation. It may be recalled when Chinese intrusion in Tuting region occurred during December 2016-January 2017 with China having constructed a motorable road 1.5 km across the Line of Control (LAC), some 120 Army had to be rushed to the LAC with ration that could last them for 30 days. With no roads to the border and no animal transport at disposal, Army pressed into service a company of 300 porters raised earlier to stock the troops. To feed the troops before the porters arrived, Army heli-dropped 100 packets of ready-to-eat meal and 30,000 packets of chocolates. Each porter can carry 10-15 kg ration and must rest before coming downhill for the next trip up.
China has built nearly 5,000 km of rail network in the Tibetan plateau linking it with mainland all weather roads right up to LAC in similarly inhospitable, rugged and very high altitude terrain to sustain over 30 divisions including 5-6 rapid reaction forces in the Tibet Autonomous Region (TAR). Photographs and clips of some of the roads and rail-lines built by China show their excellence through extremely difficult terrain. A serious disadvantage to Indian Armed Forces is China's superior connectivity to the northeastern parts of India and Ladakh and its capability of rapid mobilisation of troops. Every Chinese forward post is connected with motorable road. On balance, while the Bogibeel Bridge is a good development, much more focus is required to develop our border infrastructure linking our forward posts.