By Lt. General P.C. Katoch (Retd)


Former Director General of Information Systems, Indian Army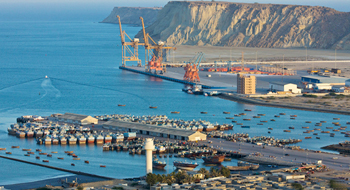 Though the 50-year lease of Gilgit-Baltistan to China has been kept under wraps by the Pakistani government despite reports in US and regional media of Pakistan, it is official now that Gwadar Port Authority has rented 923 hectare (2,300 acres) to China for developing thefirst special economic zone (SEZ) of the port. Establishment of the SEZ is to set the model for Pakistan's economic development. The lease is reportedly for 43 years though axiomatically stepping stone of infinity, given the 2012 prophecy by Agha H Amin, defence analyst and former Pakistan army officer describing the scenario post US-NATO withdrawal from Afghanistan, saying, "Pakistani military will be hoping to achieve all its objectives: an extremist dominated Afghanistan; a Baluchistan fully fragmented and crushed; .... a greater Chinese vassal with far greater Chinese interests in Pakistan... There is no doubt that Pakistan will be a semi autonomous Chinese province by 2030 or so... Pakistani Baluchistan by 2030 would be a completely Chinese run show... This means that Pakistan's... ever growing reservoir of economically deprived youngsters who will fill ranks of extremists and suicide bombers will continue". This prophecy, which appears unfolding already, needs to be seen in the context that Gwadar is a deep-water port in Baluchistan, which China on request from Pakistan aided the construction both financially and technically, construction having commenced in March 2002 and completed in February 2015.
China recently declared investment of US$ 47 billion in the China- Pakistan Economic Corridor (CPEC). Besides the Gwadar Port cooperation, China and Pakistan also published a joint declaration on April 20, 2015 mutually agreeing to impel the construction of the economic corridor connecting Gwadar to China's Xinjiang via roads and railways, as well as collaboration on multiple energy power projects. The CPEC is to act as the crucial bridge for China's One Belt, One Road policy. Pakistan claims in order to encourage domestic and foreign investments into the SEZ, Pakistani government has granted SEZ with priority access to resources and preferential tax policies to investors, not that doubts are being raised in Pakistani public that if Pakistan does not impose restrictions on those items which are produced indigenously, what will happen to own industries that are not able to compete with Chinese products since Chinese firm products are too cheap, their cost of production being very low and ultimately Pakistani producers will have to shut shop and become importers. Gwadar is being proclaimed as the key transportation pivot in the CPEC by both China and Pakistan but it is actually much higher in China's strategic construct. Gwadar is situated on the southwestern Arabian Sea coast of Pakistan in Gwadar District of Baluchistan province. It is in the shape of a peninsula with two semicircular bays on either side. A small island formed some two kms away because of an earthquake in 2013, which has been named 'Zalzala Jazeera'. Distance between Gwadar port and the Iranian port of Chahbhar is only 72 kms, latter being India's trade gateway for Afghanistan, Central Asia and Russia, completely bypassing Pakistan. India and Iran finalized a Chahbhar port deal on 20th May, 2015 for promoting regional trade. India also has developed a highway from Chahbhar to Kandahar-Heart which Iran and Afghanistan too are keen to use because it not only bypass Pakistan but also bypass Taliban stronghold areas in Afghanistan. China's strategic aims are focused on the Indian Ocean, where the centre of gravity of conflict is already shifting. China has already established a strategic pivot in Gilgit-Baltistan from where it can progress operations to the west and south, and is deploying missiles to support her future operations in the IOR. Chinese development projects globally are being executed by PLA or PLA owned companies with PLA personnel deployed in guise of civilian workers, technicians and managers. Projects completed continue to be manned by Chinese nationals. China has established a dry port on the China-Pakistan border. Feasibility and engineering studies to connect China with Gwadar through pipeline and railway track are ongoing. The alignment of the CPEC too is being studied so as to avoid maximum areas passing through the troubled areas of Baluchistan which have been subjected to decades of genocide and brutalization by the Pakistani army. China's intent behind development of ports in the IOR under pretext of economy and development is aimed at eventually base and support her naval operations in the region. Gwadar, overlooking the Persian Gulf and with its proximity to the Straits of Hormuz will give China the capability to influence and interfere with important sea lanes of communication. But this would affect not only India but a host of nations including the US to whom the Persian Gulf is of vital national interest. Because of the importance of the region, almost all the world's major powers have deployed substantial military forces in IOR. More than 120 extra-regional warships are present here throughout the year. Therefore, any Chinese military activity in Gwadar area, no matter how ambiguous, will contribute to rising strife in the region.