By Lt. General P.C. Katoch


Former Director General of Information Systems, Indian Army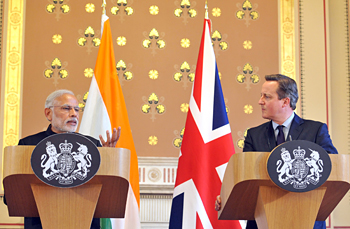 The Prime Minister, Shri Narendra Modi delivering his statement to the media with the Prime Minister of United Kingdom (UK), Mr. David Cameroon, at Foreign and Commonwealth Office, in London on November 12, 2015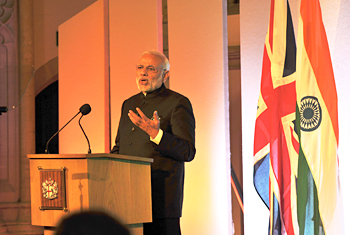 The Prime Minister, Shri Narendra Modi addressing the City of London at Indo-UK Business Meeting in The Old Library, at Guildhall, London on November 12, 2015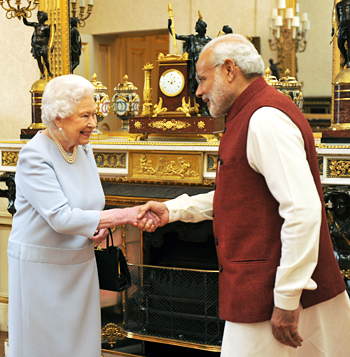 Prime Minister, Shri Narendra Modi meeting Her Majesty Queen Elizabeth II, of the United Kingdom, at Buckingham Palace, in London on November 13, 2015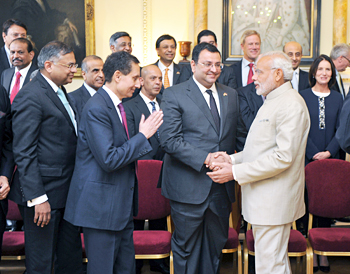 Prime Minister, Shri Narendra Modi meeting the CEOs at India-UK CEOs Forum, in London on November 13, 2015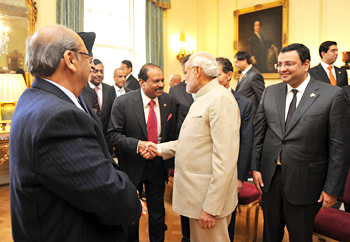 Prime Minister, Shri Narendra Modi meeting the CEOs at India-UK CEOs Forum, in London on November 13, 2015
Photo Credit: PIB
With 1.4 million Indian origin Britons ready to welcome PM Modi and the need for PM David Cameron to woo them, the stage was already set for a successful UK visit by Modi. Before the visit, British media spoke of informed political calculations and the ruling Conservatives extended a hand of friendship, both because Indian-origin voters are viewed as increasingly important and India a burgeoning international economic partner. Significantly, India was mentioned 17 times in the recent Conservative Party election manifesto and David Cameron is enthusiastic about India as a permanent UNSC member. In the same breath, British media also spoke Chinese President Xi Jinping, who was feted without respite in UK by royals, ministers and celebrities mobilized on a grand scale, "with token demonstrations by Tibetan protesters but little else to unsettle the shameless bonhomie with a man whose wife sang and pirouetted to encourage soldiers who massacred at Tiananmen". Just prior to Cameron's visit to India in 2006 as the leader of the opposition, Cameron wrote, "India is the world's largest democracy, a rapidly growing economy, a huge potential trading partner, a diverse society with a strong culture of pluralism and a key regional player—a force for stability in a troubled part of the world." He had suggested that though Britain's relationship with India "goes deep", it "should go deeper".
India and UK had forged a "strategic partnership" in 2005 but Conservatives are keen to give it fresh momentum, UK already being the largest European investor in India, and India the second largest investor in UK. During his visit to UK, PM Modi addressed the British Parliament, had discussions with his counterpart, lunched with the Queen, met with the CEOs and vowed 70,000 Indian origin Britons at Wembley stadium, the irony being that as he spoke of need for the world to unite against terror, Paris was being subjected to multiple terror attacks. The two PMs endorsed a 'Vision Statement' mainly centred upon: deepening the already close partnership on global issues; agreeing that international system of rules, widely accepted should be consistently applied; PM Cameron reaffirming UK's commitment to a reform UNSC with India as a Permanent Member; remain mutually engaged with G20 members to realize its full potential; shared interests in stability and prosperity across Asia and the Indian Ocean – establishing annual senior official South Asia dialogue covering security, including terrorism, connectivity, and maritime issues; condemning terrorism and calling upon Pakistan to bring perpetrators of November 2008 terrorist attack in Mumbai to justice; need for lasting and inclusive constitutional settlement in Nepal to promote political stability and economic growth; following UNHCR report, hope Sri Lanka will deliver lasting peace and prosperity for all its people; need for stable and inclusive democracy in the Maldives, including an independent judiciary; shared commitment and support for stable, Afghanistan; need for inclusive political settlements in Syria and Iraq; need for full implementation of Minsk measures by all parties to de-escalate Ukraine; commitment to Post-2015 Development Agenda 'Transforming our World: the 2030 Agenda for Sustainable Development; satisfaction over progress made at the 2015 India-UK Cyber Dialogue; agreement to ensure Commonwealth remains relevant; recognizing importance of preserving environment and sustaining diverse ecosystems; agreement work towards strong, sustainable and balanced growth, structural reforms and further strengthening of economic cooperation; London should play important role in channeling investment into infrastructure projects in India; setting up of India-UK partnership fund under the umbrella of the National Infrastructure Investment Fund (NIIF); deepening links between the two countries' financial services; India to launch government-backed rupee bond in London, and technical cooperation.
The two PMs also resolved to agree on a new 'Defence and International Security Partnership', endorsing Joint Statement on Energy and Climate Change' and 'Statement of Intent on Partnership for Cooperation in Third Countries'. During Modi's three-day UK visit, India and UK inked commercial deals of US$ 13.7 billion in spheres of Energy; IT and Cyber; Healthcare; Education; Creative and retail; Logistics; and, Finance and professional services. The two nations also concluded negotiations over a civil nuclear deal that seeks to increase bilateral cooperation in the field of civil and military technology and nuclear research projects. The western media has been anti-Modi for some time, including in UK. Cameron has championed Indian interests as few British PMs have in recent years. Though the rise of India as an economic power is transforming British attitudes towards India across the political spectrum, the opposition Labour Party remains critical of India because its Pakistani immigrant support base remains strong. So some protests were engineered against Modi's visit including because of perceived intolerance at home and abroad. Significantly, PM Modi also met UK's Sikh leaders in backdrop of Pakistan's ISI trying its level best to revive Sikh militancy in Punjab.