By Lt. General P.C. Katoch


Former Director General of Information Systems, Indian Army
The Prime Minister, Narendra Modi with the Prime Minister of Japan, Mr. Shinzo Abe, at Hyderabad House, in New Delhi on Dec 12, 2015.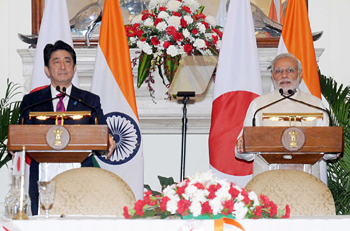 The Prime Minister, Narendra Modi and the Prime Minister of Japan, Shinzo Abe, at the Joint Press Statement, in New Delhi on Dec 12, 2015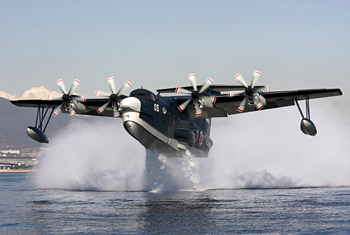 US-2
Photo Credit: PIB, ShinMaywa
The strategic significance of Japanese Prime Minister Shinzo Abe's visit to India comes not because it is in the following year as Prime Minister Modi's visit to Japan, but also since Japan is a vital anchor for India's 'Act East' Policy and both India and Japan are faced with a deceptively aggressive China that is also shrouding her strategic designs under the garb of her Maritime Silk Route. Doubts are also being raised about future US presence in Asia-Pacific region in the backdrop of US defence budget cuts and whether the US, with its own interests in mind, can be relied upon by Japan should a conflict situation arise between China and Japan. In an interview to Japan Times last month, Clyde Prestowitz, President of Economic Strategy Institute, a Washington based think tank said that Japan should stop relying on the US and instead Japan should have mutual security treaties with South Korea, India and Vietnam to cater for a possible failing of US presence. The Modi-Shinzo rapport is famous and Modi's five day visit to Japan in August-September last year culminated on the 56 point Tokyo Declaration focused on: upgrading India-Japan relations to 'Special Strategic Global Partnership'; Japan promising $35 billion to India over five years for development projects; five pacts covering defence, clean energy, roads and highways, healthcare, women; Japan lifted the ban on six Indian entities including HAL imposed in aftermath of 1998 nuclear tests; speeding up negotiations on civil nuclear deal; Varanasi to be developed on the pattern of Kyoto 'smart city' by Japan; financial, technical and operational support to introduce bullet trains, and; cooperation in heritage conservation, city modernization and cooperation in the fields of art, culture and academics.
Japan's participation in Indian Navy's annual Malabar exercise is a significant development. Just prior to Abe's arrival in India, Japan secured the Rs 98,000 crore bullet train project connecting Mumbai to Ahmedabad over China, which may be extended to Delhi at later. In an article in Indian media on December 11, Abe stressed on his belief that "strong India is in the best interest of Japan, and strong Japan is in the best interest of India" and that it is his intention to make the potential of Japan-India relations fully bloom and dramatically develop. The hallmark of PM Abe's visit was signing of landmark Indo-Japanese deal on peaceful use of civil nuclear energy. Highlighting the importance of India-Japan relations, PM Modi said "no other strategic partnership can exercise a more profound influence on shaping the course of Asia and our interlinked ocean regions." The annual summit meeting between the PMs also paved the way for India getting Japanese defence technologies and equipment, and coordinating their shared position on the contentious South China Sea issue. The nuclear deal will help India realize plans to quadruple its present 5,000 mw nuclear power to 20,000 mw by 2020. US firms GE and Westinghouse can now invest in India because their strategic Japanese partners like Hitachi and Toshiba were't allowed to trade with countries that do not have civilian nuclear agreement with Japan. China has already reverse engineered the Westinghouse AP1000 nuclear power plant, renamed it CAP1000, and will probably give it to Pakistan. Japan has committed $12 billion of soft loans on highly concessional rates to build India's first bullet train, for which the total cost is estimated to be $15 billion. Japan also pledged $12 billion Japan-India fund for the Make in India initiative and would look at setting up Industrial townships in the country.
PM Abe attended the Ganga Aarti at Varanasi. India will extend 'visa-on-arrival' to Japanese citizens including for business purpose from March 1, 2016. The joint statement indicates comprehensive approach to cooperation, highlights of which are: shared commitment to democracy, tolerance, pluralism and open society; commitment to peaceful, open, equitable, stable and rule-based order in the Indo-Pacific region and beyond; expand cooperation with other partners, to enhance connectivity in Indo-Pacific region, work to strengthen regional economic and security forums and coordinate actions to tackle global challenges including reform of the UN, climate change and terrorism; understanding that stronger bilateral strategic partnership require deep and broad-based cooperation and concrete actions in defence, security, economic and cultural fields; raise level of collaboration in infrastructure, manufacturing and high technology, including advanced transportation systems, civil nuclear energy, solar power generation, space, biotechnology, rare earths and advanced materials; boost cultural ties, youth exchanges, educational opportunities and tourism; develop comprehensive medium and long-term action plan for India and Japan Vision 2025; deepen the bilateral defence relationship including through two-way collaboration and technology cooperation, co-development and co-production including exploring future projects on defence equipment and technology cooperation such as US-2 amphibian aircraft; further cooperation in the security and defence fields, including through full utilization of '2+2 Dialogue', Defence Policy Dialogue, Military-to-Military Talks and Coast Guard to Coast Guard cooperation, while welcoming the decision to begin Air Force-to-Air Force staff Talks; closer cooperation with major partners in the region in humanitarian assistance and disaster relief, regional connectivity as well as maritime security, and welcoming the inaugural Japan-India-Australia Trilateral dialogue; develop and strengthen reliable, sustainable and resilient infrastructures that augment connectivity within India and between India and other countries in the region; signing of MoU on technological cooperation, and R&D collaboration in the railways sector; MoU for introducing high speed railway on Mumbai-Ahmedabad route; recognition for more investments in initiatives like 'Make in India', 'Digital India', 'Skill India', 'Clean India' and 'Smart City' with PM Abe signaling active mobilization of Japanese public and private sector involvement, including Official Development Assistance (ODA); importance of expansion of two-way investment between Japan and India – Japanese side expressing intention of establishing "Japan-India IoT Investment Initiative," to promote investment in Internet of Things (IoT) related area from India to Japan. Japan had already pledged 3.5 trillion yen over five years under the "Japan-India Investment Promotion Partnership" in 2014, under which projects like Western Dedicated Freight Corridor (DFC) is coming up and the Delhi-Mumbai Industrial Corridor (DMIC) is planned. The Chennai Bengaluru Industrial Corridor (CBIC) project is to go to next stage implementation including by using ODA. Total Japanese ODA yen loan to India in FY 2015 may reach around 400 billion yen, the highest ever provided to India including some 100 billion yen for metro projects in Chennai and Ahmedabad. Japan also intends to provide ODA loans for improvement of road network in northeast India, peripheral ring road surrounding Bengaluru and horticulture irrigation in Jharkhand. In view of critical importance of the sea lanes of communications in the Indo-Pacific, the India-Japan Special Strategic Global Partnership is undoubtedly one of the most important in the region. Since the India-Japan Summit is an annual feature, the partnership is bound to accelerate to the benefit of the population of both countries, as well as for the region.