By Lt. General P.C. Katoch (Retd)


Former Director General of Information Systems, Indian Army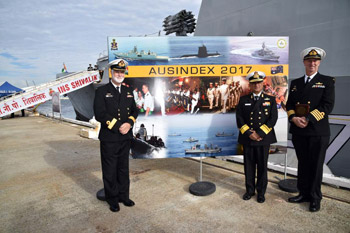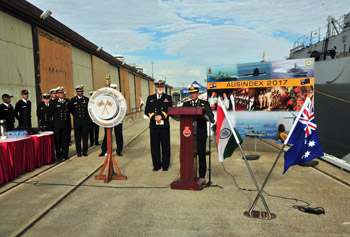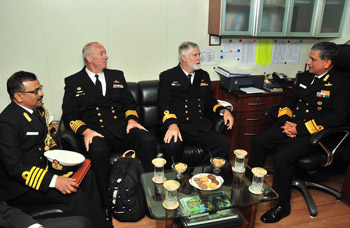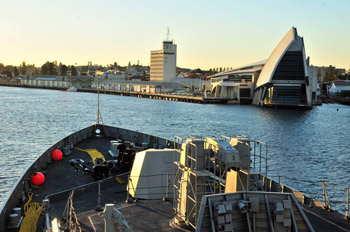 AUSINDEX-17, the joint India-Australia naval exercise was conducted from 13 to 17 June in the Indian Ocean. Every time India conducts / participates in bilateral / multilateral naval exercises in the Indo-Pacific, China goes bellyaching. After India and Singapore held joint naval warfare drills together in the South China Sea (SCS) during May 2017 which is an annual engagement, propaganda videos were circulated among Singapore's Chinese-origin citizens criticizing Singapore's participation in the joint maneuvers. One of the videos even referred to Singapore as a "small country with people having yellow skin and black heart" for choosing to have stronger ties with the US and India instead of China. The exercise incidentally was part celebrating 50 years of diplomatic ties between India and Singapore, which is India's closest partner in the ASEAN. Earlier, when India-US-Japan held the Malabar-2016 exercise in Western Pacific, China had belched out plenty criticism. This is just bullying considering China herself participates in joint naval exercises periodically in close vicinity of India.
In June 2017 itself China has held joint naval exercises with Pakistan off the coast of Karachi, as also with the Iranian Navy in the strategic Straits of Hormuz. AUSINDEX is a bilateral maritime exercise with the Australian Navy, aimed to enhance inter-operability and cooperation between the two forces. Indian naval ships Shivalik, Jyoti and Kamorta participated in AUSINDEX-17. The first AUSINDEX was conducted in 2015 in the Bay of Bengal, after which both sides decided to make it a biennial event. During the visit of Malcom Turnbull, Australian Prime Minister to India in April 2017, the Indo-Australian joint statement reaffirmed the importance of the bilateral Framework for Security Cooperation of 2014; both the countries committed to deepening the bilateral defence and security partnership. They also welcomed the trilateral dialogue among India, Australia and Japan, and agreed to invest in trilateral consultations with third countries to enhance regional and global peace and security. Trilateral consultations are strategically important in backdrop of maritime security and freedom of navigation in the Indo-Pacific, especially after India withdrew from the quadrilateral India, Japan, Australia and US Dialogue following a strong protest from Beijing in 2008; China had issued demarches to India and Australia then and lodged a protest over their participation in the naval drills. But much has changed since then. After India hosted the first India, Japan, Australia trilateral meeting at New Delhi in 2015, Marise Payne Australian Minister of Defence indicated hosting a similar meeting in Canberra.
Australia has now pitched for observer status during the trilateral India-US-Japan Malabar-2017 scheduled to be conducted in the Bay of Bengal in July. Australia reportedly even wants to have a logistics support agreement with India. Significantly, India had turned down Australia's request to join the trilateral Malabar exercises. In its previous iteration in 2007, Australia was the first to pull out of the "quadrilateral" between US, India, Japan and Australia after China demarcated all four participants. Since then Malabar has been an India-US exercise, with Japan being admitted only in 2016. Ironically, the US-Australia relations appear to have gone sour with Donald Trump having assumed Presidency of the USA. Trump and Turnbull reportedly had an unpleasant and heated telephone conversation in January 2017 over the planned US-Australian refugee deal. Later in May 2017, they both met briefly in New York where Trump said their relationship was "fantastic." But in June 2017, in a leaked video aired by Australia's Channel Nine, Turnbull apparently mocked Trump to journalists and politicians during the Australian Parliament's annual Midwinter Ball. Considering the rapid pace at which China is militarizing islands and reefs illegally claimed and developed in Western Pacific, coupled with her nuclear submarines and vessels frequenting the Indian Ocean, logically all maritime nations in the region need to show a united front to ensure regional stability. China has already commissioned her second aircraft carrier and is constructing another six.
The pace at which China is pushing for the One Belt, One Road (of which the flagship project is the China-Pakistan Economic Corridor) and the Maritime Silk Route with the fulcrum converging in the Indian Ocean Region impacts all countries in the region, especially India, given the aggressive designs of China in complete disregard to neighbours. Whatever turn US-Australian relations take, the India-Australia relations are set to grow. However, Australia needs to be forthright in its dialogues and partnership and be firm about which direction it takes, considering the strategic inroads that China has made into Australia.