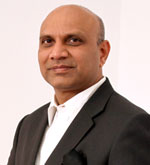 SP Guide Publications (SP's): The Ministry of Defence is now the sole organiser of Defexpo. How has this exhibition evolved, and what's your vision for this show?
Dr M.M. Pallam Raju (Raju): We've noticed a substantial increase in participation. This indicates two things: one, that there's a huge market here, and two, the keenness of the international defence industry to have a base out of India. Most players are seeing value in India's growing industrial competence. We're happy seeing the high level of interest. We want to showcase capabilities developed by indigenous R&D and products manufactured by (government-owned) Public Sector Undertakings.
SP's: What is your assessment of the size of India's military market?
Raju: We should be spending $30 billion (Rs 1,39,455 crore) during the next Five Year Plan period (2012-2017). That's the projected expenditure. This should create an offset opportunity of $10 billion (Rs 46,485 crore) for the Indian industry. The government is willing to give even more support to meet the requirements of India's armed forces.
SP's: India's Defence Procurement Policy (DPP) is being revised and updated regularly. What is driving the change?
Raju: The idea is to increase the indigenous content in our arms purchases.
SP's: DPP 2009 unveiled the 'Buy and Make (Indian)' category to overcome problems related to indigenous R&D and promote Transfer of Technology between foreign OEMs and Indian industry, both public and private. Does this signal an end to the monopoly and pre-eminence of the public sector in domestic defence trade? Will the Indian private sector now be able to bid at par with the public sector in defence tenders?
Raju: We are providing a level playing field to the private sector. Defence was opened up to the private sector in 2001 (for manufacturing parts and sub-systems). We're giving a push to accelerate the process.
SP's: What has been the private sector's response to DPP 2009? Will the private sector be the principal driver in the Indian defence industry?
Raju: This is the gestation period for the private sector to look for partners and build competence. But it has definitely opened a new chapter in terms of providing an indigenous source for the armed forces to buy from. The private sector has to create this capability through a collaborative effort with companies or countries which have the relevant expertise.
The response to the DPP 2009 has been pretty good. Industry is appreciating the changes which have been made. There's hope. It's a question of how quickly it happens.
SP's: What is the government's stance on the Rama Rao Committee Report on reforming the Defence Research and Development Organisation (DRDO)?
Raju: The committee has done good work in the time frame mandated to it and come out with some brilliant recommendations. The DRDO is looking into what can be implemented. The government has a favourable view of the recommendations.
SP's: Will joint ventures (JVs) with the international industry and Indian private sector be central to speeding up defence R&D projects?
Raju: That is the way forward. Utilising the capabilities of the private sector and giving them a foothold in defence industry. That is the way forward. Developmental programmes have to be backed up by the private sector. So, for the private sector to participate in defence, it has to demonstrate capability in terms of an R&D base. This is a good opportunity. Foreign JVs for R&D are also welcome.
SP's: Despite the reform being attempted in the DPP, very few purchases have materialised. Procurements take very long and several major tenders have been repeatedly cancelled. Doesn't the DPP fail the test of speed? Why is it unable to address urgent requirements?
Raju: There are fast-track procedures for urgent military requirements. Immediate operational necessities are put on fast track. Cancellation of tenders happens only if there is a deviation from procedure. We definitely want to send the signal that the acquisition process is transparent and that any deviation or misconduct will not be accepted. This is probably the reason why the tenders you're referring to were cancelled.
SP's: Are you suggesting that misconduct was the reason for the recent cancellation of the tender for mid-air refuellers for the Indian Air Force?
Raju: The Finance Ministry was of the view that the price was quite high. The option which was overlooked (Ilyushin-78)—and the one which India had purchased earlier—was significantly cheaper.
SP's: Does this suggest that L1, or the lowest price bid, will continue to be the determining factor in award of defence contracts by India? Will it continue to overshadow the Life Cycle Cost considerations, which have been mentioned in the DPP?
Raju: In general, for government purchases, including those for defence, L1 continues to be the determining factor. There are suggestions otherwise. But given our set-up, L1 is the preferred guideline, as of today.
SP's: There is an impression that a systemic fear of corruption paralyses defence acquisitions. Why is there so much intrigue around arms deals?
Raju: One of the efforts of this government is to make the process as transparent as possible, and to speed it up. We've instituted penalties against any deviation from procedure. This is to put the system in order. Cancellations in the past have also happened because of detection of such offences.
SP's: Why have restrictions been lifted on dealings with some arms companies despite ongoing investigations against them in corruption cases?
Raju: Dealings with some companies had been put on hold following CBI investigations in the Ordnance Factory Board case. Some of these companies have been given permission to finish off pending business and fulfill old contracts. Only if they're cleared in investigations will new business be allowed with them. Yes, one of these companies has been allowed to take part in trials in the towed artillery tender. But this permission is conditional to a clean chit from the CBI.
SP's: Has there been any re-look at the ban on registered middlemen or agents to facilitate defence deals?
Raju: We deal only with companies or governments through the Foreign Military Sales (FMS) route. This is a very clear indicator that agents are not allowed.
SP's: Talking of FMS, does the offsets clause apply to sales under this category?
Raju: FMS is a subset of the DPP. There are certain benefits. This is one of the acquisition options available to the government. Of course, the offsets policy applies to FMS, but it is the government's discretion to what extent offsets are implemented in such cases. The government even has the discretion to waive off offsets in FMS deals.
SP's: What's the progress with attracting offsets commitments for India? Is the government open to a change in policy, such as allowing offsets trading or widening the scope of offsets?
Raju: Rs 8,500 crore worth of offsets have been committed to India so far. As of now, we're insisting on direct defence offsets only. We're waiting for some major programmes to get off the ground and investments to start coming in before considering any changes. We can't be tweaking the policy so soon. It may be too premature for that.
SP's: India's defence exports have been stagnating because of a restrictive policy. Even neighbouring countries, like Nepal, Sri Lanka and Bangladesh, shop for arms elsewhere. As its defence industry is poised for take off, would India consider changing its export policy?
Raju: The arms exports policy as it stands today is not a very coherent one. As capacities improve with increased private sector participation, there will be a time to look at policy and encourage exports.