The Honorable Richard Spencer toured operations for MH-60R, the world's most advanced maritime helicopter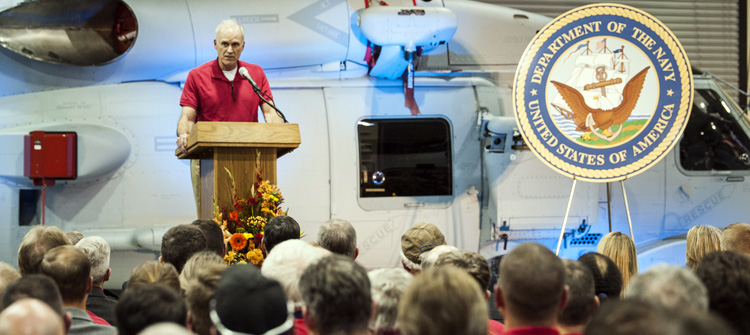 The Secretary of the Navy, the Honorable Richard V. Spencer, addresses more than 400 Lockheed Martin employees during a visit to the Owego, New York, site.
Secretary of the Navy, The Honorable Richard V. Spencer, visited with more than 400 employees while touring the Lockheed Martin (NYSE: LMT) Sikorsky MH-60R "Romeo" operations on Sept. 29.
"It's a privilege for me to be standing in front of you all because you deliver an amazing ingredient to America's freedom," Secretary Spencer said in his address to employees. "You all are making the products that let us deliver the fight."
Spencer visited to view first-hand the advanced technology and innovation that experts consider the most capable and mature Anti-Submarine (ASW)/Anti-Surface Warfare (ASuW) multi-mission helicopter available in the world today. During the life of the program, the U.S. Navy has employed 260 MH-60Rs, garnering more than 500,000 flying hours.