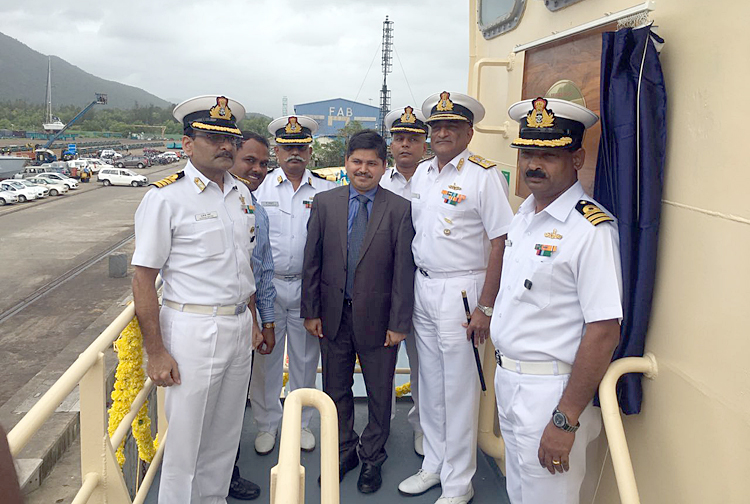 Goa Shipyard Ltd (GSL) created yet another landmark in the history of Indian Shipbuilding Industry, by delivering all 4 x 1000T Fuel barges, ahead of contractual schedule. The 4th and last barge "FUEL BARGE-13", was delivered on 23 July 2018, 05 months ahead of contractual schedule, in the presence of Cmde G Shyamsundhar, CSO(Tech), Karnataka Naval Area. The barge was ceremoniously inducted into the Indian Navy by RAdm K J Kumar, Flag Officer Commanding Karnataka Naval Area on 24 July 2018 at Karwar.
For a long time, Indian Navy was in shortage of self-propelled 1000T Fuel Barges for fuelling of large ships such as INS Vikramaditya. With induction of GSL constructed efficient and modern fuel barges, the Indian Navy has got a shot in the arm as critical operational requirement of fuelling large ships would now be met by these ocean going vessels. The contract for construction of 4x1000T Fuel barges was signed between GSL and Indian Navy on 4th Jun 2015. And within a short duration of three years all four fuel barges have been delivered by GSL, with the first being delivered on 17 Aug 2018 and last one on 23 Jul 2018. The vessels are built to best quality standards of IRS class.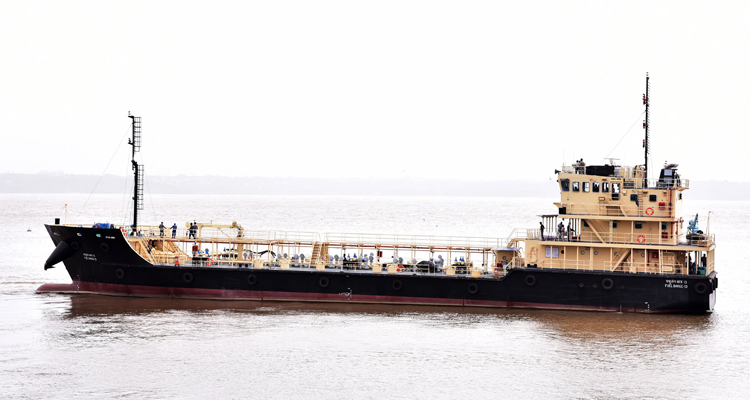 The 1000T Fuel barge has primary role of replenishing LSHSD, AVCAT and other oils to ships in harbor, at anchorage & even at distant location. The barge is powered with two 1800 BHP engines, two 250KVA generators and five Cargo pumps with a capacity of 100T per hour to achieve the required fuel transfer rate during fuelling operations. The barge is over 68 meters in length, 12 meters in beam and can attain a max speed of 14 Knots, with an endurance of 800 Nautical miles. The vessel has a novel hull design with bulbous bow and equipped with the state of art Navigational aids like Radar, DGPS, Echo Sounder etc, making it capable to operate up to sea state 4 and survivability up to extreme sea state of 6. The vessel has a compliment of 26 persons and is fitted with best of the class modular accommodation, providing better living space and comfort to ship crew. Modern tools and techniques like software simulation and model testing have been used for the achieving the optimum and superior design before construction.
The successful delivery of the Vessel with reduced 'build period' reflects the growing capability of Goa Shipyard and their partners in indigenous ship design and construction. It also revalidates the unique and efficient shipbuilding processes followed by Shipyard in close collaboration with various OEMs, Service providers & IRS Class etc to better performance with every shipbuilding project.