The maiden 'Land of Legends' marathon conducted by Indian Naval Academy (INA), Ezhimala saw over 750 participants from all age groups participate in the four categories of run today, Sunday, December 3, 2017. The 'Land of Legends' marathon was conducted at INA, Ezhimala to commemorate the Navy Week celebrations. Indian Navy celebrates 04th of December every year as the Navy Day to commemorate the daring missile attack by Indian Naval warships on Karachi Harbour during the 1971 war against Pakistan and in memory of the sacrifices made by Naval personnel towards the stunning victory in that war.
The 'Land of Legends' marathon saw participant running the competitive run, namely 21.1 km and the 10 km run along the scenic and picturesque terrains of Ezhimala and the surrounding villages adjacent to Indian Naval Academy. There was also a fun run of 5 km and 3 km for senior citizens, ladies and children during the event.
The 21.1 km competitive run was flagged off at 0600 AM by Vice Admiral SV Bhokare, AVSM, YSM, NM, Commandant and 10 Km competitive run by Rear Admiral MD Suresh, NM, Deputy Commandant. Rear Admiral Amit Vikram, Principal and Commodore Arjun Dev Nair, Principal Director (Training) flagged off the 5 Km and 3 Km fun run respectively. Over 230 school and college students from Sainik School Nagrota, Jammu and Kashmir, Sainik School Kodagu, Karnataka, Sainik School Bijapur, Karnataka and Rashtriya Military School Belagavi, Karnataka and over 40 Naval Officers of the rank of Sub Lieutenant, who are alumnus of INA participated in the event. The event showcased the grandeur and glory of Indian Naval Academy and the glorious history of Ezhimala to the participants. A guided tour of all Academic facilities, Infrastructure, Sporting facilities, laboratories, training facilities and historical places inside INA was also conducted for all the participant of the maiden 'Land of Legends' marathon.
In the male open category Cadet Krishan Kumar of INA won the 21.1 km run with a timing of 01 Hr 36 Min and 26 Sec and the 10 km open male category run was won by Master Harshit Kumar with a timing of 46 Min and 15 Sec. In the female category, Ms Asha NS won the 21.1 km open category run with a timing of 2 Hr 13 Min and 44 Sec and the 10 km run was won by Ms Zoya Ziya with a timing of 01 Hr 18 Min and 08 Sec. All finishers were awarded with medals, in addition to special prizes for the top three in each age group and category. The event generated enormous enthusiasm and participation from the civil populace as well as the defence community and was a grand success that aimed to promote the culture of fitness, health and the spirit of long distance running.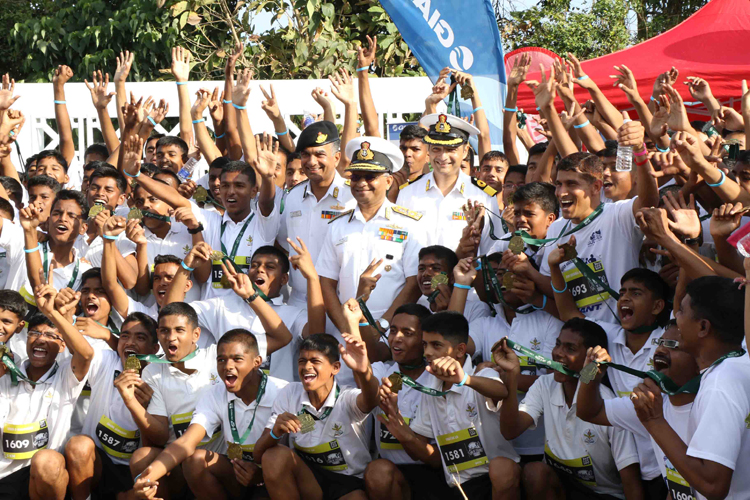 Glimpse from the Maiden 'Land of Legends' marathon that concluded on Sunday, 03 December 2017 at Indian Naval Academy, Ezhimala, Kannur District, Kerala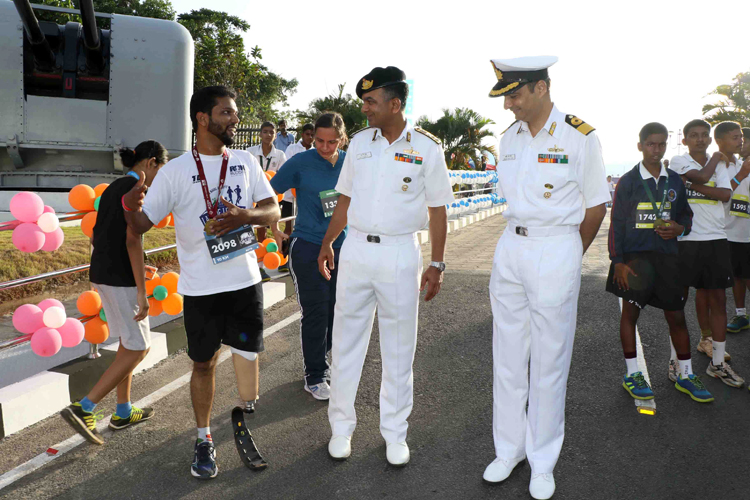 Mr Sajesh, a blade runner participated in the Maiden 'Land of Legends' marathon that concluded on Sunday, 03 December 2017 at Indian Naval Academy, Ezhimala, Kannur District, Kerala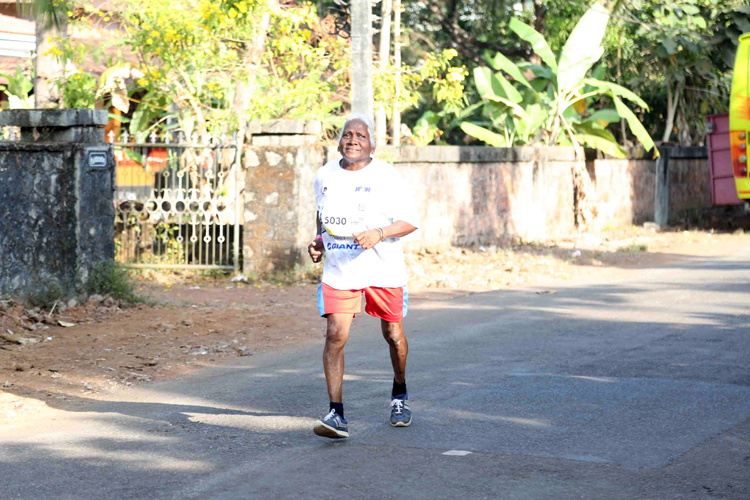 Mrs Anna, 72 Years old and Mr Issac, 73 Years old couple participated in the Maiden 'Land of Legends' marathon that concluded on Sunday, 03 December 2017 at Indian Naval Academy, Ezhimala, Kannur District, Kerala
Master Chamanpreet Jassal, 13 year old the youngest finisher in the 21.2 Km open boys category in the Maiden 'Land of Legends' marathon that concluded on Sunday, 03 December 2017 at Indian Naval Academy, Ezhimala, Kannur District, Kerala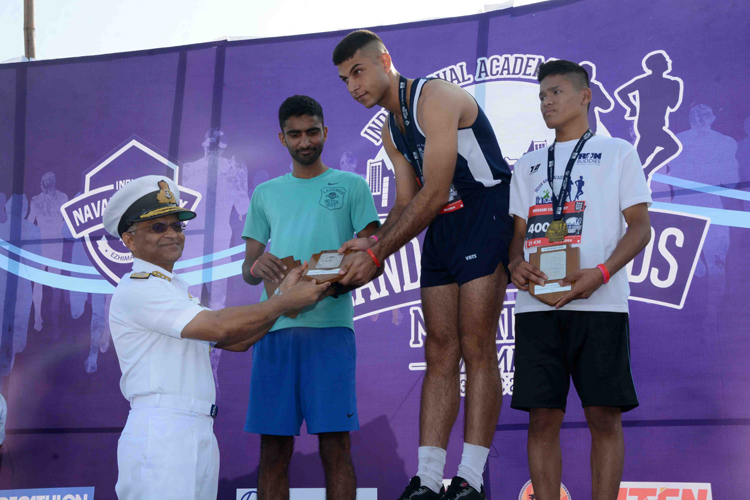 Vice Admiral SV Bhokare, AVSM, YSM, NM, Commandant congratulating the winners of 21.1 km boys open category winners. Seen from Left - Vice Admiral SV Bhokare, AVSM, YSM, NM, Commandant, Lieutenant Amit Kumar (Achieved 3rd Position), Cadet Krishan Kumar (Winner) and Master Mousam Choudhary (Achieved 2nd position)
Vice Admiral SV Bhokare, AVSM, YSM, NM, Commandant congratulating the winners of 21.1 km girls open category winners. Seen from Left - Vice Admiral SV Bhokare, AVSM, YSM, NM, Commandant, Ms Ashwini G (Achieved 3rd Position), Ms Asha NS (Winner) and Ms Haripriya (Achieved 2nd position)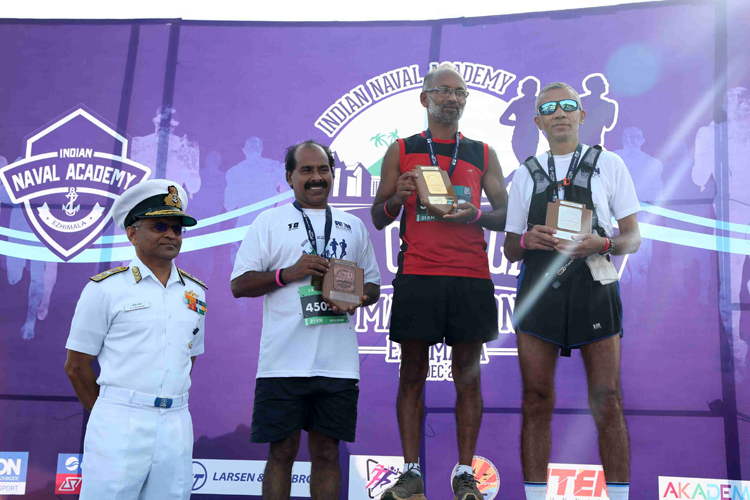 Vice Admiral SV Bhokare, AVSM, YSM, NM, Commandant congratulating the winners of 21.1 km boys senior category winners. Seen from Left - Vice Admiral SV Bhokare, AVSM, YSM, NM, Commandant, Mr TR Vijay Kumar (Achieved 3rd Position), Mr Thomas PC (Winner) and Captain Rajesh Wadhwa (Achieved 2nd position)
Vice Admiral SV Bhokare, AVSM, YSM, NM, Commandant congratulating the winners of 21.1 km girls senior category winners. Seen from Left - Vice Admiral SV Bhokare, AVSM, YSM, NM, Commandant, Smt Meena Bhokare (Achieved 3rd Position), Mrs Savita Shastri (Winner) and Mrs Renu Kumar (Achieved 2nd position)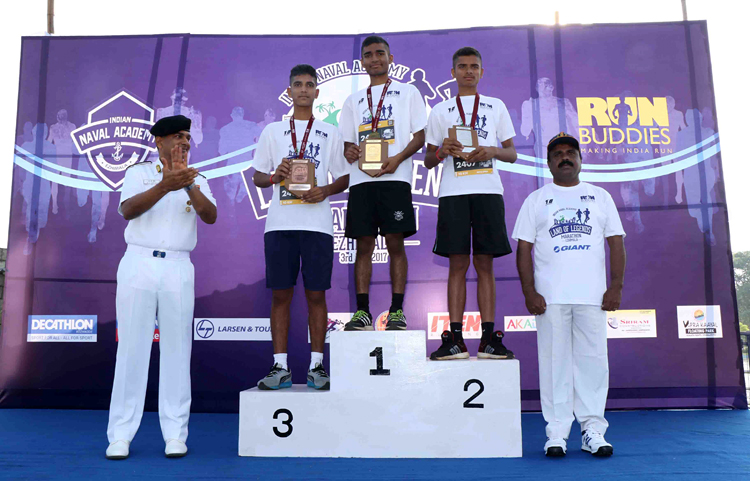 Rear Admiral MD Suresh, NM, Deputy Commandant congratulating the winners of 10 km boys open category winners. Seen from Left - Rear Admiral MD Suresh, NM, Master Abhinandan Yadav (Achieved 3rd Position), Master Harshit Kumar (Winner) and Master Ravi Bhan Singh (Achieved 2nd position)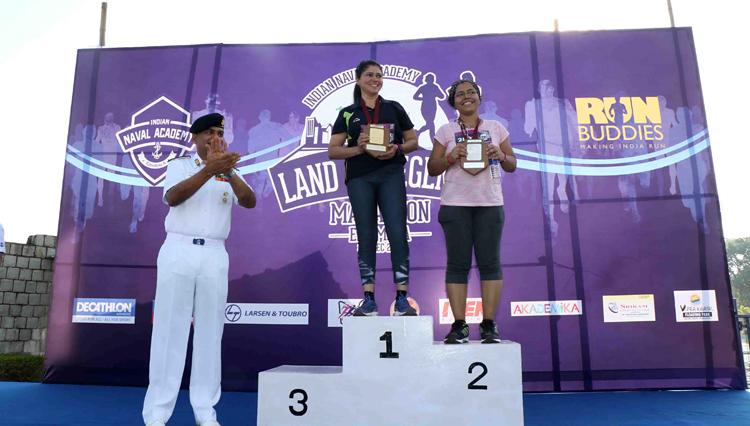 Rear Admiral MD Suresh, NM, Deputy Commandant congratulating the winners of 10 km girls open category winners. Seen from Left - Rear Admiral MD Suresh, NM, Ms Zoya Ziya (Winner) and Ms Upama Sharma (Achieved 2nd position)
Rear Admiral Amit Vikram, Principal congratulating the winners of 10 km boys senior category winners. Seen from Left - Rear Admiral Amit Vikram, Mr Mansoor Mirza (Achieved 3rd Position), Mr Katta Anand Shrinivas (Winner) and Commander Jyothirmay Ravi (Achieved 2nd position)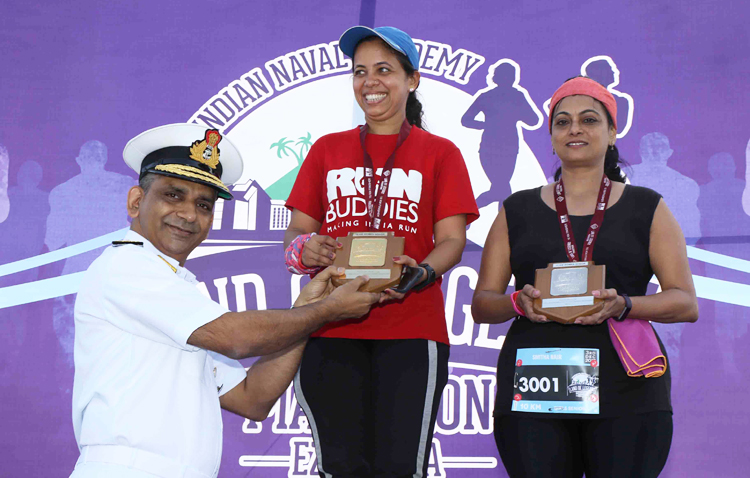 Rear Admiral Amit Vikram, Principal congratulating the winners of 10 km girls senior category winners. Seen from Left - Rear Admiral Amit Vikram, Mrs Kritika Shukla (Winner) and Mrs Smita Nair (Achieved 2nd position)