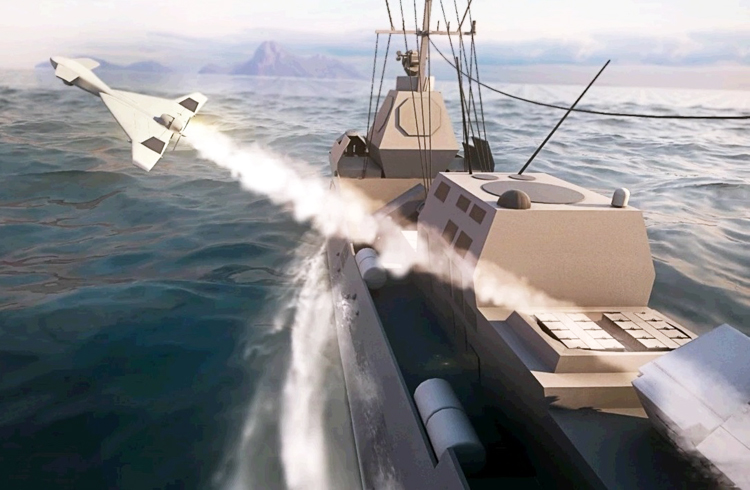 Israel Aerospace Industries (IAI) today unveiled the newest member in its Loitering Munitions (LM) family, the Maritime Harop. IAI is the world's pioneer in developing and fielding various types of LMs: Harpy and Harpy NG (an autonomous anti-radiation LM for SEAD/DEAD missions), HAROP, an Electro-Optical/Infra-Red (EO/IR)-guided, man-in-the-loop LM, designed to locate, track and destroy high quality static and mobile targets, the Green Dragon, tactical, low-cost solution, designed to provide significant situational awareness and firepower in a compact envelope, and the Rotem tactical LM based on a light multi-rotor platform that delivers outstanding capabilities against low signature enemy systems in urban and complex environments. IAI's LM systems will be presented at the DSEI, Defense and Security Exhibition in London, on September 12-15, 2017 (Stand: S7-341).
The new marine capabilities of the Harop provide an operational response for a range of naval vessels, from offshore patrol vessels to naval frigates. The technological adjustments of the marine Harop include a launcher with new marine configuration and adjustments of the communication channel of the loitering munition.
Boaz Levi, IAI's Executive Vice President and General Manager of Systems, Missiles & Space Group, commented: "The maritime Harop is an operational weapon system which provides navies with unique response and at good cost-benefit ratio. As such, it has attracted the interest of different customers worldwide. When used on marine platforms, the Harop provides excellent operational alternative to sea-sea missiles as well as a range of additional uses such as intelligence gathering and allowing the operator to choose the precise timing of the attack. It is a welcome addition to IAI's solution offering for loitering munition missiles."
HAROP is a long endurance LM which can be launched from a variety of platforms, and is equipped with tactical UAV capabilities: high performance FLIR/ color CCD EO seeker with 360 degrees hemispherical coverage. It searches, detects, attacks and hits high value relocatable, time critical, land or sea-based moving targets with pinpoint accuracy at long ranges. A HAROP unit is comprised of LM launchers and a Mission Control Shelter (MCS) that enables missile control with a 'Man in the Loop' operation, and real time engagement or abort attack capability to avoid collateral damage. The HAROP can be applied to a variety of battle scenarios, including low and high intensity conflicts, urban warfare and counter terror operations.