In a very recent interaction with the media, Admiral R.K. Dhowan, Chief of the Naval Staff, said, "We have put the 'Make in India' thrust on an overdrive. The focus in the road map is on weapons, sensors and cutting-edge technologies, with certain milestones and required timelines."
prednisolon bivirkninger
prednisolon og
alkohol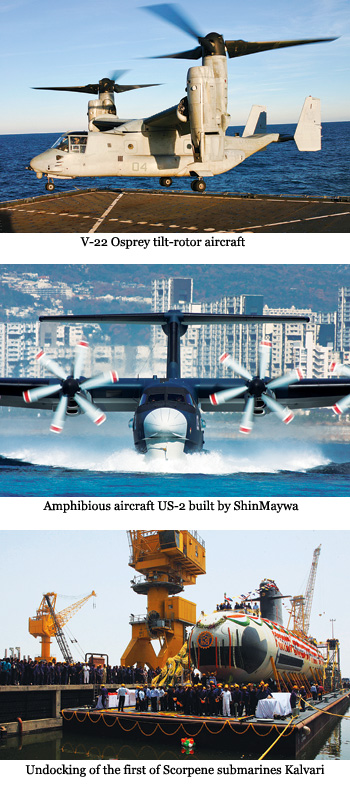 Attributed to India's vantage location in the Indian Ocean and consequential strategic imperatives, the roles and responsibilities of the Indian Navy (IN) have gained ascendancy, both in quantitative and qualitative terms. The Maritime Capabilities Perspective Plan (MCPP) enunciates the road map for rejuvenating IN to be ready to face the dynamics of maritime security concerns.
In a very recent interaction with the media, Admiral R.K. Dhowan, Chief of the Naval Staff (CNS), said, "We have put the 'Make in India' thrust on an overdrive. The focus in the road map is on weapons, sensors and cutting-edge technologies, with certain milestones and required timelines." As of now, India has achieved 90 per cent indigenisation in the 'Float' (hull, superstructure, etc.) component of a warship through the developments of high grade steel by the Defence Research and Development Organisation (DRDO) and the Steel Authority of India (SAIL), among other things. But the 'Move' (propulsion) and 'Fight' (weapons and sensors) components lag behind at 50-60 per cent and 30 per cent, respectively. "The 'Fight' component has been made a thrust area, with talks being held with production agencies like public sector undertakings (PSUs) as well as private sector. Close to a hundred technologies have been identified, which range from guns and missiles to different kinds of radars and sonars," said CNS.
DRDO will have to deliver in the timeframes required to hand over to avoid situations like last year's commissioning of 6,800-tonne destroyer, INS Kolkata, the largest-ever warship to be built in India without the critical long-range surface-to-air missile system. A brief resume on the critical programmes is in the succeeding paragraphs.
Fleet Air Arm
Indigenous Aircraft Carriers
Considering the complexity of design development and construction, systems integration, the gestation period for IAC-II, to be christened as INS Vishal, could well span over 10-12 years. If the design of IAC-II is centred on catapult assisted take-off but arrested recovery, it would offer flexibility for launching fighters as well as heavier aircraft for surveillance, early-warning, electronic warfare and other operations. Early finalisation of the long-pending plan to indigenously construct country's largest-ever aircraft carrier, the 65,000-tonne INS Vishal with airborne early warming (AEW) and anti-submarine warfare (ASW) capabilities is an imperative, considering impending de-commissioning of INS Viraat in the near future.
Early finalisation of the longpending plan to indigenously construct country's largestever aircraft carrier, the 65,000-tonne INS Vishal with airborne early warning and anti-submarine warfare capabilities, is an imperative, considering impending de-commissioning of INS Viraat in the near future
In the recent past the government has accorded sanction for Phase-II for 40,000-tonne IAC-I to be commissioned as INS Vikrant and is currently under construction at the Cochin Shipyard Limited. The project has suffered undue delays, time and cost overruns, and is now slated to be inducted by 2018-19 only. This will leave the Indian Navy with just one aircraft carrier, the 44,400-tonne INS Vikramaditya inducted from Russia at a cost of $2.33 billion in November 2013.
Multi-role Helicopters
In order to augment the multi-role helicopter (MRH) fleet for the ships and the air squadrons ashore, as also to equip the ships which will be commissioned as per the 14th Naval Plan until 2020, the Indian Navy had initiated the procurement process for 56 MRH. The induction plan was aimed at acquiring MRH for ASW, anti-surface warfare (ASuW) and Special Forces' operations, etc. After several years of ups and downs, finally the MRH tender was reduced to a quantity of merely 16 aircraft which was opened on December 4, 2014, for already phased out Seaking 42 and 42A during 1990-91. The timelines for final cost negotiations are still blurred. Hence, if the contract for 16 S-70B MRH is signed now the deliveries will be affected only from 2018. The silver lining is the possible inclusion of an option clause for additional eight units without further negotiations.
Naval Multi-role Helicopters
IN has an additional requirement of naval multi-role helicopters (NMRH) pending approval of the government. The induction plan includes NMRH with ASW, ASuW and Special Forces operations capabilities. The original plan for acquiring 123 NMRH from the leading global vendors has been re-categorised as 'Buy & Make (Indian).' This is aimed at promoting Indian industry in the aviation sector to tie up with global majors for the technology transfer and joint venture arrangements for production of the aircraft indigenously. The government has ordered the capacity and capability verification of Indian industry to be cleared for participation in the tendering process. It is learnt that tenders will be out shortly. The companies expected to take part in the tender include all major helicopter manufacturers like European Eurocopter, AgustaWestland, American Bell Helicopters, Sikorsky, Lockheed Martin and Kamov Helicopters.
Naval Utility Helicopters
As a replacement for the Hindustan Aeronautics Limited (HAL) manufactured ageing Chetak helicopters, a survey for twin-engine utility helicopters was launched nearly a decade ago. A requirement to procure over 100 naval utility helicopters (NUH) from the leading global manufacturers was identified. This programme was, however, scrapped last year and the 'Buy & Make (Indian)' categorisation was awarded to it.
Consequent to revised categorisation, several top Indian companies including Tata, Mahindra and Anil Ambani-led Reliance Group have displayed keen interest to participate in the nearly $1.5-billion NUH programme. A large number of domestic firms have responded to the request for information issued in October 2014. Most of the leading Indian industries, such as Punj Llyod, Bharat Forge, Mahindra Aerospace, Reliance Defence and Aerospace, Tata Advanced Systems and HAL have responded. European major Airbus, AgustaWestland, Bell Helicopters and Sikorsky are reportedly in negotiations with Indian industry to finalise their participation in 'Make in India' initiative.
Naval Shipborne Unmanned System
The Indian Navy intends to procure at least 50 Naval Shipborne Unmanned Aerial System (NSUAS) for intelligence, surveillance and reconnaissance, sea-lanes of communication monitoring and coastal/EEZ surveillance, anti-piracy and anti-terrorism, assistance in search and rescue and assistance in maritime domain awareness. The preference for NSUAS would be for those which can operate from warships of size of 50 m upwards (with or without helicopter decks) and be capable of day/night operations. The Indian Navy has been on the lookout for a variety of different UCAS and UAS, including shipborne rotary-wing vehicles, shore-based MALE/HALE vehicles and conventional shore-based vehicles.
US-2i Amphibious Aircraft
The Indian Navy has shown interest in acquiring 12 amphibious aircraft US-2i built by Japanese firm ShinMaywa. The $1.65-billion deal is being progressed as part of the Services Capital Acquisition Plan (SCAP). This could be the Japan's first defence export to India. Indian Navy requires the aircraft for search and rescue missions, inter-island communication, rapid response duties and reconnaissance of islands, but also as an offset to China's growing strength at the north end of the Andaman Islands.
V-22 Osprey – Airborne Early Warning Aircraft
For some time now the Indian Navy has been evaluating the options for acquiring a fixed-wing AEW platform for its aircraft carriers. Not just for INS Vikramaditya but the two IACs, as well. While Northrop Grumman in the past had pitched for the E-2 Hawkeye with appropriate modifications, Indian Navy is also intrigued by the flexibility offered by the V-22 Osprey tilt-rotor aircraft. With vertical take-off and transition into fixed-wing flight, it appears to take care of tactical advantage the Indian Navy is looking forward to through an AEW platform.
Surface Fleet
Project 15B, Guided Missile Destroyers
In the wake of success story of Project 15A, Kolkata class guided missile destroyers, the government has already approved a follow-on programme of four more stealth destroyers as Project 15B. The Project 15B ships will retain the same hull form as for Kolkata class and most of its systems. There will be some upgrades, structural changes in the superstructure to improve stealth, better sound and infrared suppression. The displacement of each ship will be approximately 7,000 tonnes, a 200-tonne addition over Kolkata class.
The main armament will include the new Nirbhay, land attack cruise missile (1,000-km range), the hypersonic BrahMos-II anti-ship cruise missile (300-km-range) and an Extended Range surface-to-air missile (100-km range). Construction of the first of the class, INS Bengaluru is already well underway.
Project 17A, Stealth Frigates
Dormant for some years now, Project 17A guided-missile stealth frigates (FFG) has recently been kick-started. The project is an advanced derivative of the existing 5,600-tonne Project 17 Shivalik class frigates. The Mazagon Dock Limited (MDL) will be the lead yard for both detailed design and construction of the first four ships of the project and the Garden Reach Shipbuilders & Engineers Limited (GRSE), Kolkata, will build the balance three.
The first ship is expected to be launched by 2017 and the remaining six expected to be delivered, one each year until 2023. The Project 17A's design will include new-generation weapon systems like the Barak-2 MR-SAM/EL/M-2248 MF-STAR combination and BrahMos vertically-launched supersonic multi-role cruise missiles. The superstructure of this class will also make extensive use of composites.
While INS Kamorta was commissioned on August 23, 2014, second ship of the class INS Kadmatt is scheduled for commissioning in June/July 2016, INS Kiltan in September 2017 and the last ship of the series towards the end of 2018.
Project 28, Anti-Submarine Warfare Corvettes
Kamorta class corvettes are Indian Navy's next-generation ASW platform, being built under Project 28 at GRSE. All four corvettes are planned to be handed over to the Indian Navy by 2017. The basic design for Project 28 was specified by the Directorate of Naval Design which was converted into detailed design by GRSE. These ships will have a very high percentage of indigenous equipment. The DMR 249A hull steel is produced by SAIL. Wärtsilä, India will deliver the low-vibration diesel alternators to power the on board electronics. While INS Kamorta was commissioned on August 23, 2014, second ship of the class INS Kadmatt is scheduled for commissioning in June/July 2015 (probably delayed), INS Kiltan in September 2016 and the last ship of the series towards end 2017.
Next-generation Missile Corvettes
To augment existing strength of missile corvettes, a brand new project of six stealth next-generation missile vessels (NGMVs) has been enunciated. The project has been categorised as 'Buy (Indian)'/'Buy & Make (Indian)'. The design and technology specifications are under finalisation. The main envisaged capabilities of the new NGMVs will include stealth features, low radar, acoustic, magnetic and IR signatures, high endurance and credible advanced mine detection and anti-air capabilities. The propulsion system is envisaged to cater for greater endurance and operations in low speed regimes during low intensity maritime operations or EEZ patrols.
Mines Countermeasures Vessels
The Defence Acquisition Council has recently given the go-ahead to the Goa Shipyard Ltd (GSL) for the construction of all eight mines countermeasures vessels (MCMVs) with the option of additional ships. The project is to replace 12 ageing Pondicherry and Karwar class minesweepers by 2020. The Indian Navy requires at least 24 MCMVs to clear mines laid by enemy warships and aircraft to blockade harbours during war.
Sub-Surface Fleet
Project 75 – Scorpene Class
In October 2005, contract for Project 75 was awarded to French defence giant DCNS to build six Franco-Spanish Scorpene class diesel attack submarines at MDL. The deal involved extensive technology transfer agreements. Though the first Scorpene submarine was scheduled to be handed over in 2012, as things stand now, the first boat which was undocked at MDL on April 6, 2015, will be delivered by September 2016, completing the delivery of all six boats by September 2020.
The Project 75(I) submarines are expected to be bigger than the 1,800-tonne Scorpene class. The AIP systems will enable greater underwater endurance besides incorporating stealth, land-attack missiles capability and other technological advancements.
MDL will soon have two lines of submarines construction; one for six Scorpene SSKs and the second yet to be ordered six Project 75I SSKs. Consequently, by late next year, MDL will have two dedicated submarine construction facilities—one at its East Yard and the other at the Alcock Yard, both of which will be used for the accelerated delivery of the six Scorpene SSKs.
Project 75(I) – Conventional AIP Submarines
With intent to revisit the dormant Project 75(I), a high-level Ministry of Defence committee had conducted a survey of Indian shipyards, both in public and private sectors including MDL, GRSE, Hindustan Shipyard Ltd., GSL, L&T, ABG Shipyard and Pipavav Shipyard to build six next-generation submarines with Air Independent Propulsion (AIP) System by 2022. Reportedly, the committee has shortlisted L&T and Pipavav Defence & Offshore Engineering Company, in which the Anil Ambani group firm Reliance Infrastructure has recently acquired management control. The tender under 'Buy & Make (Indian)' categorisation will be issued for transfer of technology with leading foreign collaborators and substantial manufacturing in India for six advanced stealth diesel-electric submarines.
The likely global contenders to participate in the venture include DCNS with upgraded/advanced Scorpene, Navantia with the S-80, Rubin Design Bureau with Amur 1650 and HDW with Class 214. Soryu class new-generation conventional attack submarines jointly developed and manufactured by Mitsubishi and Kawasaki Heavy Industries of Japan are also likely to join in the fray.
As per available reports, Navantia has a tie-up with Lockheed Martin for combat management systems and is known to be working closely with L&T albeit on surface ship projects. The Swedish Kockums Archer class is also in the race. DCNS already has a technology tie-up with Pipavav Defence, as also Sembcorp Marine (Singapore), part of Temasek of the Singapore Government, has a strategic and equity partnership with Pipavav Defence.
The Project 75(I) submarines are expected to be bigger than the 1,800-tonne Scorpene class. The AIP systems will enable greater underwater endurance besides incorporating stealth, land-attack missiles capability and other technological advancements.
Nuclear Submarines
Recently, the Cabinet Committee on Security (CCS) has approved plans for the indigenous development and construction of six nuclear-powered attack submarines (SSNs) for over Rs. 6,000 crore. India has already developed competency in indigenous production of nuclear submarines. Arihant, India's first indigenously designed and constructed nuclear submarine currently undergoing sea trials, is a shining testimony in this domain.
The plan to add six nuclear attack submarines is a modification of government's decision taken last year for Project 75(I). This initiative seems to be an amalgamation of six nuclear submarines into 30-year submarine force building and modernisation perspective plan approved by the government way back in 1999.
Conclusion
Tweaking the MCPP of Indian Navy by infusing newer initiatives of 'Make in India' to promote greater indigenisation, already a strong USP of Indian Navy, across the board for all ongoing projects behoves well for much needed rejuvenation of the Indian Navy. Amalgamation of six nuclear submarines into the beleaguered 30-year submarine force building and modernisation perspective plan and alongside developing the ancillary shore support facilities, infrastructure and the all-inclusive base could truly be a game changer.
The Indian Navy has further stepped on the gas for indigenisation in tune with the government's 'Make in India' policy, identifying close to hundred technologies for DRDO to develop over the next 10-15 years. India already has 42 warships and six submarines under construction in Indian shipyards with an order value of around Rs. 3,00,000 crore to maintain a cutting-edge three-dimensional profile. The recent review of the dormant schemes of Indian Navy's MCPP by the government re-emphasises the imperatives for a stronger and rejuvenated Indian Navy to assume its strategic roles which is due to India's immense geographic advantage in the Indian Ocean.