Following the trend of acquiring amphibious ships which can double up as helicopter carriers, Turkey has initiated the construction of its first helicopter dock TCG Anadolu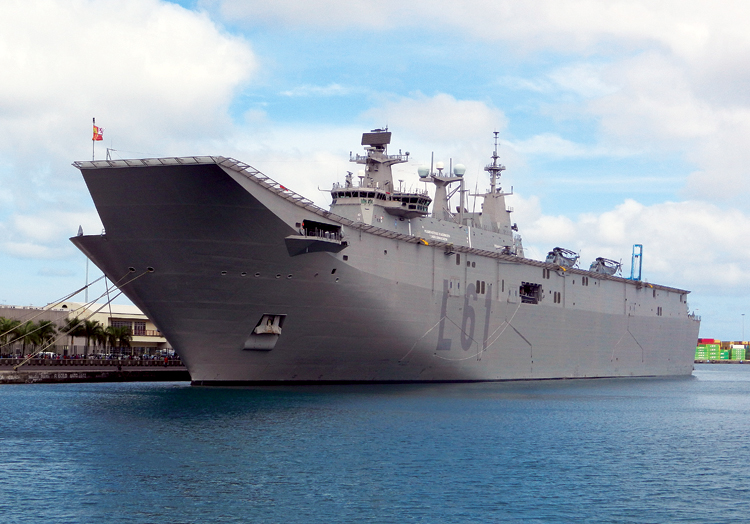 A file photograph showing the bow of Navantia's Juan Carlos I, and the ship's ski-jump ramp
On February 7, Turkey began construction of its first Landing Helicopter Dock (LHD) TCG Anadolu, after the ceremonial keel of the ship was laid at the Sedef shipyard in Turkey. It is based on the Spanish naval shipyard Navantia's Juan Carlos I class amphibious assault ship, which is operational with the navies of Australia and Spain. The work on the Anadolu started with steel cutting in April 2016.
Andalou is expected to cost around one billion dollars and will join the Turkish fleet somewhere around 2021. Turkish President Recep Tayyip Erdogan, after the steel cutting ceremony, had said, "TCG Anadolu will be the first ship in the navy from which F-35B SVTOL planes will operate."
Turkish authorities in December 2013 announced that the Sedef shipyard will construct the vessel in collaboration with Navantia. In addition to construction, Sedef will integrate and conduct mandatory test of the vessel before its final delivery to the Turkish Navy. The amphibious assault ship project also includes four landing craft mechanics (LCM), 27 amphibious assault vehicles (AAV), two landing craft personnel vehicles (LCVP), one commander boat and one rubber hull inflated boat (RHIB).
Juan Carlos I
Named after the reigning Spanish King, Juan Carlos I is the biggest naval ship ever built in Spain. The idea behind the ship was to provide Spanish Navy with a multi-purpose ship which can deploy land and marine forces for amphibious assault and can also function as a small size aircraft carrier. Built using the modular design, the first block of the ship was laid in 2006 at Navantia's Shipyard in Ferrrol and was launched on March 10, 2008. It was commissioned in the Spanish Navy on September 30, 2010.
The single hull ship is designed to carry on four kinds of missions, namely, amphibious-transporting infantry and support cargo for land operations; force projection – ferrying armed forces to any theatre; aircraft carrier – as platform for launching helicopter and fighter aircraft and for humanitarian and disaster relief.
The 30,000 tonnes (maximum displacement) vessel is the first Spanish ship with electrical POD propulsion which allows it to sail in any direction. General Electric LM-2500 gas turbine, along with two MAN 32/40 diesel engines, gives the vessel 34 MW of power and maximum speed of 21 knots. Armed with four close-in 20 mm cannons, designed as a 'protected unit', it also has room for carrying self-defence weapons. Juan Carlos I, can ferry upto 1,435 personnel including 883 infantry and 254 crew members.
The ship can launch six medium size choppers like SH-60 Seahawk and NH-90, or four heavy lift like CH-47 Chinooks simultaneously and has a 12 degree ski-jump ramp to launch short take-off and vertical launch (STOVL) aircraft. It can launch the American F-35B Lighting II and V-22 Osprey tilt-rotor aircraft. In carrier mode it can carry a dozen each of helicopters and STOVL aircraft. It can operate as a carrier for duration of 50 days without needing any replenishment.
The Turkish version is better armed than the original Spanish design. In addition to various kinds of radars including Smart 3D, air and navigation radars, TCG Anadolu carries four 25mm Aselsan STOP, three 12.7mm Aselsan STAMP, two Raytheon Phalanx CIWS, jammers chaff and IR decoy and Aselsan TORK torpedo countermeasure system. It also carries infra-red search and track system.
Australia also operates two of the Juan Carlos I based ships known as Canberra-class LHD. The two ships, namely, the HMAS Canberra and HMAS Adelaide, were constructed by Navantia and the hull was transferred to Australia for completion. The Canberra class is designed not to support fighter jets. The Navantia design was selected over the Naval Groups's Mistral class – two of them were ordered by the Russian Navy as a helicopter carrier which later were procured by Egypt. The first ship of the Canberra class, HMAS Canberra joined the Australian fleet on November 28, 2014 which was followed by HMAS Adelaide on December 4, 2015.
The Indian LPD story
In 2011, India sent out a Request for Information (RFI) to procure Landing Platform Dock (LPD) class of ships for the Indian Navy under Buy and Make (Indian) category. As per the RFI, out of four ships, procured from foreign shipyard, two were to be built at public sector Hindustan Shipyard and rest by private Indian shipyard. Later, the first tender was cancelled and a Defence Acquisition Council (DAC), apex procurement body of the Ministry of Defence, last year, approved the project with an amendment to procure the LPDs from the Indian private shipyards. The Indian shipyard will form a joint venture with a foreign shipyard and file proposal and the selected ship will be constructed in India.
There are two contenders for the contract Reliance Defence and Engineering Limited (RDEL) and Larsen & Toubro (L&T). The project is expected to cost over 20,000 crore to exchequers and will provided Indian Navy with much required amphibious capability for beach assault and humanitarian relief operations. For the project, L&T has joined hand with Navantia whereas RDEL has collaborated with Naval Group. Interestingly, India has been fiddling with this idea of LPD for a decade, in the mean time Australia and Egypt has been able to procure them and Turkey is executing them.
"I suppose it's just a question of money. If we want to be counted in the security matrix of the Indian Ocean then we must go for LPD. These are not only required for hard operations but also for the humanitarian and disaster relief (HADR). Today, HADR has become more important, for that LPD is a must."

—Vice Admiral Satish Soni (Retd), former Flag Officer Commanding-in-Chief, Eastern Naval Command speaking to SP's Naval Forces
Speaking to SP's Naval Forces, Vice Admiral Satish Soni (Retd) said, "I suppose it's just a question of money. If we want to be counted in the security matrix of the Indian Ocean then we must go for LPD. These are not only required for hard operations but also for the humanitarian and disaster relief (HADR). Today, HADR has become more important, for that LPD is a must."
LPD is one of the lowest hanging fruit for the Indian Navy. This project would have benefitted the Indian private sector immensely, as the 30,000-tonne ship would have provided, private shipyard with much required money and experience of executing a project akin to constructing a small aircraft carrier. This could well give our private shipyards capability of building a full fledged aircraft carrier. The timely execution of this project will go a long way in retaining Indian dominance in India Ocean.
TCG Anadolu: Specifications
Length overall:
231 metres
Maximum beam:
32 metres
Draught:
6.8 metres
Height:
58 metres
Maximum speed:
21 knots
Range:
9,000 miles @ economical speed
Electric propulsion:
2x 11 MW Siemens eSIPOD; 5x MAN 16V32/40 Diesel
GenSets and 2x bow thrusters
Complete hospital and sick bay
Source: Navantia