From an event of sub-regional context, MILAN has now grown into a prestigious international event and encompasses participation by maritime forces from not just the Bay of Bengal and South East Asia but the larger Indian Ocean region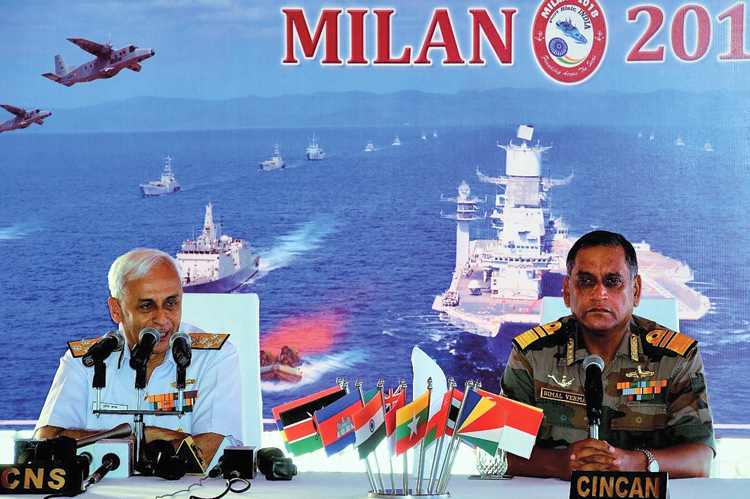 MILAN 2018, a mega biennial maritime event was conducted in the second week of March 2018 under the aegis of Andaman & Nicobar Command. The traditional multi-national congregation of the littoral navies is conducted by the Indian Navy at the Andaman & Nicobar Islands. Since its inception the primary objectives of MILAN have been to foster cooperation through naval exercises and professional interactions. It also provides an excellent opportunity to the participating navies to come together in a spirit of collaboration and mutual understanding to nurture stronger ties and inculcate the concept of mutual trust and inter-operability.
Modest beginnings of MILAN interactions go back more than two decades when it was first conducted during 1995. The first edition saw participation of only four littoral navies. The event achieved strident success during the ensuing years owing to high standards of professional content of the event. The growing participation over the years bears testimony to the success of this multilateral initiative. From an event of sub- regional context, MILAN has now grown into a prestigious international event and encompasses participation by maritime forces from not just the Bay of Bengal and South East Asia but the larger Indian Ocean region.
MILAN 2018 was held at Port Blair from March 6 to 13, 2018. In consonance with its original doctrine, the theme 'Friendship across the Seas' was appropriately chosen for MILAN 2018. As was customary MILAN 2018 witnessed a diverse mix of professional exercises and seminars, social events and sporting fixtures. The interactions during MILAN encompass sharing of views and ideas on maritime good — order and enhancing regional cooperation for combating unlawful activities at sea. The theme for MILAN 2018 International Maritime Seminar was 'In Pursuit of Maritime Good Order — Need for Comprehensive Information Sharing Apparatus'. The inaugural address was delivered by Admiral Sunil Lanba, Chairman Chiefs of Staff Committee and the Chief of the Naval Staff, besides presentations by eminent speakers. The social interactions planned during MILAN 2018 included display by Bands of the Indian Navy and Indian Army, ship visits and colourful cultural evenings. Several events of MILAN 2018 were open to the public including displays by sky diving team, Beating the Retreat and Naval continuity drill.
An International City Parade was held along the Marina Park Road, Port Blair with marching contingents from all participating foreign naval ships as well as the Indian Armed Forces. The parade included a flypast and aerobatic display by military aircraft and demonstrations of various military operations. Besides, visiting foreign ships were open for visits by school children and local public. MILAN 2018 culminated with Passage Exercise at sea by all participating naval ships. MILAN 2018 showcased the rich heritage and pristine natural beauty of the Andaman and Nicobar Islands to the foreign visitors.
Maldives Islands and MILAN 2018
MILAN 2018 was attended by as many as 16 navy delegations from Indo-Pacific littoral countries, including Australia, Malaysia, New Zealand Myanmar and Mauritius. Maldives, one of the Indian Navy's close maritime partners, has been a regular participant at MILAN in the past. However, since its inception this was the first instance that Maldives declined the Invitation extended by the Indian Navy to attend MILAN 2018.
While declining to send a delegation, Maldives assigned no reason to boycott MILAN 2018. It is an open secret that Maldives under its present regime has gradually drifted deeper into China's vice like grip. The internal situation in Maldives has compounded due to severe rift and uncertain domestic political imbroglio and the power tussle. Consequently, pro-China president, Abdulla Yameen, had imposed emergency and imprisoned top opposition leaders, who are largely pro-India. The 45-day state of emergency was lifted by President Abdulla Yameen on March 22, 2018, with a proclamation to levy bribery charges on former President Maumoon Abdul Gayoom, Chief Justice Abdulla Saeed, Supreme Court Judge, Ali Hameed and Supreme Court Administrator, Hassan Sayeed.
Despite the internal political turmoil naval ties between the two navies are intact. As is usual a number of Maldivian Navy cadets reported for training with the Indian Navy's 1st Training Squadron. 1st Training Squadron trains Indian and foreign cadets on six ships – Indian Naval Ships Tir, Sujata and Shardul; Indian Coast Guard Ship Varuna, and two Sail Training Ships – Sudarshini and Tarangini. Over the last four decades, the 1st Training Squadron has trained more than 13,000 cadets from over 40 countries, including many from the Maldives. In its 24 week-long training capsule, navy and coast guard cadets learn how to operate warships and are exposed to the rigours of life at sea – "earning their sea legs", in naval parlance.