Rear Admiral Didier Piaton, AI-INDIEN
The anualy held VARUNA naval exercise is an integral part of the growing France–India strategic relationship and consists of naval cooperation drills between the French Navy and the Indian Navy. The joint-exercises are held either in the Indian Ocean or Mediterranean sea with the aim of improving Indo-French coordination on capabilities like cross-deck operations, replenishment-at-sea, minesweeping, anti-submarine warfare and information sharing. Initiated in 2001, the naval exercise Varuna aims to develop interoperability between the navies of the two countries by sharing experiences and tactics so as to be able to conduct operations jointly, should the necessity arise. The Varuna series of exercises have grown in scope and complexity over the years and provide an opportunity to both Navies to increase interoperability and learn from each other's best practices.
The Indian and French Navies have been conducting bilateral maritime exercises since May 1993. In 2001 a new designation of 'Varuna' was assigned to the annual exercises. Last edition, Varuna-2017 was held from April 24 to May 12, 2017. The Indian Navy had deputed four of its frontline ships; viz. guided missile destroyer INS Mumbai, two guided missile frigates INS Trishul and INS Tarkash, and replenishment and repair ship INS Aditya. From the French Navy too, four ships participated: multi-mission frigates Auvergne and Aquitaine, the anti-aircraft frigate Cassard, and the stealth frigate La Fayette.
Rear Admiral Piaton and Rear Admiral M.A. Hampiholi, Flag Officer Commanding Western Fleet exchanging crests
For Varuna-2018, French Naval Ship Jean de Vienne and Nuclear Propelled Submarine Perle visited Goa from March 15 to 20, 2018. FNS Jean de Vienne is commanded by Captain Fabrice Berthelot and the ship is manned by 221 personnel. French Submarine SSN Perle is commanded by Commander Frank Catros and the SSN is manned by 78 personnel. A series of professional and other formal interactions were held between the French Navy personnel and officers and sailors of the Goa Naval Area. A press conference was onboard INS Mumbai on March 19, 2018.
Captain Fabrice Berthelot and Commander Frank Catros, Commanding Officers of Jean de Vienne and Perle respectively, called on Rear Admiral Philipose George Pynumootil, the Flag Officer Commanding Goa Naval Area on March 15, 2018, and discussed various bilateral issues.
In 2017, Varuna was conducted in three sea areas in the European waters. Varuna-2018 too was conducted in three sea areas, namely, the Arabian Sea, the Bay of Bengal and South Western Indian Ocean. The second phase, the sea phase began from March 20, 2018, and was conducted in the Arabian Sea, with participation of a French submarine and frigate Jean de Vienne from the French side. The Indian Naval Ships, destroyer Mumbai, frigate Trikand with their integral helicopters, Indian Navy submarine Kalvari, P8-I and Dornier maritime patrol aircraft, as well as the MiG-29K fighter aircraft participated in the final operations phase. The sea/operations phase comprised antisubmarine warfare, asymmetric engagement exercises, communication exchanges at sea, passage exercises, etc.
In 2017, Varuna was conducted in three sea areas in the European waters. Varuna-2018 too was conducted in three sea areas, namely, the Arabian Sea, the Bay of Bengal and South Western Indian Ocean.
Shortly before the commencement of Varuna 2018, the President of the Republic of France, Emmanuel Macron accompanied by Brigitte Marie-Claude Macron paid a State visit to India from March 9 to 12, 2018. An all-important mutual logistics support pact, most pertinent to the mutual Varuna series of exercises was signed between the two countries during this visit.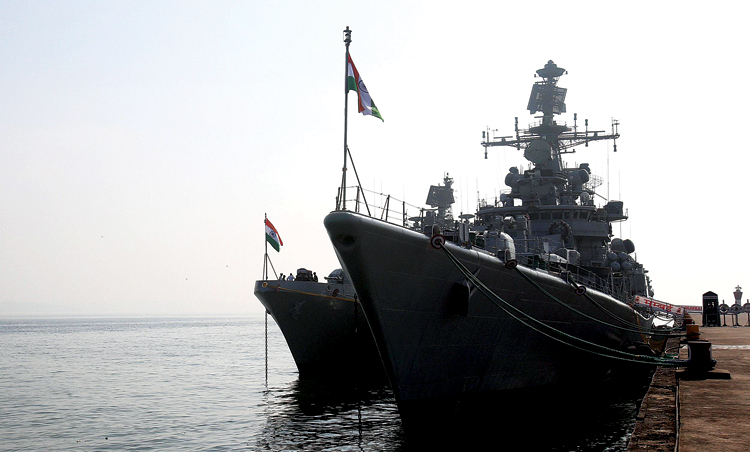 INS Mumbai and INS Trikand
On conclusion of the visit President Macron made a historic announcement in his official communiqué, "We want India as our first strategic partner here, and we want to be India's first strategic partner in Europe, and even the western world." France supports India's bid to the NSG and UNSC and both countries share common concerns and objectives in the field of non-proliferation of weapons of mass destruction. Both have reiterated their support to the Indian Ocean Rim Association (IORA) and the values it promotes, and commitment to proactively contribute towards the priorities of IORA. China's militarisation of the Indian Ocean is cause of concern for both India and France, even as India is redefining its strategic space in the Indo-Pacific. Signing of the agreement for granting reciprocal access to facilities of both counties allows India logistics access to French military bases in Djibouti, Abu Dhabi, and Reunion Island, which will be important and definite force multipliers. France has always maintained an independent policy including with the US and NATO. It will not like to join the 'Quad' comprising India, US, Japan and Australia. But notwithstanding that close bilateral Indo-French bilateral partnership is significant for both countries. In the absence of an architecture for the Indo-Pacific to ensure security of Sea Lanes of Communications, global commons and the region, interoperable navies that can use each other's naval facilities is certainly the best substitute. But this being just one part, the India-France strategic partnership has great potential to keep going from the next to next level".