"The conclusion of the first ever Ministerial 2+2 between India and the US is a concrete manifestation of the vision of our leaders, Prime Minister Shri Narendra Modi and President Donald Trump, to take the India-US relationship to a new level." —Nirmala Sitharaman, Defence Minister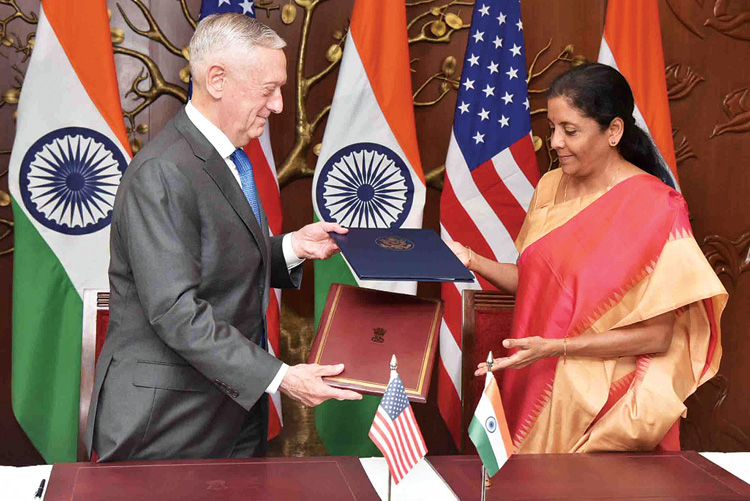 US Secretary of Defence James Mattis and Defence Minister Nirmala Sitharaman exchanging the documents after signing the COMCASA during the 2+2 Bilateral Dialogue between the two countries in New Delhi
For over a decade, or more intrinsic discussions, debates, analysis had been ongoing during interactions within the strategic community at various forums; whether or not to sign the Communications, Compatibility and Security Agreement, COMCASA for short, offered by the US for India. COMCASA is an advanced and refined version of Communication Interoperability and Security Memorandum Agreement (CISMOA) which has been specifically designed by US for India. CISMOA is one of the three foundational agreements that the U.S. insists on signing with its military allies. The other two agreements are Logistics Support Agreement (LSA) and Basic Exchange and Cooperation Agreement (BECA).
Once the bilateral relations between the two countries began to improve and the acquisition of big-ticket defence technologies and platforms began to fructify the requirement of signing of India specific and modified version of LSA called Logistics Exchange Memorandum of Agreement (LEMOA) became a contentious issue within India. After a raging debate on the efficacy of LEMOA for several years, finally it was signed in 2016.
As was the case with LEMOA, COMCASA too became a contentious issue and the strategic community in India was divided as COMCASA was viewed as highly intrusive to India's strategic interests and requirements. COMCASA envisages the usage of American military communication equipment onboard various systems bought by India from US. Since this equipment will almost certainly use American encryption standards for inter-operability with other US systems, India would need to allow American experts to access such equipment periodically to inspect Indian arms in Indian military bases. This became a major area of concern as a vast percentage of weapons and systems inventory in India is of non-US origin. Since these would be non-compliant with American communication systems, signing of COMCASA to acquire American systems would make it difficult for India to make its own systems interoperable. Conversely, India cannot do without acquiring some of the niche technologies in areas such as Unmanned Aerial Vehicles, Anti-Submarine Warfare and Aircraft Carrier where US is the undisputed global leader.
However, COMCASA is more than just a military agreement as foreign policy components are also engrained into it. Over the past two decades there have been unprecedented improvements in the bilateral relations between India and US. Consequently, India has become a de-facto nuclear power with the 1-2-3 nuclear agreement, joined Missile Technology Control Regime (MTCR), Wassenaar Arrangement and the Australia Group.
In the recent past a major bone of contention has emerged with the enactment of Countering America's Adversaries Through Sanctions Act (CAATSA) by US Congress. The law directs the US administration to punish foreign countries doing business with Russian defence and intelligence apparatus by applying sanctions against them. India feels threated by CAATSA provisions as India enjoys time-tested and long-standing bilateral relations with Russia.
India's Advantage
There are many advantages which India will have signing the COMCASA agreement. A few advantages are given below:
The COMCASA provides the legal framework for the US to part with its sensitive communication equipment and codes to enable transfer of realtime operational information. Ground to air or vice versa exchange of real/near real time information from air borne platforms helps in superior situational awareness and better decision making process. The legal frame work is also binding on India as it cannot disclose this information to unauthorised parties.
India will have access to US secure data links which in turn will provide India big time US intelligence including on Pakistan and China.
The COMCASA will enable 'Interoperability' with US during joint exercises and HADR.
This agreement allows US to provide India with their latest communication equipment on platforms which they sell to India. Normally India fits its own equipment mostly made by Bharat Electronics Limited.
COMCASA will also help India obtain the armed version of drones like the Sea Guardian otherwise US does not permit communication systems required for armed versions.
India has already signed the Logistics Exchange Memorandum of Agreement (LEMOA) with the US and the signing of COMCASA, strengthens India-US military ties. The third agreement US makes almost mandatory for its close allies to sign is Basic Exchange and Cooperation Agreement Cooperation (BECA). The way things are moving forward, India will sign BECA in the near future.
After protracted delays, intense debates, speculations, the much-delayed parleys and much anticipated first ever 2+2 Dialogue between the Secretary of State, Defence Secretary of US and the Minister of External Affairs and Defence Minister of India on Thursday, September 6, 2018 signed the COMCASA Pact that will facilitate India to acquire sensitive and niche defence technologies from US. While Mike Pompeo, US Defence Secretary termed COMCASA agreement a "milestone" in US-India relationship, Nirmala Sitharaman asserted that the pact would enhance India's defence capability and preparedness.
Mike Pompeo, US Secretary of State amplified, We have agreed on a hot line between... (Nirmala) Sitharaman and (Jim) Mattis.
Sushma Swaraj, Minister of External Affairs described the parleys, "This meet was a focus on regional stability in South Asia, South-East Asia and Indo-Pacific... India being a part of groups like the ASEAN also help greatly in this endeavour," She added, "In today's meet we have agreed to speed up the process of India's entry into the NSG."
Mike Pompeo, US Secretary of State amplified, "We have agreed on a hot line between... (Nirmala) Sitharaman and (Jim) Mattis. India and the US stand for freedom and democratic values... and we aim to extend this across the Indo-Pacific... we will work at different levels to ensure a free Indo-Pacific."
Defence Minister Nirmala Sitharaman reiterated, "Defence came out as the singlemost important aspect of our discussions today. We have been discussing how we can more openly communicate back and forth because of the sensitivity of some of the technology... we have to know that when we share this with another likeminded nation, that we can keep it secure." Jim Mattis responded, "I think that we're pretty much there already, on the American side." The US has emerged as India's second-largest arms supplier, closing $15 billion worth of deals in the past decade. Once the COMCASA accord is in place it could lead to the sale of an armed version of Guardian drones, as Washington has so far only authorised the sale of unarmed, surveillance versions of the aircraft.
It is earnestly hoped that COMCASA Pact could reduce the chances of the US imposing sanctions under CAATSA on India's intent to buy Russian S-400, Triamf surface-to-air missile systems. However, a new defence bill proposes giving the US President the authority to grant waivers when national security interests are at stake.