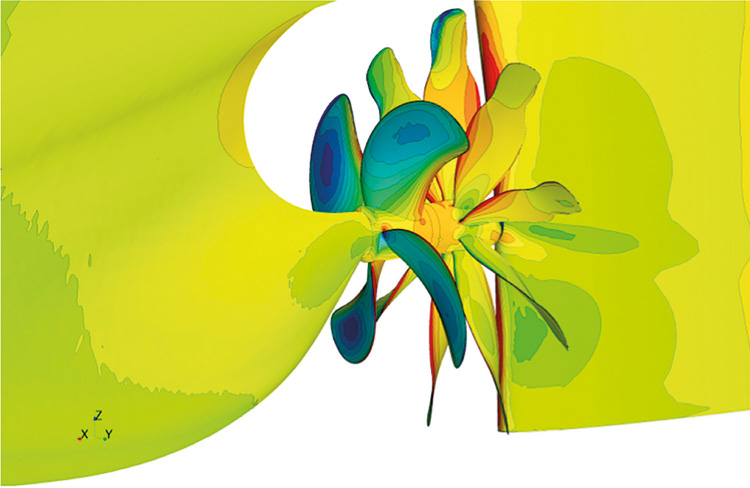 Model of a complete propulsion system in STAR-CCM+
Hull design is the number one factor in fuel efficiency. It impacts profitability, competitiveness and ship value. Since the first commercial ship basin was commissioned in 1883, towing tanks have provided naval architects with a reliable method of predicting the performance of a ship at sea. Tank testing is commonly used for both resistance and propulsion tests. However, the cost and effort of producing a model and testing it, means that this process is utilized late in the design cycle. This method verifies and fine-tunes an established design, rather than being a tool to help drive and optimize the design.
CFD has long been considered a credible alternative to tank testing. It provides a numerical model that can be implemented much earlier in the design process. Naval architects can make use of engineering data to influence and improve the design process. Another advantage to CFD is the accuracy of results, independent of the scale of calculation.
Preferred Approach
The improvements in computing power, have allowed experts working in shipping to use CFD calculations to simulate vessel hydrodynamic performance more accurately and faster than ever before. The industry's ability to handle complex geometry with all relevant details has also greatly improved. Development in grid generation has made it easier to generate high-quality grids for accurate CFD simulations.
Many aspects have advanced the wide acceptance of CFD as a design and optimization tool. The increase in hardware power combined with progress in various aspects of the flow solvers permit a wider scope of more sophisticated applications. Such analyses have become increasingly important and have now resulted in CFD surpassing model tests as the preferred approach for many applications in the maritime industry.
Developing Techniques
More sophisticated CFD analyses for ships and offshore platforms employ a variety of techniques that have become widely available in recent years. One key aspect for carrying out calculations based on complex geometries, such as analysis of offshore platforms, is geometry recognition. In this case the pre-processing software uses prismatic cells to recognize cylinders with extrusion along centerline and thin solids, or gaps, with projection from one side to another. The result being that today, CFD models often provide a higher level of detail than achieved with model tests. CFD software can now handle moving parts (propellers or rudders), model complete systems rather than single parts, and can replace geometry (if required) to perform analysis with and without specific parts.
Turbulence Modelling
In the 1980s and 1990s unsatisfactory results were often blamed on the limitations of turbulence modelling. This type of modelling is useful for analyzing the flow structures and resulting resistance of bare hulls, as investigated in most validation studies. However, the propeller behind the ship dominates flows and reduces the effect of the turbulence model. For most applications in the marine industry, the standard k-ε or k-ω turbulence models are adequate. But other models are available to better predict secondary flows, the Reynoldsstress model (RSM) currently being one of the most popular options. In the future, large-eddysimulation (LES) analyses are likely to end the debate on turbulence modelling. LES directly captures the larger, significant 'finger-print' vortices of the flow directly and uses subgrid-scale turbulence models for the small, 'background noise' turbulence. Currently only a few research institutions have the computational resources necessary to carry out LES calculations. However, these resources are expected to become available to the industry over the next ten to fifteen years through a general growth of computing power and cloud-based business models.
Classification Society Approved
Free-surface flows are of great interest to naval architects. Measuring the wave resistance of a ship can help them determine which small or moderate changes in hull shape could significantly reduce the overall resistance of the vessel and improve its performance. Other applications of freesurface flows include seakeeping, slamming and sloshing. Modern CFD methods allow the simulation of highly nonlinear free surface flows. Such simulations are now so well predicted that they are widely accepted by classification societies for load determination in strength analyses.
Easier to Use
CFD tools have become more user-friendly as reflected in the use of integrated design environments. The integrated design environment combines many aspects of CFD software including free-form hull description using parametric modelling, interfaces to most modern CFD solvers, several optimization algorithms, and software to handle process management and user interfaces. The design engineer can then work on simulation driven designs using one interface from model generation to post-processing.
Growing computer power and fully automatic procedures have opened the door for formal optimization as the natural step beyond simulation-based design. Lines optimization (also local bow optimization for refits in times of slow-steaming) saves typically 5% beyond the simulationbased approach. Trim optimization saves typically 3% beyond the classical approach based on crew experience.
Leave it to the Experts
Despite the growing power of CFD software, it remains a tool. The speed and quality of results achieved depends on the person using the tool. Effective CFD results are achieved through a combination of knowledge, understanding and skillful CFD techniques. Despite progress in number crunching, expertise and competence remain at the core of good engineering.

This article first appeared in ShipBuilding Industry, Vol. 9 Issue 5. Many thanks to Yellow & Finch Publishers – ShipBuilding Industry, for allowing us to reuse it.