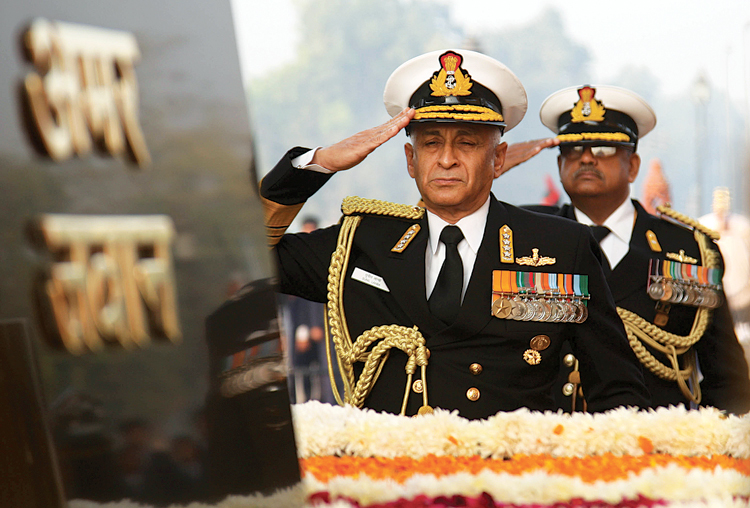 An Officer and a Gentleman: Chairman of the Chiefs of Staff Committee and Chief of the Naval Staff Admiral Sunil Lanba
Addressing his third Media Interaction on December 3, 2018, after taking over as the Chief of the Naval Staff, Admiral Sunil Lanba said, "We in the Navy, duly acknowledge Media's contribution towards shaping the maritime discourse in the country. We are grateful to the media for having presented news, opinions and enlightened debates on naval matters through the years. The Navy Day is celebrated to commemorate the success of Operation Trident, which saw missile boats of the Indian Navy's Killer Squadron, undertaking a blazing attack on Karachi harbour on December 4, 1971." He added, "I would also like to remember one of our illustrious Flag Bearers, Vice Admiral Manohar Prahlad Awati, who passed away last month. He was the Commanding Officer of INS Kamorta and played a stellar role in the 1971 War for which he was awarded the Vir Chakra."
Admiral Sunil Lanba presented the broad overview of the Indian Navy's major operational activities over the past year, as also highlighted Indian Navy's future plans. He stated, "As we surge ahead in the 21st century, the attention of the entire world is focused on the Indian Ocean region, where our Navy is increasingly seen as a 'net security provider'. The maritime dimension of India's security and its importance to national development and economic prosperity is well recognised today and has been articulated at the highest levels by our leadership. Accordingly, our maritime security strategy is aimed at providing a maritime environment that is free from all forms of traditional and non-traditional threats to our national development".
He added, "You are aware that the Indian Navy has successfully completed the first deterrence patrol of INS Arihant this year. With this, we have operationalised the third and the most survivable segment of the country's nuclear triad."
"The Indian Navy has successfully completed the first deterrence patrol of INS Arihant this year. With this, we have operationalised the third and the most survivable segment of the country's nuclear triad."
He highlighted that during 2017 Indian Navy had undertaken a major review of its operational deployment philosophy and based on the prevalent security threats and challenges the same was recalibrated towards 'Mission Based Deployments' in the areas of maritime interests to India. As regards commitment to thwarting the bane of piracy in the Gulf of Aden, the Indian Navy remains steadfast and committed towards curbing this global menace. Since 2008, a total of 70 Indian Naval warships have been deployed, which have safely escorted more than 3,440 (including 413 Indian flagged) ships with over 25,062 mariners embarked. He brought out that so far, the Indian Navy has thwarted 44 piracy attempts and apprehended 120 pirates, a visible demonstration of Indian Navy's efforts towards guaranteeing safe and secure seas to mariners. He informed that during November 2018, one of Indian Navy's mission-deployed ships in the Gulf of Aden intercepted a suspected pirate vessel off the coast of Somalia and seized weapons and ammunition from it".
What has been operationally achieved across the wide canvas of maritime theatre was largely due to the combat skills honed during major exercises. During 2018, the Navy exercised its composite combat capability through an array of theatre-level exercises, both on the Western as well as Eastern seaboards. In addition, a theatrelevel operational level war gaming exercise titled SHIKSHA-18 which included proving of joint concepts with Indian Army and Air Force was conducted.
On similar lines and with engagement with the Indian Coast Guard a sharp vigil over India's vast coastline including the island territories was maintained. Dedicated joint coastal security exercises such as Sagar Kavach and Avardhan have significantly augmented collective surveillance efforts along the coastal areas.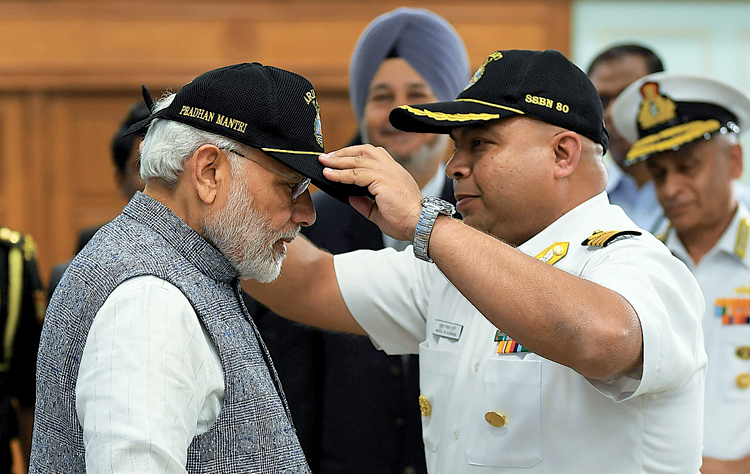 Prime Minister Modi being felicitated by INS Arihant crew
The flagship Theatre Level Operational Readiness Exercise (TROPEX) is scheduled from end January till early March 2019. The exercise will see participation of all operational ships, submarines and aircraft as well as units from the Indian Coast Guard. In addition, significant participation from the Indian Army and Air Force will truly enhance the integrated operations of the three Services. As part of TROPEX a largescale coastal defence exercise 'Exercise Sea Vigil' which will involve all stakeholders across mainland and island territories will be conducted to test the robustness of entire coastal security apparatus during TROPEX.
For stable and tranquil maritime boundaries to enhance interoperability as well as to develop common understanding of the region's security challenges, numerous regional maritime exercises with partner nations are undertaken. During 2018, the tempo of overseas deployments and maritime exercises was at an all-time high as Indian Navy was deployed for the following operational exercises/activities which enhanced interoperability and ensured security in the maritime neighbourhood as well as in the 'Global Commons':
Participation in close to 20 exercises with friendly foreign countries.
The participation was across a wide canvas ranging from Varuna off Reunion Islands, Malabar off Guam, RIMPAC at Hawaii, Kakadu at Darwin, WPNS cum IFR at Jeju, Republic of Korea, IBSAMAR off Simons Town, South Africa, SLINEX off Trincomalee and the 25th edition of SIMBEX off Port Blair and Visakhapatnam have helped Indian Navy further enhance collaborative efforts with the navies of the Indian Ocean region and beyond.
Under the Government of India's overall rubric of 'Neighbourhood First' policy, the Indian Navy undertook Joint EEZ patrols of Maldives, Seychelles and Mauritius, as well as Coordinated Patrols (CORPATs) with Myanmar, Thailand and Indonesia.
Maiden bilateral exercises with UAE and Indonesia and maiden CORPAT with Bangladesh commenced during 2018.
Indian Navy is on the cusp of commencing bilateral exercises with Bangladesh and Malaysia during 2019.
In addition to honing combat skills and forging closer ties with maritime neighbours and partners, Indian Navy continued to be at the forefront of humanitarian assistance and disaster relief efforts. The devastating impact of climate change was serious cause of concern during 2018. During unprecedented floods in Kerala, Indian Navy conducted Operation Madad for over two weeks, rescuing over 16,843 people and followed-up with elaborate relief and rehabilitation efforts. For the large-scale rescue efforts during Cyclone Titli that hit East Coast, personnel, relief materials and assets were synergised to provide succour to those affected by the tragedy. During 2018, Navy's assets to undertake relief missions in Bangladesh, Indonesia, Sri Lanka and Mauritius were synergised to augment relief efforts. Indian Navy remains committed and ready to provide succour and relief in any part of the nation as well as in the Indo-Pacific region.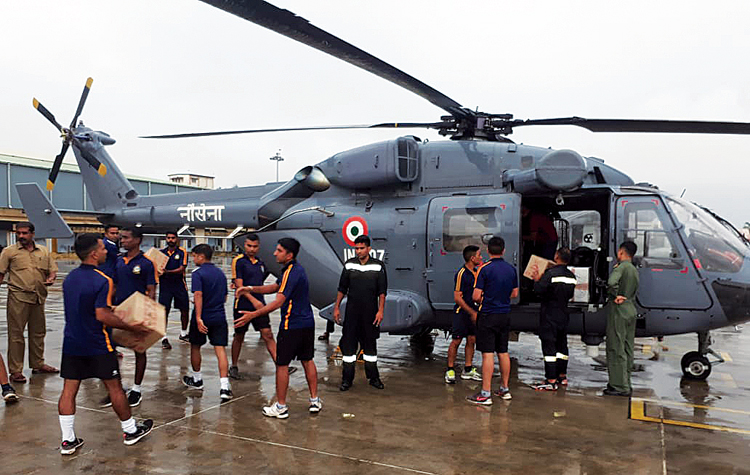 Indian Navy relief operations during Operation Madad in the recent Kerala floods
The Indian Navy's initiatives such as the Indian Ocean Naval Symposium – IONS; MILAN – the biennial gathering of regional navies at Port Blair and Goa Maritime Conclave, have enabled constructive dialogue amongst navies of the Indian Ocean region.
CNS informed that presently there were 32 ships and submarines under construction in Indian shipyards. These include IAC-1, Vikrant, P-15B class guided missile destroyers, P17A class guided missile stealth frigates, P28 ASW corvettes, offshore patrol vessels and Scorpene class submarines. In addition, Government approval has also been accorded for 56 ships and six submarines.
The indigenous aircraft carrier, Vikrant is presently in its third and final phase of construction at Cochin Shipyard in Kerala. The sea trials for the ship are expected to commence mid-2020 and rigorous efforts are being made to achieve the delivery timelines. Induction of Vikrant will provide significant fillip to the Navy's blue water capability, increasing the reach and impact of carrier-borne strike forces, both as a means of deterrence as well as during combat operations.