"The maritime dimension of India's security and its importance to national development and economic prosperity is well recognised today and has been articulated at the highest levels by our leadership." —Admiral Sunil Lanba, CNS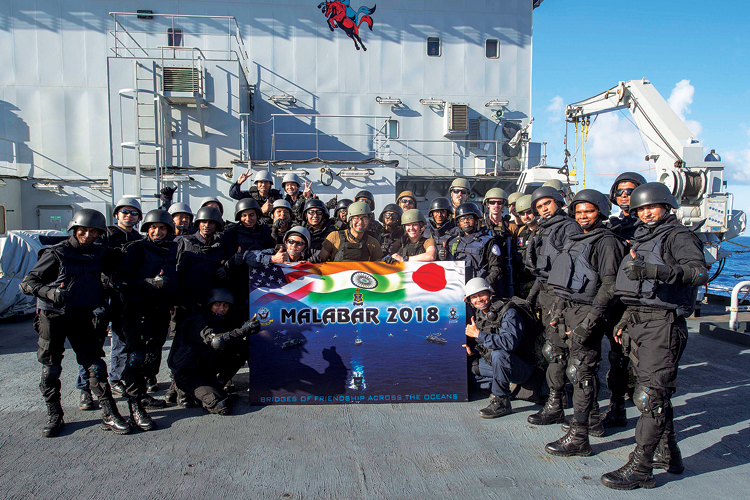 Exercise Malabar 2018 was hosted off the coast of Guam, designed to advance military-to-military coordination in a multinational environment between the US, Japan and Indian maritime forces
Prime Minister Narendra Modi constantly and consistently to both the domestic audience as well as at the international forums has been emphatically reiterating India's vision for the Indian Ocean by enunciating the nation's commitment to the doctrine of SAGAR which is an acronym for "Security and Growth for All in the Region. This concept can be further expounded to mean, creating an enabling maritime environment through a variety of regionally acceptable measures, ranging from ensuring maritime safety and security to achieve favourable geo-political environment towards balance of power within India's neighbourhood and the maritime domain of interest to India.
The role of Indian Navy flowing from the above doctrine was most lucidly enunciated by former President Pranab Mukherjee when he said, "The Indian Navy, as the primary instrument of India's sea power, has played a pivotal role in safeguarding India's maritime interests and promoting national prosperity. The Navy has also been our nation's ambassador of goodwill and friendship across the globe. As a responsible maritime nation, it becomes incumbent upon our country to ensure peace and stability in our maritime neighbourhood. It is a matter of great pride that the Indian Navy has discharged this responsibility with complete commitment, dedication and alacrity."
Role of Indian Navy
The Role of Indian Navy as described in its official website states, "The full range of operations in which a nation's naval forces may be involved is vast, ranging from high intensity war fighting at one end to humanitarian assistance and disaster relief operations at the other end. This broad continuum of operations can be broken down into distinct roles, each demanding a specific approach to the conduct of operations. Accordingly, the four main roles envisaged for the Indian Navy are:
Military Role
Diplomatic Role
Constabulary Role
Benign Role
India has enormous stakes in safeguarding its 1,200 island territories, and huge Exclusive Economic Zone (EEZ) spreading over 2.4 million sq km which is how the national maritime strategy is emerging at the centre stage of national security construct.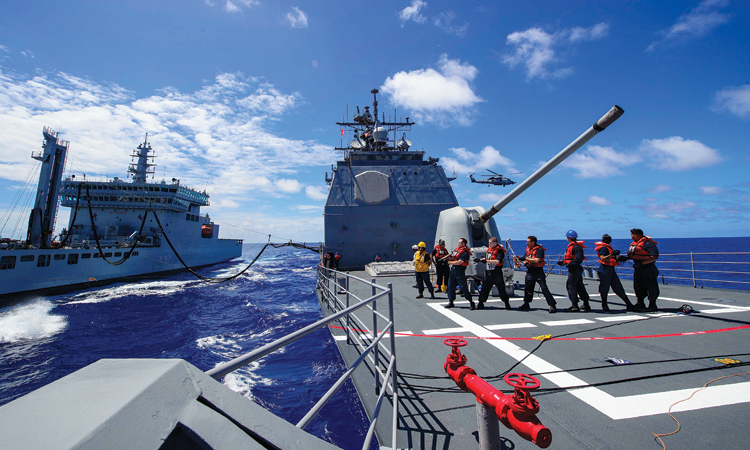 US Sailors conduct an underway replenishment (UNREP) training exercise with the Indian Navy oiler INS Shakti (A 57) during exercise Malabar.
In February 2016, Eastern Naval Command hosted the International Fleet Review (IFR), underlining Indian Navy's growing prowess and ambitions. Though it was largely a ceremonial inspection of naval warships by the Indian President, it provided an opportunity to the Indian Navy to showcase its might and rapidly expanding capabilities. It was in 2001 that an event of such a scale was last held in India and since then the Indian Navy's participating contingent has only grown bigger, with 75 frontline ships and submarines in attendance, in addition to 24 ships and delegations from over 50 nations including Australia, Bangladesh, Brazil, China, France, Indonesia, Iran, Maldives, the United Kingdom and the United States.
The Balance Sheet
Very recently on December 3, 2018, at the Media Interaction on the eve of Navy Day 2018, Admiral Sunil Lanba, the Chief of the Naval Staff announced, "As we surge ahead in the 21st century, the attention of the entire world is focused on the Indian Ocean region, where our Navy is increasingly seen as a 'net security provider'." The maritime dimension of India's security and its importance to national development and economic prosperity is well recognised today and has been articulated at the highest levels by our leadership. Accordingly, our maritime security strategy is aimed at providing a maritime environment that is free from all forms of traditional and non-traditional threats to our national development".
"The Indian Navy, as the primary instrument of India's sea power, has played a pivotal role in safeguarding India's maritime interests and promoting national prosperity."
—Former President Pranab Mukherjee
In continuation he added that the Indian Navy has successfully completed the first deterrence patrol of INS Arihant this year. With this, we have operationalised the third and the most survivable segment of the country's nuclear triad.
Operational Deployments
Towards thwarting the bane of piracy in the Gulf of Aden, the Indian Navy has remained steadfast and committed to curbing this global menace. Since 2008, a total of 70 Indian Naval warships have been deployed, which have safely escorted more than 3,440 (including 413 Indian flagged) ships with over 25,062 mariners embarked. So far, the Indian Navy has thwarted 44 piracy attempts and apprehended 120 pirates. Last month, one of Indian Navy's Mission deployed ships in the Gulf of Aden intercepted a suspected pirate vessel off the coast of Somalia and seized weapons and ammunition from it.
The Indian Navy has operationally achieved across the wide maritime theatre was largely due to the combat skills honed during major exercises. During 2018, Indian Navy has exercised its composite combat capability, both on the Western as well as Eastern seaboards. In addition to TROPEX 2018, operational level war gaming exercise titled SHIKSHA-18 was conducted which also included proving of joint concepts with Indian Army and Air Force.
Similarly, through active engagement with the Indian Coast Guard sharp vigil over the vast coastline including over the island territories was maintained. Through joint coastal security exercises such as Sagar Kavach and Avardhan with Indian Coast Guard, collective surveillance efforts along the coastal areas were significantly augmented.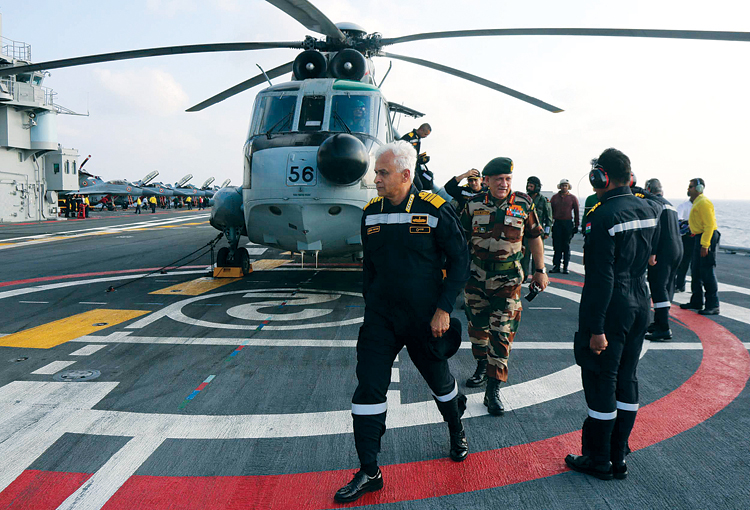 Admiral Sunil Lanba, CNS reviewing Indian Navy's TROPEX 2017
Indian Navy's flagship Theatre Level Operational Readiness Exercise, TROPEX is scheduled from end January till early March 2019. The exercise will see participation of all operational ships, submarines and aircraft as well as units from the Indian Coast Guard. In addition, significant participation from the Indian Army and Air Force will truly enhance the integrated operations of the three Services.
In addition to TROPEX 2019 a largescale coastal defence exercise 'Exercise Sea Vigil' which will involve all stakeholders across mainland and island territories has been scheduled to test the robustness of entire coastal security apparatus.
Regional Maritime Exercises
For stable and tranquil maritime boundaries to enhance interoperability as well as to develop common understanding of the region's security challenges, numerous regional maritime exercises with partner nations are undertaken. During 2018, the tempo of overseas deployments and maritime exercises was at an all-time high as Indian Navy was deployed for the following operational exercises/activities which enhanced interoperability and ensured security in the maritime neighbourhood as well as in the 'Global Commons':
Participation in close to 20 exercises with friendly foreign countries.
The participation was across a wide canvas ranging from Varuna off Reunion islands, Malabar off Guam, RIMPAC at Hawaii, Kakadu at Darwin, WPNS cum IFR at Jeju, Republic of Korea, IBSAMAR off Simons Town, South Africa, SLINEX off Trincomalee and the 25th edition of SIMBEX off Port Blair and Visakhapatnam have helped Indian Navy further enhance collaborative efforts with the navies of the Indian Ocean region and beyond.
Under the Government of India's overall rubric of 'Neighbourhood First' policy, the Indian Navy undertook Joint EEZ patrols of Maldives, Seychelles and Mauritius, as well as Coordinated Patrols (CORPATs) with Myanmar, Thailand and Indonesia.
Maiden bilateral exercises with UAE and Indonesia and maiden CORPAT with Bangladesh commenced during 2018.
Indian Navy is on the cusp of commencing bilateral exercises with Bangladesh and Malaysia during 2019.
Humanitarian Assistance and Disaster Relief (HADR)
In addition to honing combat skills and forging closer ties with maritime neighbours and partners, Indian Navy continued to be at the forefront of humanitarian assistance and disaster relief efforts. During unprecedented floods in Kerala conducted Operation Madad was conducted, rescuing over 16,843 people and followedup with elaborate relief and rehabilitation efforts. For the large-scale rescue efforts during Cyclone Titli that hit East Coast, personnel, relief materials and assets were synergised to provide succour to those affected by the tragedy. During 2018, relief missions in Bangladesh, Indonesia, Sri Lanka and Mauritius were synergised to augment relief efforts.
Constructive Initiatives in IOR
Indian Ocean Naval Symposium (IONS) has emerged as the premier maritime forum of the IOR with several constructive initiatives achieving realisation through collaborative efforts. During 2017, Bangladesh Navy as the Chair of IONS initiated the first ever International Maritime Search and Rescue Exercise or IMSAREX. During 2018, the following prominent initiatives were launched under the aegis of IONS:
Formulation of guidelines for HADR in IOR and conduct of a maiden table-top exercise at Visakhapatnam.
To commemorate the 10th anniversary of IONS at Kochi a Seminar with the theme 'IONS as a catalyst for Security and Growth for all in the Region (SAGAR)' and a Tall Ship Sail Together from Kochi to Muscat, along with Sea Riders from several IONS member states.
The 10th edition of MILAN was held at Port Blair from March 11 to 13, 2018, with a multilateral Milan Exercise Sea (MILES) with participation of 20 ships including 11 foreign naval ships making it the largest multilateral exercise held in the Andaman Sea.
The Goa Maritime Conclave commenced in 2017 with an aim to provide a dedicated apex-level forum for interactions between like-minded maritime nations of South and South Eastern IOR. The next edition of the Conclave is planned during 2019.
Information sharing among countries to enhance maritime domain awareness at the regional level has been accorded renewed impetus at the highest levels. White Shipping Information Exchange agreements with nineteen countries was concluded and operationalised. The Information Management & Analysis Centre (IMAC) has emerged as a virtual information hub for White Shipping Information in the region. An Information Fusion Centre (IFC-IOR) towards achieving collective maritime security in the IOR as an adjunct to IMAC is also being operationalised.