The hosting of the Maritime – Air Systems & Technology (MAST) Indo-Asia 2018 Conference in India provided a useful opportunity for gaining an insight into leading naval technologies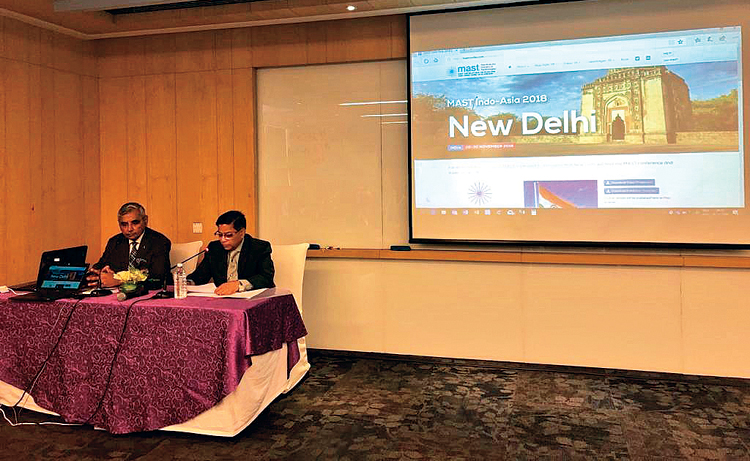 Inaugural Session Mast Indo-Asia 2018 in progress
The Maritime/Air Systems and Technology Conference (MAST) – Indo-Asia, a leading global conference highlighting the latest mature and emerging naval technologies was held in India for the first time ever from November 28 to 30, 2018, in Greater Noida in Delhi NCR. Partnering with the Indian Maritime Foundation, the country's leading maritime NGO, the event showcased some path breaking technologies. These were the main focus areas for exhaustive deliberations at great length during the Conference. The participation of most global majors such as Naval Group, France, ThyssenKrupp Marine Systems, Germany, Atlas Elektronik, Italy, General Atomics, USA, MBDA, and Thales to name a few in the exhibition ensured that there was a great deal of interest and interactive discussion. The US Office of naval research participated actively and contributed significantly in the Conference and the exhibition to add great value to the event.
The MAST Conference cum Exhibition was first held in Nice in year 2006 and since then has become an annual feature at different venues. It has been held twice in Washington DC, twice in Tokyo, and once each in Rome, Genoa, Stockholm, Malmo, Gdansk and Istanbul. In 2019, it will be held in Chiba, Tokyo from June 16 to 19, 2019, and at the request of the Royal Danish Navy in Copenhagen in September 2019.
The theme for the Inaugural & Opening Session was Global Defence – the prerogative for Partnership (Policies). While Defence Minister Nirmala Sitharaman could not be present due to certain other official commitments, Captain Sebo Hofkamp, Royal Netherlands, Netherlands was present. Speaking on the occasion, Commodore Anil Jai Singh (Retd), the Vice President of the Indian Maritime Foundation and a MAST Technical Coordination Committee member and also the Conference Chairman highlighted the salient features of the Conference and the following significance for hosting this conference in India:
MAST brings together technology experts from the world's leading defence OEMs in a technology-intensive environment both at the conference and the exhibition.
Interaction with global OEMs in a smaller setting than something as vast as DefExpo would enable Indian industry to exchange ideas, find areas of convergence and get a glimpse into the latest technologies, some of which are still at a R&D stage.
Indian medium, small and micro economies would greatly benefit; they would get an opportunity to showcase their capability to a wider global audience at a fraction of the cost than doing so abroad. Further, they could engage with these OEMs for future collaboration towards becoming part of global supply chains and a wider defence industrial eco-system.
For Indian Naval officers involved in developing Staff Requirements and selecting equipment, this would be a golden opportunity to see equipment first-hand, interact with the technology experts of global OEMs and listen to papers covering the entire gamut of naval technology.
DRDO scientists would benefit from this opportunity to interact and see modern equipment for themselves, particularly in areas where we have been struggling to deliver indigenous products.
This year's conference was visited by many delegates from India and abroad, naval officers and foreign Defence Attaches'. The participation by Indian industry in the exhibition was rather lukewarm perhaps due to FICCI pulling out of the sponsorship arrangements at the last moment, despite the MoU with MAST Communications, UK due to some technical reasons. This jeopardised the very conference itself and it was the resilience of the other organisations that the conference could still be held, albeit at a moderate scale.
The Conference was inaugurated by Vice Admiral Ajay K. Saxena, Controller Warship Production and Acquisition who also delivered the keynote address. He highlighted India's successful indigenisation efforts in the maritime domain and how industry could leverage the country's robust shipbuilding plan to encourage selfreliance and indigenisation.
In the Plenary Sessions that followed over the next two days, the regional maritime security scenario was discussed and how that would drive technology development and product development. Over the three days of the event, the wide spectrum of technology papers generated very interactive sessions. The first Session on "Disruptive Technologies – Advanced Workshop Report and Roundtable" was chaired by Commodore Patrick Tyrrell (Retd), Vale Atlantic, UK. Another Session with theme "Undersea Operations and Capabilities was chaired by George McNamara. The next session was "Unmanned Undersea Systems, chaired by Bernard Myers. Dr Sudhir Kumar Mishra, Director General Defence Research Organisation, India presided over the session on "Technology Trends" during which enlightening papers were presented by Dr Davis Kershaw, Chief, Maritime Division, DSTG, Department of Defence, Australia and by Dr Patrick A. Mason, Head Warfighter Performance Department, Office of Naval Research, USA.
Most regulars to the Conference commented on this being perhaps the most interactive conference in terms of audience engagement on very high quality contents of the maritime security related subjects
There were several other interactive sessions, such as; "Undersea Sonar Systems" by Dr David Wyllie; "Surface Ship Situational Awareness in the Littorals" by Rear Admiral Fusahiko Yamasaku; "Undersea Technologies" by Jeroen de Jonge, Business Director, Naval Programs, TNO Defence, Safety & Security, Netherlands; "Surface Control of the Sea Lanes by Charles Giacchi and "Undersea Platforms" by Rear Admiral Phil Davis (Retd), Vice President and Executive Director, American Systems Corporation, USA. Commander Nitin Agarwal, Indian Navy presented his paper on "Undersea Ocean Surveillance using Submarine Cables".
Most regulars to the Conference commented on this being perhaps the most interactive conference in terms of audience engagement on very high quality contents of the maritime security related subjects.
The MAST Annual Party which is the main networking social event was also a great success. The large audience was given an exposure to India's rich cultural heritage through an outstanding Bharat Natyam performance by the renowned dancer Ragini Chandrasekhar with two of her disciples. Besides, there was traditional Indian music, dance, food and drink: a great way to unwind, whilst continuing to network, in a relaxed and enjoyable environment.
The hosting of the MAST Indo-Asia 2018 Conference in India provided a useful opportunity for gaining an insight into leading naval technologies. However, both Indian industry and the country's R&D establishment's greater participation showcasing their own techno-logical achievements and expertise would have added value, side by side the leading defence technology companies of the world.