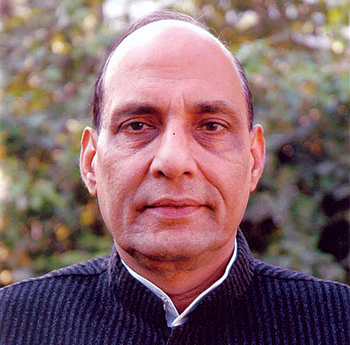 Defence Minister Rajnath Singh has called greater indigenisation of cutting-edge naval weapons and sensors while urging the Indian Navy to keep its focus on futuristic capability development.
He made these comments while addressing the bi-ennial Navy Commanders Conference in New Delhi on October 22. His call to ramp up indigenous capability for building the navy of the future came along with the acknowledgement that the "a strong Navy remains a necessary guarantor of India's security and prosperity".
Rajnath Singh urged the senior leadership to maintain their focus on futuristic capability development, to ensure that the nation's maritime power grows in tandem with its economic interests.
"For the Indian economy to reach the Five Trillion Dollar mark by 2025, there is a requirement for a stable and balanced environment in which the Navy has a crucial role to play in the form of safeguarding the Sea Lanes of Communication (SLOC)," the Defence Minister said in his address to the Naval Commanders.
Reminding the Navy top brass about the vulnerability of sea routes to global terrorism, Singh urged constant review of procedures and strengthening of the coastal security framework to counter emerging threats and challenges.
The Defence Minister acknowledged that the Indian Navy has established itself as a vital tool for military diplomacy, furthering the national and foreign policy objectives through active cooperation and engagement with not just Indian Ocean Region nations, but maritime nations across the globe.
Appreciating the Navy's Foreign Cooperation initiatives and sustained efforts at capability enhancement and capacity building of Foreign Navies, he stated that these initiatives have not only strengthened maritime security and stability in the region, but have also resulted in transforming the Indian Navy into a Preferred Partner for engagement in the Indian Ocean Region.
Chief of the Naval Staff Admiral Karambir Singh, Defence Secretary Ajay Kumar, Secretary Department of Defence R&D and Chairman DRDO Dr G Satheesh Reddy, Naval Commanders and other senior officials of Ministry of Defence were present on the occasion.