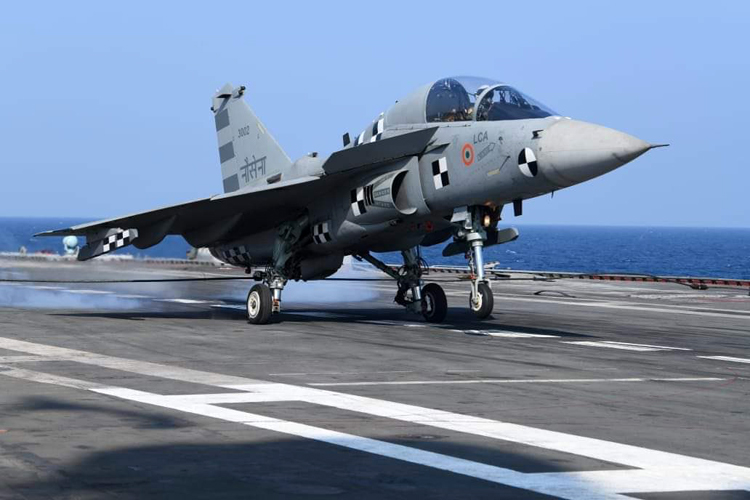 The LCA Navy flown by the naval test pilot Commodore Jaideep Maolankar landing on the deck of the aircraft carrier INS Vikramaditya
India on January 11 announced the first arrested landing of the naval version of its indigenous Light Combat Aircraft (LCA Navy) on the deck of the aircraft carrier INS Vikramaditya.
"After completing extensive trials on the Shore Based Test Facility (at Goa), Naval version of Light Combat Aircraft (LCA) did a successful arrested landing onboard INS Vikramaditya at 1002 hrs" the Ministry of Defence announced in a statement.
This is a significant milestone in the development of indigenous capability for carrier-borne fighters, and puts the basic technology blocks in place for commencing the development of a twin-engine deck-based fighter which meets the requirements of the Indian Navy.
The single-engine LCA Navy is a technology demonstrator of a Short-Take Off Barrier Arrested Recovery (STOBAR) capability for launch and recovery of a fighter aircraft from the deck of an aircraft carrier.
This new variant comes with two additional distinct features; an arrestor hook and pilot controlled LEVCONs. Leading Edge Vortex Controllers (LEVCONs) are flaps that open up on the side of the aircraft like air brakes, and let the aircraft reduce landing speeds.
"LEVCONs are a very unique introduction to the LCA-Navy variant. This is a vital development that has taken place in the country which will stay in use in the years to come," said Dr Kota Harinarayana, Chairman General Aeronautics Pvt. Ltd. Dr Harinarayana is also hailed as the father of the LCA programme.
LCA Navy has been developed by the Aeronautical Development Agency of the Defence Research and Development Organisation (DRDO). Defence Minister Rajnath Singh hailed the maiden deck landing of the LCA Navy as "a great event in the history of Indian fighter aircraft development programme".