QUAD had lost its momentum till November 2017 when it got revived as India's Prime Minister Narendra Modi, Australia's Prime Minister Malcolm Turnbull, Japan's Prime Minister Shinzo Abe and US' President Donald Trump agreed to move on QUAD due to China's aggressive posture in South China Sea and in the Indo-Pacific region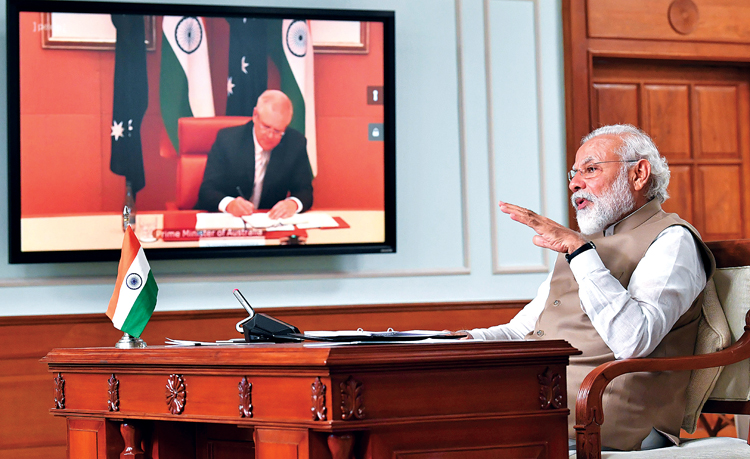 The Prime Minister, Narendra Modi with the Prime Minister of Australia, Scott Morrison at the India - Australia Leaders' Virtual Summit, in New Delhi on June 4, 2020.
The Quadrilateral Security Dialogue (QUAD) was an informal strategic forum between India, US, Japan and Australia which was initiated by Prime Minister Shinzo Abe of Japan, with the support of US Vice President Dick Cheney, Indian Prime Minister Manmohan Singh and Australian Prime Minister John Howard in 2007. The momentum of the Quad was maintained by interacting at common summits, exchange of information and joint military exercises. A joint naval exercise named 'Malabar' was held jointly by the Navies of India, US, Japan, Australia and Singapore in the Bay of Bengal during September 2007. QUAD coupled with joint exercise Malabar was generally viewed as a counter to China's growing economic and military power, and as a consequence China issued diplomatic protests to members of QUAD. Australia withdrew from the QUAD in 2007 during John Howard's tenure and his successor Rudd also did not join it. Australia's decision not to sell Uranium to India had weakened Quadrilateral alliances but in 2014 this decision was reversed by Prime Minister Tony Abbott. During Australia's Prime Minister Julia Gillard tenure, military cooperation between the US and Australia was upgraded to a new level as outlined by the 2007 Canberra Defense Blueprint. However India, Japan, and the US continued to hold joint naval exercises through successive editions of Malabar.
Quad had lost its momentum in between but during the November 12, 2017 ASEAN Summit in Manila, it got revived when India's Prime Minister Narendra Modi, Australia's Prime Minister Malcolm Turnbull, Japan's Prime Minister Shinzo Abe and US' President Donald Trump agreed to move on QUAD due to China's aggressive posture in South China Sea and in the Indo-Pacific region. In November 2017, Japanese, Indian, Australian and US officials met to continue security cooperation ahead of the ASEAN and East Asia Summits. Responding to the reconvened meeting of "QUAD" in November 2017, a Chinese foreign ministry spokesperson said that "these visions and proposals should be open and inclusive." Prime Minister Narendra Modi, in order to assuage Russia's concerns, said that, "It is normal to have partnerships on the basis of shared values and interests. India, too, has many in the region and beyond. We will work with them, individually or in formats of three or more, for a stable and peaceful region. But our friendships are not alliances of containment."
2019 - a watershed period for QUAD
Dialogue amongst the QUAD members picked up in 2019 and after the ministerial-level meeting in New York on the side lines of the UN General Assembly, on September 26, senior officials from the QUAD met in Bangkok. As per the US Department of State's readout on the meeting, the four met "for consultations on collective efforts to advance a free, open, and inclusive Indo-Pacific." The meeting marked the continuation of the September 26 New York ministerial-level meeting's agenda. The US statement noted that the Bangkok meeting focused on "advancing practical collaboration on counter-terrorism, cyber, development finance, maritime security, humanitarian assistance, and disaster response." In a separate statement, the Indian Ministry of External Affairs said the four parties "reaffirmed their commitment towards a free, open, prosperous and inclusive Indo-Pacific Region based on shared values and principles and respect for international law."
The four nations reaffirmed their commitment towards a free, open, prosperous and inclusive Indo-Pacific Region based on shared values and principles and respect for international law.
Speaking on October 30, 2019, at the Hudson Institute, US Secretary of State Mike Pompeo said that, "We've reconvened 'the QUAD' – the security talks between Japan, Australia, India and the US that had been dormant for nine years," Pompeo said in a Washington, D.C., policy address. "This will prove very important in the efforts ahead, ensuring that China retains only its proper place in the world."
On a question by a reporter, a Senior State Department Official said "If I could single out India's role in the QUAD, I think it highlights India's leadership in the Indo- Pacific region; it's one of the many ways that the US and India are now cooperating closely on shared strategic objectives as highlighted during President Trump's meeting with Prime Minister Modi earlier this week; the 2+2 structure that we've set up, and the deepening of our defense partnership, and trilateral relations with Japan as seen in the Malabar exercise that's ongoing".
QUAD Plus
It was reported on March 20, 2020 that the "QUAD" countries met via video teleconference to help each other amid the coronavirus pandemic. Some non-QUAD, countries like New Zealand, South Korea, and Vietnam were included in the call which was then termed QUAD Plus and met again on March 27 at the vice-ministerial level and the group discussed not only coronavirus remedies, but also how to revive their economies once the threat subsides. The current plan is for the QUADPlus to convene on a weekly basis. It is difficult to say whether QUAD Plus will work as South Korea is involved with North Korea, Vietnam's-'Three Ns defence policy—no alliances, no foreign bases on Vietnamese territory and no aligning with a second against a third country', and due to New Zealand's economic ties with China.
Australia comes on board
Australia was apprehensive earlier about joining QUAD but China's outreach to China-Pacific Islands states like Fiji, Samoa, Vanuatu, the Cook Islands and Tonga by creating an anti-COVID-19 Cooperation Fund for $1.9 million, providing them with finances to purchase medical equipment from Chinese companies and attempts to create four ports in Papua New Guinea, triggered Australia to change its strategy.
Ahead of the virtual summit with his Australian counterpart, PM Modi had said he was glad to be joining the first India-Australia virtual summit with Scott Morrison. "India-Australia ties have always been close. As vibrant democracies, from Commonwealth to cricket to even cuisine, our people-to-people relations are strong and the future is bright," PM Modi said. Australia is also keen to join Malabar 2020.
Indo-Australia Virtual Summit took place on June 4, 2020 and nine documents were announced/signed. Security related documents were Joint Statement on a Comprehensive Strategic Partnership; Joint Declaration on a Shared Vision for Maritime Cooperation in the Indo-Pacific; Framework Arrangement on Cyber and Cyber-Enabled Critical Technology Cooperation (signed); Arrangement concerning Mutual Logistics Support (MLSA) (signed) and implementing Arrangement concerning cooperation in Defence Science and Technology to the MoU on Defence Cooperation (signed).
After the Summit both the democratic nations has a common approach to a free, open, inclusive and prosperous Indo-Pacific and a better understanding of regional and global issues.
China's belligerence
China has a history of having border disputes and also being aggressive whenever there is a conflict of interest. Border disputes have been with South Korea, Mongolia, Kazakhstan, Kyrgyzstan, Tajikistan, Vietnam, Russia, Myanmar, Bhutan and India. With India the problems are many due to India's claim on Aksai Chin which is administered along with Xinjiang and Tibet autonomous regions and constitutes the eastern portion of the larger Kashmir. China took over Xinjiang in 1949 which is rich in natural resources and has a large Uyghur Muslim population. In the recent infringement of the LAC, China has deployed troops from Arunachal, Bhutan and in Ladakh including Galwan Valley, Hot Springs and Pangong Tso. Disputes on the South China Sea are well documented. China claims Taiwan and the treaty with Hong Kong has been reversed. It appears that China's leadership feels that with their five thousand year civilization, about a century old Communist party, three decades of miraculous economic development, and a gradually creeping towards technology parity with US; they have the right to rule the world.
QUAD
QUAD in its present form will find it difficult to halt China's global ambition as it will have to be countered economically, militarily and in cyber space. QUAD nations thus will have to go beyond dialogues and joint exercises by adding more teeth to their endeavours.