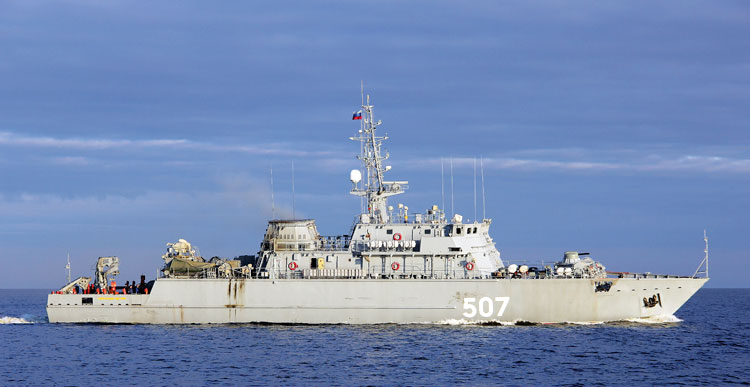 Project 12701 Alexandrit-E
Rosobo ronexport off ers the widest range of weapons and military equipment for the Navy. The company's catalog includes advanced combatant and auxiliary ships, as well as unique equipment for them.
The Project 12701 Alexandrit-E class coastal mine countermeasures (MCM) ship is a unique ship designed by the Almaz Central Marine Design Bureau. Three ships have been built by the Sredne-Nevsky Shipyard.
The newest ship is designed to provide mine protection of naval bases, coastal sea areas and the exclusive economic zone, escort ships and transports during sea passage through detection and destruction of minefields. During low mine threat periods, the ships can be used for defence of a sea area.
Specifications
Displacement, full load
890 t;
Length
61.6 m;
Beam
10.3 m;
Draft
3.1 m;
Power Plant
2 x 2500 hp diesels, 4 x diesel-generators;
Max Speed
16.5 knots;
Cruising Range
1500 nm;
Endurance
10 days;
Complement
44;
Armament
1 x 30 mm AK-306 CIWS;
1 x 14.5 mm MPTU machine gun mount;
8 x Igla MANPADS.
A feature of Project 12701 Alexandrite-E is that the deployment of advanced mine search and destruction equipment on a well-proven platform has resulted in a ship offering fundamentally new capabilities and characteristics.
This ship has the world's largest monolithic fiberglass hull made with vacuum infusion. The advantage of such a hull is its high strength and "invisibility" for magnetic mines, which ensures the mine resistance of the ship. Such a hull offers a longer service life (over 30 years) than a hull made of low-magnetic steel and is much lighter than its counterparts.
The ship provides for mine hunting by an advanced method using remote operated vehicles (ROVs) searching for mines ahead of the ship. The ship has unique station-keeping capabilities in high sea states and can detect and neutralise silted mines in Sea State 5.
The necessary precision navigation equipment is available on board the ship for effective countermine operations.
The ship uses large-diameter low-noise propellers placed in noise-reducing pods to protect against acoustic mines.
The minehunter offers high maneuverability through the use of an effective thruster system. Its designers paid much attention to crew habitability. The ship has all the conditions for watch keeping and rest for a long time.
Automated control of the ship, its main systems and equipmentis coupled with bridge watchkeeping.
The project provides for the formation of an anti-mine contour using the latest sonars placed both on the ship's hull and ROVs.