Beijing's maritime strategy is now guided by the current geopolitical situation and regional trends and thus, it is trying to create a balance between developing a blue water economy while trying to create its heavy weight in the maritime sphere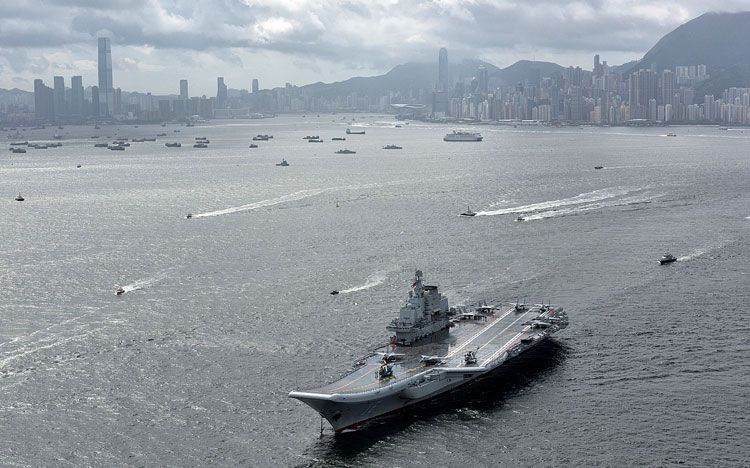 An aircraft carrier fleet comprising of the China's first aircraft carrier Liaoning, two destroyers and a frigate of the Chinese PLA Navy arrives in Hong Kong
Maritime Strategy of any nation resonates with two underlining facts, one is the objective of carrying out warfare at sea to affect outcomes on land and that the success of maritime warfare depends upon a nation's ability to maintain a Triad that operates at sea, in the air and on the land. Maritime warfare can best be understood through an appreciation of the strategy it is intended to serve. "The ability to use the sea for its own purposes is vital to any nation that relies on maritime trade for its existence and similarly, for those with exposed seaboards, to ensure they cannot be invaded. In fact, any nation that has a desire for security, wealth, and power needs to be able to use the seas freely and assert their right to do so when necessary"1.
The world views China's moves at the sea domain as representing "maritime expansion," and Beijing's actions at sea are the best indicators of its maritime strategy. A country influenced by both Alfred T. Mahan and subsequently Sir Julian Corbett (one of the most influential sea power theorist) seems to be driving the policy makers in China to achieve its maritime ambitions.
Chinese maritime strategy is also very much concerned with defending and advancing China's position in its maritime disputes
While both Mahan and Corbett had differing views on naval strategy as can be understood from the following paragraph, written by Andrew Latham2 in his article, explains — Mahan's "naval strategy" encompassed a total control over the seas to become a great power that could be achieved by sweeping the enemy fleet from the seas. While Corbett argued each great power could follow a distinctive strategy and that each grand strategy demanded its own distinctive "maritime strategy." Such a strategy might, as Mahan advocated involve bringing the enemy's main fleet to battle and destroying it in a decisive engagement or it may involve mere temporary and local "control of the sea," blockade, commerce raiding and defence. Like Clausewitz, Corbett also believed that the most fundamental principle was the primacy of politics in war. Maritime strategy, he believed, should always be derived from the nation's specific political goals, purposes, and constraints.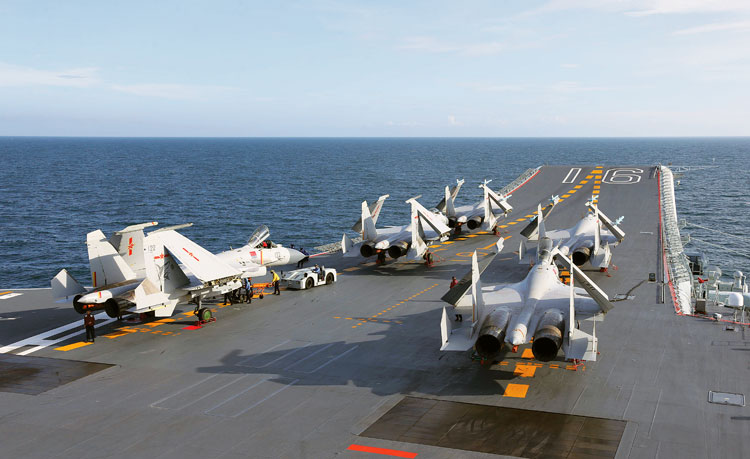 J-15 carrier-borne fighter jets sit on the flight deck of the aircraft carrier Liaoning prior to a training exercise.
China, both historically and geographically has been a maritime nation. As Swaran Singh in his article "Continuity and Change in China's Maritime Strategy" writes, "by the fifth century BC, China had started to have an army of ships that could engage in naval operations. The earliest of the current versions of China's modern maritime strategy had already evolved by the early 15th century when, famous Admiral Cheng had made seven successful naval expeditions between 1405-1433 which went as far as the Persian Gulf, Red Sea and Africa. His vision was further elaborated by a late Ching Dynasty scholar, Wei Yuan". And more so lately none other than Xi Jinping commented if Beijing hopes to achieve "the great rejuvenation of the Chinese nation" by the middle of the 21st century, it is necessary that it become a "maritime great power".
As any nation striving to be a Maritime great power, China too was influenced by Mahan's strategic thought. It can be further elaborated by taking reference of Daisuke Sekine's article "Review of From Mahan to Corbett",3 summarised— As China continues to rake up its Navy, it is also attempting to evolve further as a maritime state by shifting its strategic direction toward the application of Corbett's theory. Since 2008, there has been appearance of comparisons between Corbett's work with Mahan. It can be understood that Chinese policy makers believed that Mahan alone cannot be the basis of its maritime strategy and hence we see a shift towards Corbett's sea power theory. "The relationship between China and Corbett's strategic theory is as follows: (1) Corbett's theory, which places such significance on land, is highly relevant to China, which has the traditions of a great continental power; (2) the explanation and definition of command of the sea by the Chinese navy evidently uses Corbett's theory as a reference; (3) Corbett, influenced by Clausewitz, insisted that the strategy of true defence or "active defence" involved waiting for a chance to strike back, and can be associated with Mao Zedong's theory of protracted war; (4) the elastic cohesion of forces that Corbett advocated is suitable for China's extended coastline; (5) the Chinese maritime periphery has a number of islands and territorial disputes, and Corbett's works, which link naval power to landing operations, could help the Chinese navy strategise when conducting operations in such areas".4
Xi Jinping commented if Beijing hopes to achieve "the great rejuvenation of the Chinese nation" by the middle of the 21st century, it is necessary that it become a "maritime great power"
China's Maritime March
China's geographical location gives it a vantage point in terms of gaining access to the world via three different directions-to the Pacific in the east, towards the west across Central Asia or through the South China Sea. "China is positioned across the Indian Ocean Region (IOR), the Mediterranean, the west coast of Africa, and continues to reach out globally. Furthermore, China's dependency on Africa for its resources, West Asia's energy lines and its stretch across the Indian Ocean Region (IOR) makes many practitioners question the strategic contours of China's maritime engagement"5.
In the above context, it is important to understand that "for Beijing, Maritime strategy is primarily a civilian concept akin to what other countries call ocean policy: i.e. the ends, ways, and means guiding exploitation and management of the sea and coastal areas"6. The first look may seemingly appear that China's maritime strategy is driven by economic development, which indeed sits at the core, however, "Chinese maritime strategy is also very much concerned with defending and advancing China's position in its maritime disputes, what Chinese texts refer to as "safeguarding maritime rights and interests."7
Conclusion
China's maritime activities are driven by its maritime interests such as securing its energy supply, ensuring the continuity in maritime trade and global supply chain by protecting sea lanes of communication, and "its strategic vision of the ocean as "blue economic space and blue territory" crucial for its national development, security, and status."8 Beijing's maritime strategy is now guided by the current geopolitical situation and regional trends and thus, it is trying to create a balance between developing a blue water economy while also trying to create its heavy weight in the maritime sphere. "China is expanding as a maritime power in terms of port and shipping assets, naval power, and independence. China has in a tentacular fashion invested billions of dollars in expanding its international port network in addition to Chinese naval hardware, including surface vessels, such as warships and aircraft carriers, and nuclear submarines."9 While working on economic initiatives like the Silk Road Economic Belt and Maritime Silk Road (otherwise known as One Belt One Road), Regional Comprehensive Economic Partnership (RCEP), and Asian Infrastructure Investment Bank, it is also been raucously moving forward to secure its national interests at Sea as seen in the recent event in the South China Sea and East China Sea and "building a maritime cordon sanitaire"10.
References
Julian Lindley- French and Yves Boyer, "Maritime Warfare and Its Importance of Sea Control", The Oxford Handbook of War, January 2012
Andrew Latham, "Mahan, Corbett, and China's Maritime Grand Strategy", The Diplomat, August 24th 2020
Daisuke Sekine, "Review of From Mahan to Corbett", February 2012
Ibid.4 (Daisuke Sekine)
Admiral (Retd) Pradeep Kaushiva, China's Maritime March West, IPCS Discussion, Institute of Peace and Conflict Studies, New Delhi, July 3rd 2014
R yan D. Martinson, "Maritime Strategy with Chinese Characteristics", The Diplomat, March 15th 2016
Ibid.7 (Ryan D. Martinson)
Tuan N. Pham, "China's Maritime Strategy on the Horizon", The Diplomat, November 26th 2016
Mercy A. Kuo, "The Power of Ports: China's Maritime March", The Diplomat, March 08th 2017
Samir Tata, "China's Maritime Great Wall in the South and East China Seas", The Diplomat, January 24th 2017