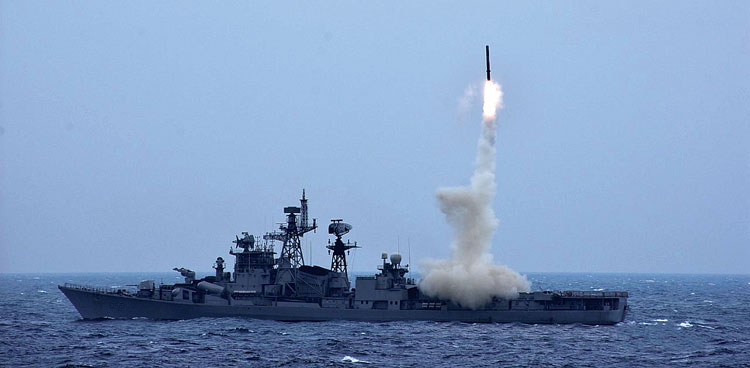 BrahMos launch from INS Ranvijay
Indian Navy, one of the leading maritime forces of Asia, has steadily reoriented its sea-faring strategies at a time of intense geopolitical developments in the region. To safeguard India's maritime territory even while securing regional peace and stability, the Navy has not only bolstered its overall combat capabilities, but is also maintaining a vigorous presence across the country's strategic waters. At such times, it is the deployment of BrahMos – world's deadliest precision attack weapon – that has ensured the Navy's formidability in the high seas. The state-of-the-art tactical missile, having incredible anti-ship and land strike power, has become an intrinsic part of India's naval warfare strategy in the 21st century.
Several frontline Indian naval platforms, including large guided missile destroyers and stealth frigates have been armed with BrahMos. The powerful missile, combining supersonic speed with extremely complex manoeuvrability and devastating firepower, strikes at the target with "bull's eye" accuracy and annihilating firepower. The 'fire & forget', 'quick reaction' weapon can not be intercepted by powerful air defence systems deployed by the enemy warships.
The naval variant of BrahMos which entered into service with the Indian Navy in 2005 has evolved over the years by incorporating newer dimensions to its warfighting capabilities. The high-technology weapon has established its credence during a number of successful test firings conducted from naval combat platforms to precisely engage and neutralise both sea and land-based targets from long, standoff ranges which has enormously galvanised the Navy's capability to undertake both sea-surface and littoral warfare operations with elan. In addition, BrahMos has also proved its flexibility to be fired from vertical or inclined launchers from a static or moving naval platform in single or salvo mode against a single target or different targets located in different directions.
In a recent test firing mission conducted by the Navy on October 18, 2020, the weapon once again successfully engaged a naval surface target in the Arabian Sea with "pin-point" accuracy. The missile was test launched from the Navy's indigenouslybuilt 'Kolkata-class' stealth destroyer, INS Chennai.
"With its unmatched, highly superior technological attributes, the formidable BrahMos has become an indispensable asset of the Indian Navy. The weapon has ensured that our Navy remains indomitable and invincible in the high seas," says Dr Sudhir K. Mishra, Director General BrahMos, DRDO, and CEO & MD of BrahMos Aerospace, the India-Russia JV entity producing the deadly BrahMos systems.
The multi-role, multi-platform BrahMos has also been successfully launched from an underwater platform in a test firing conducted in 2013, thereby validating its adaptability for fitment onboard the conventional attack submarines of the Navy in future.
BrahMos has also been successfully operationalised in the Indian Army and Indian Air Force and hence, emerged an ultimate weapon of choice for modern-day networkcentric warfare missions.
While the Indian Navy remains at the forefront of defence indigenisation and self-reliance efforts to strengthen the national security apparatus, BrahMos has contributed to this very cause with equal endeavour. By steadily increasing the indigenous technologies and critical contents in the weapon system, BrahMos Aerospace, over the past few years, has strongly fortified its 'Make in India' and "Design In India" commitments.
"We have been constantly striving to enhance the indigenous content in the BrahMos weapon system and we have achieved incredible success in this direction in recent times. For the Navy, we have become their truly proud symbol of 'Made In India'," says Dr Mishra.
The defence entity is parallelly working towards developing more advanced, highly lethal, futuristic variants of BrahMos – BrahMos-NG (next-gen) and the hypersonic BrahMos-II(K) – to equip a wider number of modern military platforms, including those of the Navy, thus promising more power to the Indian Navy.
BrahMos Aerospace congratulates the Indian Navy on 49th Navy Day