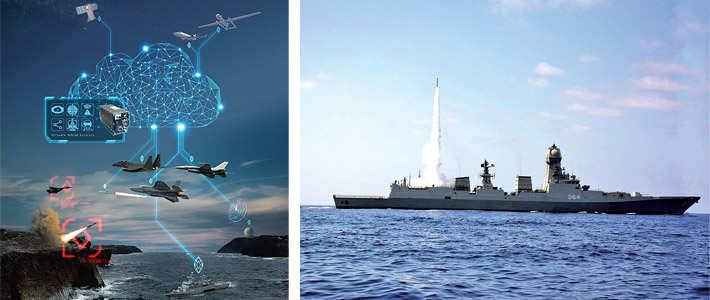 (Left) OPAL Network Centric Warfare solution; (Above) MRSAM air defence system operated by the Indian Navy.
Deployed at sea, a naval task force is as strong as the sum of the platforms it has under its command. But when the shooting starts, platforms depend on their own sensors, offensive and defensive systems to fight and survive. A new Network Centric Operations (NCO) capability being developed at IAI, brings the task force to effectively manage and optimally deploy its available assets - surface, subsurface and aerial platforms - throughout the engagement. By sharing the situational picture, navigation and targeting data for offensive and defensive systems, NCO extends the combat capability of all elements and balances the expenses of weapons on the different platforms attaining longer combat resilience for the task force.
"As a top-tier systems provider for the Indian Navy, we provided weapon systems that are integrated with new and legacy platforms and systems." Dan Yanai, IAI Director Marketing at IAI Missiles Systems & Space Group said. "IAI has worked with numerous platforms, weapon systems and associated systems, such as radars and unmanned aerial vehicles. This experience positions us at an excellent starting point to network those systems and capabilities on a common network."
Based on a System of Systems approach, an NCO capability will provide a Common Operating Picture (COP) through the integration of the full array of combat systems operated by the Indian navy. IAI has already demonstrated this capability with the MRSAM air defence system operated by the Indian Navy and, under NCO this capability will extend to other systems including weapon systems, such as Barak 1 and MRSAM as well as attack systems and various sensors including radar and electro-optic systems.
The baseline technology for this integration is the OPAL Network Centric Warfare solution, a combat proven multi-domain networking technology developed and matured by IAI for users in Israel and abroad.
According to Eyal Yogev, Business Development leader in the NCW Directorate at IAI's Aviation Group that developed OPAL, the system provides an ad-hoc networking and an Application Framework that crossconnects between information providers and users in real-time, secure wireless and wired data network. The system enables any sensor and data source on board to link transparently and securely to any user and system, through the optimal, most available and reliable communications link. This ubiquitous networking enables OPAL to share data from end to end within milliseconds, as the system selects the fastest, most reliable and available path to transmit the information, be it a combination of local network or data-bus, radio, satellite link or any other means available to carry the data.
The integration of information from all sources enables mission command and the members sharing OPAL's resources to access a constantly updated situational picture, without relying on lengthy manual processes or voice reports that are prone to errors. This leaves commanders more time to evaluate the situation and make decisions based on realistic and accurate situational picture rather than guesswork. In combat, a shared situational picture help dissipate the 'fog of war', enabling commanders to act effectively and decisively.
Another dimension of NCO's shared situational picture is cooperative targeting, enabling the most effective engagement of the enemy, by different platforms in a task force, while avoiding redundancy and waste of expensive weapons. OPAL enables such capabilities by sharing targeting information between sensors and shooters on different platforms, interlinked over OPAL in real-time. This transformative capability enables a task force to engage the enemy from a long distance, beyond the range of the shooter's sensors, relying on target information provided by forward located elements, such as unmanned vehicles or submarines. At such distances the shooter remains beyond the range of enemy counter-attack. The task force would also gain early warning at a longer range and would be ready to defeat the attacks more effectively by utilising defensive assets of multiple ships. Delegating engagements to different platforms enables the task force commander to retain optimal level of offensive and defensive weapons and in the task force throughout the campaign.
Combat vessels of the Indian Navy equipped with Barak-NG already support this capability in their defensive systems, utilising the Joint Taskforce Coordination (JTC) function embedded in the MRSAM. With the integration of NCO throughout the navy, these network centric warfare capabilities will extend to other platforms, including surface and air launched offensive weapons.
Establishing a reliable network for realtime connectivity poses great challenges anywhere, especially in the airborne and naval domains, where platforms are in constant motion due to the ongoing and dynamic maneuver of the nodes sharing those networks. Utilising aunique algorithm that predicts link stability by the relative movements of antennae, IAI helps optimising antennae positioning to establish a stable and predictable link using the network's self-forming and self-healing resources characteristics. This capability enables the network to maintain full connectivity even when some nodes fail or removed from the network, even between nodes that do not have a direct connectivity.
Providing specific interfaces to legacy systems, even those inaccessible to the user, customers can implement new, scalable and collaborative intelligence, targeting and navigation capabilities that are flexible and secure, achieving force-multiplier in a cost-effective solution.
Moreover, through the open architecture Application Framework and a generic toolset, OPAL enables users to independently develop and upgrade their legacy systems and equip modern platforms, by leveraging agile data sharing and collaboration to introduce the transformative NCO capabilities required to meet future threats.