By Lt. General P.C. Katoch (Retd)


Former Director General of Information Systems, Indian Army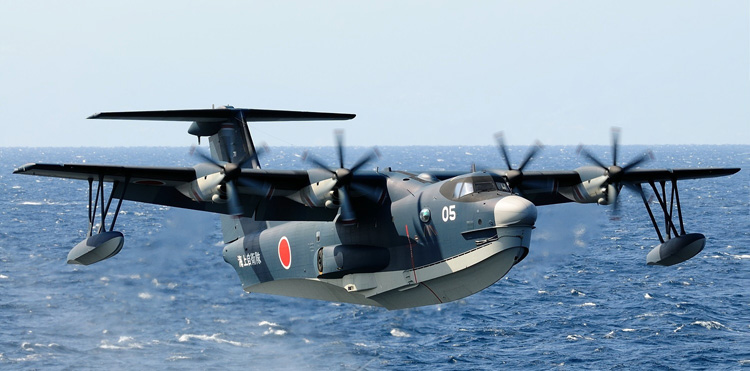 ShinMaywa US-2
The Indian Navy has no amphibious aircraft. In 1997, Japan had offered to place two ShinMaywa US-1A aircraft (predecessor of ShinMaywa US-2) in Andaman and Nicobar Islands free of cost, to be operated jointly by India and Japan for sea surveillance. Japan was looking at positioning such surveillance aircraft in various islands for collectively dealing with sea piracy and security in conjunction other countries. However, India did not respond to the offer. The Navy has been looking at procuring Search and Rescue Amphibious aircraft, 12-18 in number according to one report. Talks have been ongoing with Japan past few years for acquiring ShinMaywa US-2 aircraft. The order was expected to be signed in 2016 but was deferred by India. On 21 March 2018, Japanese Ambassador to India Kenji Hiramatsu told media talks on ShinMaywa US-2 amphibious aircraft were still on but hoped there may be some progress during the visit of Prime Minister Narendra Modi to Japan later this year. It is learnt that price negotiation is not the only issue, but the hitch also is transfer of technology (ToT) which India is insisting. One way out is to buy few ShinMaywa US-2 in fly-in condition (like the Rafale under import from France) and then go for 'Make in India' through strategic partnership with ShinMaywa. After all, we never had the ToT for the BrahMos.
Our Navy has no dedicated Marines. China is deploying 100,000 Marines overseas but our Navy's case for a Marine Brigade has been gathering dust in MoD past two decades. The Navy is still is designed more for the 'Sea' rather than for 'Shore' operations. Its amphibious capability consists of nine older tank landing ships (LST) of various sizes and capabilities. The Shardul class ships are latest ones which are hybrids of LST and Landing Platform Dock (LSD) design. They are an evolution of the Magar class amphibious landing ships. Shardul and Magar class can carry 10 armored vehicles, 11 armored personnel carriers and more than 500 troops. Post Navy's experience in the 2004 Tsunami, Navy inducted the INS 'Jalashwa' (former USS Trenton - Austin-Class LPD), after which the DAC approved construction of four such vessels in India. In July 2018, L&T in conjunction Navantia has offered an LPD to the Indian Navy as follow up to the request for information (RFI) sent out in 2011 under 'Buy and Make (Indian)'. The L&T-Navantia offer is under 'Make in India' with ToT. The ship is designed to launch six medium sized helicopters or four heavy lift helicopters (like CH-47 Chinook) simultaneously and has 12 degree ski-jump ramp to launch short take-off and vertical launch (STOVL) aircraft. It can carry 12 helicopters and 12 STOVL aircraft and can operate at sea without replenishment for 50 days. However, there are two contenders for the program and when the construction will begin at the Indian shipyard and in what time-frame the four ships will be built and available to the Navy is anybody's guess. China recently completed trials of its indigenous amphibious aircraft (AG600 or Kunlong), which can carry up to 50 personnel for maritime missions and can scoop up 12 tons of water in 20 seconds. It has a maximum operating range of 4,500 km. China claims AG600 is better than Japan's ShinMaywa US-2 and Russia's Beriev Be-200. Japan's ShinMaywa US-2 has maximum operating range of 4,700 km but can carry 20 passengers or 12 stretchers since it has a crew of 11 and considerable onboard electronic warfare equipment. However, the Russian Beriev Be-200 Altair with maximum operating range of 3,300 km can carry 12 tons water or 72 passengers. China signed a contract with Russia in June 2017 for purchase of four Beriev Be-200 Altair amphibious aircraft. The AG600 is almost ready to be fielded in PLA and China has announced it will make the AG600 available to customers by 2022. On January 20, 2018, China launched its sixth Type 071 landing platform dock (LPD) vessel. The Type 071 can hold up to four Landing Craft Air Cushion (LCAC) and four or more helicopters, in addition to armoured vehicles and troops. PLAN already has 56 amphibious ships including the Type 071. China is now building its largest amphibious ship, the Type 075, designed to carry 900 Marines with some amphibious assault vehicles, 20-30 transport aircraft and short take off and landing (STOVL) aircraft, with ability to launch six helicopters simultaneously.
The speed at which China is progressing its Maritime Silk Road (MSR) and concurrently building its power projection capability, including amphibious operations, in the Indo-Pacific poses a strategic challenge to all nations, specifically because China disregards global norms and is ruthless in achieving its ambition. Our amphibious capabilities are being built but at too slow a pace because of various reasons; lack of focus, inadequate finances, procedure and red tape, which should be of serious concern. India would also do well to look at the Russian Beriev Be-200 Altair amphibious aircraft which can accommodate 72 passengers.