| | |
| --- | --- |
| | The Author is Former Director General of Information Systems and A Special Forces Veteran, Indian Army |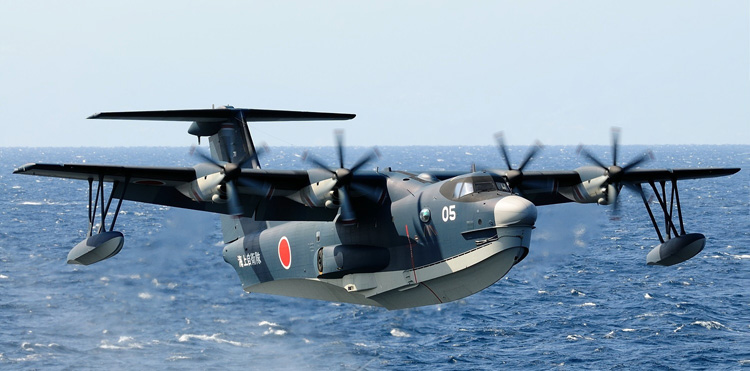 ShinMaywa US-2
In November 1988, Maldives President Abdul Gayoom sent an SOS to India having taken refuge in Maldives National Security Headquarters when a group of 80-200 Sri Lankan militants of People's Liberation Organization of Tamil Eelam (PLOTE), backed by Maldivian businessman Abdulla Lutufi, infiltrated Male and seized key areas to overthrow the President. Prime Minister Rajiv Gandhi ordered the NSG to rescue President Gayoom and restore the situation. But Major General Naresh Kumar, IG (Ops) NSG went back to the PM saying that if the airport at Male was held, NSG will have to turn back, not being trained in parachuting. He pointed out that this will result in loss of many hours, and recommended the task be allotted to the Parachute Brigade, to which Rajiv agreed. The airport was luckily not held and army paratroopers could land. Had there been opposition warranting paradrop, possibly some troopers would have landed in the sea, numbers depending on wind conditions, besides fighting at the airport.
That the action by the Parachute Brigade was a resounding success is well recorded but if India had amphibious aircraft capability, troops could have landed anywhere on the island(s) maintaining total surprise. Ironically, India did not have amphibious aircraft in 1988 and 30 years later does not have that capability even today; albeit talks have been going on with Japan past few years for procuring the ShinMaywa US-2 amphibious aircraft, our Navy's requirement being 12 of these. In 1997, Japan had offered to place two ShinMaywa US-1A aircraft (predecessor of ShinMaywa US-2) in the Andaman and Nicobar Islands free of cost, to be operated jointly by India and Japan for sea surveillance. The suggestion was made in 1997 during the visit of then Naval Chief, Admiral Vishnu Bhagwat to Japan who was the first Service Chief from India to be officially invited by the Japan Self Defense Forces (JMSDF). Admiral Bhagwat was shown the ShinMaywa US-1A aircraft, including its interior with the onboard equipment. Ironically there was no response from India, which is not surprising as lack of strategic sense has been the hallmark of Indian policy makers. China recently completed on-water trials of indigenous amphibious aircraft (AG600). Powered by four turboprop engines, it carries 50 personnel or 12 tons water. It has a maximum operating range of 4,500 km, take-off weight of 53.5 tons, it can take off and land in two-metre high waves, and has.
Japan's ShinMaywa US-2 has operating range of 4,700 km but can carry 20 passengers or 12 stretchers, The Russian Beriev Be-200 Altair with take-off weight of 37.2 tons has maximum operating range of 3,300 km but can carry 12 tons of water or 72 passengers. China signed a contract with Russia in June 2017 for purchase of four Beriev Be-200 Altair multipurpose amphibious aircraft. China has announced it will make the AG600 available to customers by 2022. China is building military power at sea for use in conflict or to subdue dissent through coercion. The AG600 will add to China's capability to exercise more muscular approach at sea and islands, in addition to the 4 x Russian Beriev Be-200 Altair. China, whose marines are already deployed in ports like Djibouti and Gwadar, has 56 amphibious ships including 7 x Type 071, each with 4 x Landing Craft Air Cushion and four or four or more helicopters, in addition to armoured vehicles and troops. China is now building its largest amphibious ship, the Type 075, designed to carry 900 Marines with some 12 amphibious assault vehicles, 20-30 transport aircraft and short take off and landing (STOVL) aircraft, with ability to launch six helicopters simultaneously.
In contrast, our amphibious capability consists of nine older tank landing ships (LST) of various sizes and capabilities. Amongst these, the Shardul class can carry 10 armored vehicles, 11 armored personnel carriers and more than 500 troops. Post the 2004 Tsunami, Navy inducted INS 'Jalashwa' (former USS Trenton - Austin-Class LPD), following which the DAC approved construction of four such vessels in India. In July 2018, L&T in conjunction Navantia has offered an LPD designed to launch six medium sized helicopters or four heavy lift helicopters (like CH-47 Chinook) simultaneously and has 12 degree ski-jump ramp to launch short take-off and vertical launch (STOVL) aircraft. It can carry 12 helicopters and 12 STOVL aircraft and can operate at sea without replenishment for 50 days. This is follow up to the request for information (RFI) sent out in 2011 under 'Buy and Make (Indian)'. But there being another contender (Reliance Defence), when the contract is signed, in what time-frame construction will b completed and the four ships fielded in the Navy is anybody's guess.
On 21 March 2018, Japanese Ambassador to India Kenji Hiramatsu told media that talks on ShinMaywa US-2 amphibious aircraft were still on and but hoped there may be some progress on the issue during the visit of Prime Minister Narendra Modi to Japan later this year. Japan has been ready to export the ShinMaywa US-2 amphibious aircraft to India with ToT and credit line too. It would be good if the long-pending deal is signed during PM Modi's visit to Japan for at least six, if not twelve of these aircraft in flyaway condition, with support line established indigenously through 'Make in India'. This would meet the search and rescue requirements. Concurrently, India should consider acquisition of six Russian Beriev Be-200 Altair for quick troops induction in islands.