| | |
| --- | --- |
| | The Author is Former Director General of Information Systems and A Special Forces Veteran, Indian Army |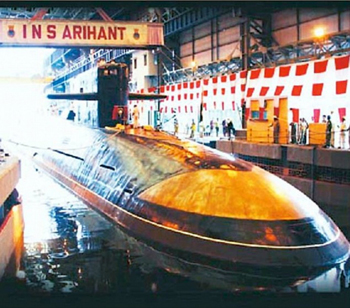 INS Arihant
INS Arihant completed its maiden deterrent patrol at sea on 5 November 2018. Being the lead ship of India's Arihant class of nuclear-powered ballistic missile submarines, the 6,000 tonne vessel was built under the Advanced Technology Vessel (ATV) Project at the Ship Building Centre in the port city of Visakhapatnam. INS Arihant was launched on 26 July 2009, by the then Prime Minister on the anniversary of Vijay Diwas. After fitting out and extensive sea trials, on 23 February 2016, Arihant was expected to be commissioned in time to participate in the International Fleet Review 2016, but participation was subsequently cancelled due to security concerns.
Eventually, Arihant was confirmed ready for operations and was commissioned in August 2016. The Navy used the private sector route to productionise INS Arihant and L&T has done an excellent job of it. The follow-on submarines will take much less time. L&T has also developed in-house capability to design, which will strengthen existing set-up within the Navy. Three more Arihant class submarines are reportedly under construction and expected to join service in a decade from now. Four submarines in this class would imply; one at sea for two-three months, second one in port getting ready, while the third and fourth undergo short and long-duration repairs. Arihant has four vertical launch tubes, which can carry 12 (three per launch tube) K-15 nuclear-tipped SLBM's (submarine-launched ballistic missiles) with range of 700-1500 km with varying payload, also helped by Indian Regional Navigation Satellite System (IRNSS) to ensure guaranteed national access to precision navigation. Alternatively, Arihant can be armed with four larger K-4 SLBMs that has a longer range of 3,500 km and has commenced sea trials. China has 5 SSBNs, each capable of launching twelve JL-2 SLBMs (in the first two SSBNs) and 16 JL-2 SLBMs, each having a range of 7,000 km, and is expected to carry multiple nuclear warheads (enabling a single SLBM hitting up to 3-5 targets). US, Russia, France and UK have SLBMs with ranges of 10,000 km.
There are reports indicating the three follow-on Arihant-class submarines may be larger; 12,000-13000 tonne with SLBMs having ranges of 5000-7000 km. This is very much required also considering the ranges from larger sea are in from which the SLBM would need to be fired to cover targets in Pakistan and China. In addition to the four Arihant-class submarines, Navy's overall requirement should include six to eight tactical attack nuclear submarines (SSNs) to track Chinese and Pakistani submarines and warships prowling the Indo-Pacific. INS Arihant's successful deterrent patrol at sea has 're-confirmed' that India's nuclear triad has been operationalised. The significance of Arihant is even more considering that we are committed to 'no first use' (NFU). Therefore, the enemy planning nuclear first strike should not only be clear about capability of our 'second strike' capability but kept guessing from where the response will come, in what quantity, how swift and how devastating. To this end, the sea part of the nuclear triad would increase enemy dilemma in using nuclear weapons. Once Arihant or any SSBN is on patrol undersea, it would become virtually impossible to locate and can remain on patrol for months, with SLBMs ready for instant launch. Pakistan has expressed concern over deployment of INS Arihant, her foreign office spokesman saying, "This development marks the first actual deployment of ready-to-fire nuclear warheads in South Asia which is a matter of concern not only for the Indian Ocean littoral states but also for the international community at large." The spokesperson also said the "bellicose" language employed by Indian leadership highlighted threats to strategic stability in South Asia, and raised questions about responsible nuclear stewardship in India, adding, "At the same time no one should be in doubt about Pakistan's resolve and capabilities to meet the challenges posed by the latest developments both in the nuclear and conventional realms in South Asia."
Jubilation over INS Arihant is warranted but we need to bear in mind that China is producing one SSBN or SSN every year, in addition to three conventional subs annually and has invested heavily in unmanned subs. China-Pakistan defence nexus is expanding exponentially. Chinese SSBN-SSN should be expected to be based at Gwadar and the upcoming joint China-Pakistan base at Jiwani, even Hambantota on pretext of rest and recoup; in addition to Chinese SSBN-SSN prowling the Indo-Pacific. China will try every trick to keep our submarines on undersea patrols under surveillance, including through sensors and mass employment of undersea drones. More significantly, reports indicate China is stepping up underwater surveillance with the development of a laser that could be used to target submarines; the laser satellite China is creating will be able to operate at a depth of less than 500 meters and collect ocean data. This needs to be examined by our Navy, while ISRO must develop similar capability. China would obviously share this technology with Pakistan.