With the dwindling inventory of Multi Role Helicopters, Indian Navy is now hard pressed to bridge the capability gaps in deployment and tasking helicopters, even for newly commissioned ships.
By Rear Admiral Sushil Ramsay (Retd.)


Senior Editorial Advisor, SP's Naval Forces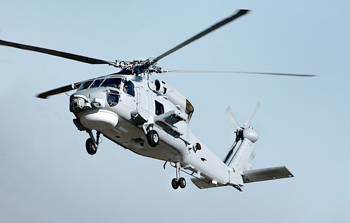 Sikorsky's S-70B Sea Hawk
Sea King ASW helicopters operating from INS Viraat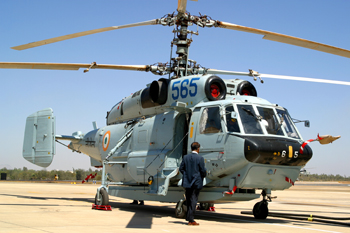 Kamov 28
The capability of the ship based helicopters to operate out at sea, for extended periods of time on task, with enormous flexibility to avoid radar detection make them invaluable for maritime role. Since the inception the traditional maritime roles assigned to the helicopters were reconnaissance, search and rescue (SAR), and medical evacuation. As the potential of the rotary wing was realised additional roles, such as Anti-Submarine Warfare (ASW) and Electronic Warfare began to be assigned to it. Aerial platforms in ASW role are recognised as the most mobile, flexible and cost effective. Thus such versatile aviation assets have acquired the reputation as the Fleet's "eyes and ears beyond the horizon".
In order to augment the Multi Role Helicopter (MRH) fleet for the ships and the Air Squadrons ashore which were commissioned from 1997 onwards, as also to equip the ships which are/will be commissioned as per 14th Naval Plan until 2020, Indian Navy (IN) had initiated the procurement process more than a decade and a half ago. The induction plan aimed to acquire multi role helicopters for anti-submarine warfare, anti-surface warfare and Special Forces' operations, etc. with induction of state-of-the-art weapons, sensors and avionics, as the replacements for the aging Kamov 28 and Seaking 42B.
With the dwindling inventory of MRH, IN is now hard pressed to bridge the capability gaps in deployment and tasking helicopters, even for newly commissioned ships. While IN's induction plan for the surface fleet is progressing steadily, there is a total void in the acquisition plan for MRH for the ship borne flights for these state-of-the-art and technology intensive platforms. Every major warship is designed to carry at least two MRH on board. Despite the delay of a decade and half, India is still negotiating to buy 16 US-made Sikorsky S-70B multi-role helicopters for which the approval of the Cabinet Committee on Security (CCS) is already in place. Alongside the CCS approval for 22 Apache, Longbow Gunships and 15 Chinook, heavy-lift helicopters, just 48 hours ahead of PM's current visit to the US, it would have been more opportune to sanction 16 Sikorsky S-70B MRH. This project also has an option clause to buy additional eight helicopters to meet any additional operational requirements.
In addition, even smaller platforms like the Corvettes, Naval Offshore Patrol Vessels are also designed to carry Light Utility Helicopters to undertake the designed operational missions, besides the requirement of similar aircraft for the shore based Air Squadrons. Ttherefore the second most crucial project, 123 Naval Multi Role Helicopters (NMRH) must receive the desired attention to meet the pending and growing requirements. RFI for NMRH has been in circulation again for many years, if not decades. The recent classification of the project as "Make in India" must not remain a pipe-dream, entangled in innumerable bureaucratic delays, procedures, red-tape, complex and complicated provisions of DPP. For Make in India mission to be a success, enthusiastic participation of Indian Industry is most essential. For the mission not to remain a hollow slogan, Government should leave no stone unturned to create environment conducive for Indian Industry to make investments in arranging transfer of technology, creating infrastructure and production/manufacturing facilities.