By Lt. General P.C. Katoch


Former Director General of Information Systems, Indian Army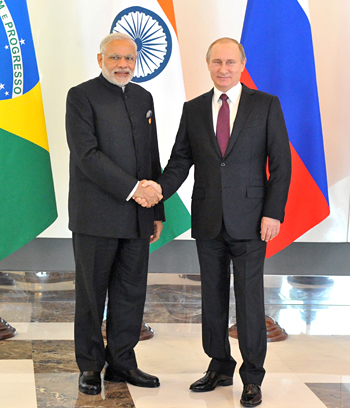 The Prime Minister, Shri Narendra Modi with the President of Russian Federation, Mr. Vladimir Putin, at the BRICS meeting, on the sidelines of G20 Summit 2015, in Turkey on November 15, 2015.
FGFA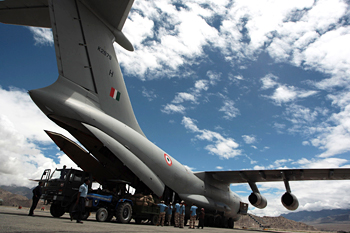 IL-76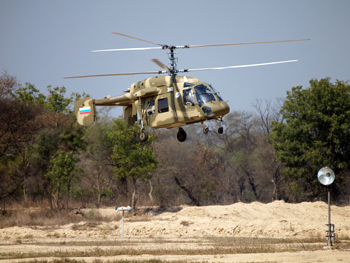 Ka-226T
Photo Credit: PIB, Sukhoi, Russian Helicopters
Prime Minister Narendra Modi is scheduled to visit Russia later in the month to attend the annual India-Russia Summit. Indo-Russian strategic partnership goes much beyond mere sale-purchase of military hardware, remaining strong even when geopolitical realities made India switch to diversify its weapon import base to include other countries. Russia's growing closeness to Pakistan is not an aberration arising out of India's proximity to the US but a calculated move that it would also be able to benefit from China's gigantic strategic and economic investments in Pakistan and Af-Pak as a whole. Hence, further strengthening of Russia-Pakistan relationship is very much on the cards with Pakistan's regional pre-eminence and Chinese backing post US exit. But Russia has signaled unequivocally that this would not be at the cost of Russia-India strategic partnership and Indian interests. Russia places India next to US and China and perceives US, China and India would mould global geopolitics. Significantly, it was Russia that had put across the idea of the Russia-China-India Tripartite talks.
However, the latter have not made much headway because of China's lukewarm interest. China could also have given a push to the North-South Corridor with its influence over Pakistan to open the India-Afghanistan land corridor but has refrained from doing so in a bid to keep India constrained. Ahead of Defence Minister Manohar Parrikar's recent visit to Russia, the DAC had cleared two projects for the upgradation of engines and avionics of IL-76 and IL-78 aircraft from Russia for Rs 4,300 crore. Parrikar, who met his counterpart Sergei Shoigu for the intergovernmental commission on military and technical cooperation, primarily discussed joint military projects like the medium transport aircraft (MTA) and the fifth generation fight aircraft (FGFA) that India and Russia are to co-produce. He is believed to have also shared India's concerns on Russia's recent arms sales to Pakistan including Mi-35 helicopters. According to the Federal Service for Military-Technical Cooperation, in 2013, Russia supplied $4.78 billion worth of arms and military equipment to India. In 2014, Russia's deliveries of arms and military equipment to India amounted to $4.7 billion.
The eighth edition of 'Indra' exercises involving Indian and Russian navies was held in the Bay of Bengal from 7 to 11 December 2015.It included live-firing, air defence and anti-submarine operations. A modified Russian 'Yasen' class submarine, Russia's latest nuclear sub, could be built specially for India as per Russian analyst Zachary Keck. According to Keck, India has been interested in leasing a multi-purpose attack submarine for quite a long while. This time, the Russian government has taken this interest on board and is developing a separate submarine for India though the final details are yet to be discussed. The Yasen class submarine is equipped with eight vertical missile silos, four 650 mm torpedo tubes and four 533 mm torpedo tubes. The Yasen is also likely to be armed with the high speed underwater 'Shkval' torpedo, which has a radius of 7-13 km and a speed of up to 200 knots. Russia's Deputy Prime Minister Dmitry Rogozin who visited India this month told journalists in New Delhi that Russia is offering Indian companies a chance to replace Turkey in the Russian market. He also referred to the agreement signed by ISRO with their Russian counterpart for increased cooperation in space this July, saying this could lead to development of satellites constellations and earth remote sensing systems,.
This may also involve the creation of ground-based infrastructure, including navigational constellations. Rogozin also said that should India join the MTCR, Russia is ready to help India build their own satellite delivery mechanisms to place satellites into the earth's orbit, meaning missile technologies, and that Russia has high-quality export potential associated with rocket engine manufacturing. The final agreement for the joint development and production of the FGFA could be signed during PM Modi's forthcoming visit to Russia. The agreement on the fighter aircraft has been stuck because of differences. So far, both sides have invested $295 million for the preliminary design. As per initial plans, India planned to induct 144 fighters with the entire project costing over $30 billion, and the first batch of aircraft handed over in 2017. There has also been some talk of India going for the Sukhoi PAK FA instead or a mix of both. Possible purchase of two new Kilo class submarines and the S 400 air defence system is also on the cards. Signing of a landmark Indo-Russian deal for joint production of Kamov 226 helicopters in India under 'Make in India' is to be signed during PM Modi's visit. While the inter governmental contract for producing over 200 of the Kamov 226 choppers will be inked, other details, including the selection of the Indian partner for the $ 1 billion deal are to be decided later. The initial helicopters will be produced from Russian supplied kits but would be progressively indigenized. France, which supplies the engines for the chopper, is already on board for technology transfer. India-Russia strategic partnership is historic with both countries always having stood by each other. There is convergence of views on many contemporary issues including Syria, Afghanistan and Central Asia.