By Lt. General P.C. Katoch (Retd.)


Former Director General of Information Systems, Indian Army
Post the Hague-based Permanent Court of Arbitration rejected China's claim to 'historic rights' in the South China Sea (SCS) brought up by Philippines last year, China pledged in July 2016 never to stop construction in the area. "We will never stop construction on the Nansha Islands (Chinese name for Spratly Islands) halfway," Wu Shengli, commander of the People's Liberation Army Navy (PLAN), had , boasted to the US Chief of Naval Operations Admiral John Richardson during latter's visit to China. The dispute over the South China Sea involves the Spratly and the Paracel Islands. Beijing's territorial claims to the islands partly overlap with those of the Philippines, Vietnam and Taiwan, while China also has ongoing territorial disputes in the area with Malaysia and Brunei. To bolster its claims, China has been busy setting up defense installations in the area, calling Washington's involvement in the dispute the "greatest" threat to the region.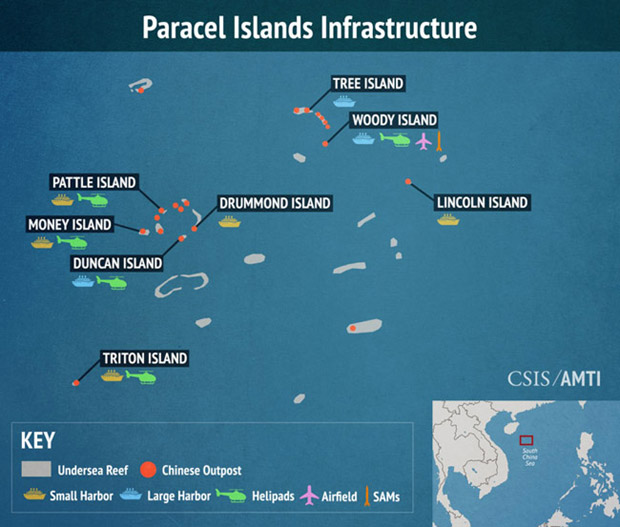 Victor Gao, director of the China National Association of International Studies, stated he believed the US was "very much involved in this arbitration case brought by the Philippines...trying to put pressure on China, and that China will stand firm on the matter of principle and China will also use all military resources to make sure that the US will not win this battle against China." ASEAN could have taken a united stance against China's illegal claims and aggression in the SCS but China cunningly broke the cohesion of ASEAN by showering financial largesse on Laos and Cambodia. China has been building facilities arguing that it is US who are militarizing the SCS, deploying more advanced J-11BH/BHS fighter aircraft on Woody Island which is largest of the Paracel Islands in SCS. Surface-to-air missile batteries have been deployed in the Paracels, as also radar facilities to extend kill zone of missiles on the Chinese mainland. The placement of advanced fighter aircraft on Woody Island in the Paracel archipelago extends China's fighter aircraft an additional 360 kms into the SCS from the nearest Chinese air base on Hainan Island.
Farther south of Woody Island, China has been building air bases and port facilities in Spratly Islands at Subi Reef, Mischief Reef and Fiery Cross, adding air strips, hangars, weapon storage facilities and fuel storage tanks. The build-up has been incremental but very swift. Dredging of sand to build artificial islands atop coral reefs in the Spratly which began in 2014 now features deepwater harbors and long runways suitable for warships and fighter jets. But that is not all. Chinese fishermen and fishing militia are virtually killing the marine life of the region, as recently reported upon by National Geographic. Chinese fishermen in search of valuable giant clams have destroyed vital coral reefs on a vast scale.
China intends to duplicate in the Indian Ocean Region (IOR) what she has done in the East and South China Seas. A massive plan for establishing a string of bases is being operatioanized with the aim of providing land based support to Chinese Carrier Battle Groups (CBGs). China plans to establish 19 naval bases in and in periphery of the Indo-Pacific waters. Gwadar and Djibouti have already become operational with China announcing plans to increase the numbers of its marine corps from 20,000 to one lakh and deploy them overseas for the first time, including at the strategic Gwadar port in Pakistan and military logistics base in Djibouti in the Indian Ocean. China has also developed Hambantota port in Sri Lanka for Chinese warships to command the portion of Indian Ocean between Singapore and the Gulf States of UAE, Kuwait Oman, Qatar Saudi Arabia. Besides, China also is looking at developing an island of Maldives for similar reason.
China has already announced Chinese naval vessels will be stationed in the Arabian Sea to protect Gwadar. In addition, Pakistan is receiving eight Chinese attack submarines in what is its biggest ever military deal estimated to be over US$5 billion. The submarines are export variants of the PLA's Type 39A (also known as Type 41) Yuan-Class submarines, with a depth of 300 metres. Their weaponry will be tailor-made suiting Pakistan's naval requirements. The first four diesel-powered electric submarines will be delivered by 2023, and the rest by 2028. Four of the submarines are to be built at the Karachi shipyard, with the rest in China. Meanwhile tensions are building up in South China Sea where China's military aircraft, missile batteries and radars serve multiple purposes, mainly to deter the US and allies and countries in Asia-Pacific that have claims on islands in SCS, plus freedom of navigation for the international community at large. Chinese submarines and warships are being deployed to guard the straits of Hormuz, and sweep the Arabian and Red Seas. Chinese media reacted defiantly to a statement by General Rex Tillerson just before he assumed the appointment of US Secretary of State that Beijing would be barred access to parts of the SCS; editorials warning that such actions could lead to war. Meanwhile, US President Donald Trump has reportedly proposed a $ 54 billion increase in defence spending, which is one of the largest increases in American history. The US will reportedly add two more aircraft carriers to their fleet of existing 10. With China backing North Korea's rogue nuclear antics and Pakistan's terrorism, this 'axis of evil' bodes great danger to the world.
Photo Credit: amti.csis.org