By Lt. General P.C. Katoch (Retd.)


Former Director General of Information Systems, Indian Army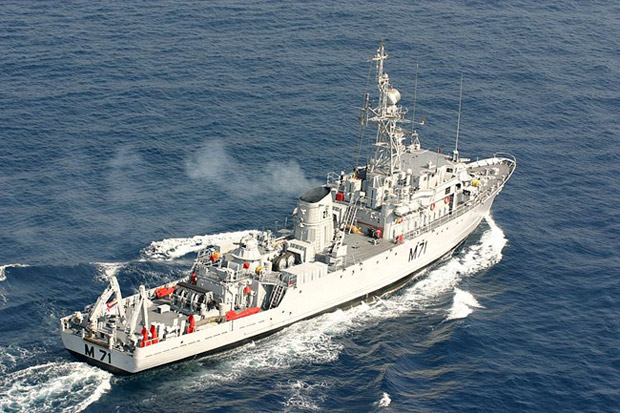 INS Kozhikode Mine countermeasure vessels
As per media reports quoting the Parliamentary Committee for Defence, the existing fleet of six minesweeping vessels with the Indian Navy will be de-commissioned next year. "The MCMVs (mine countermeasure vessels) are slated for de-induction by 2016-2018. 2016 has already passed and moreover, building the MCMVs will also take considerable time. The committee feels that the entire process of procurement of MCMVs will be delayed inordinately."The Committee has asked the government to make "sincere and concerted efforts" to equip the navy with the critical capability. The worrying part now is that the Navy is likely to be without minesweeping capability till year 2011. According to media, India could sign a Rs 32,640-crore deal with a South Korean shipyard for building 12 x mine countermeasure vessels (MCMVs) in the country by March 31, but the first of those are likely to be delivered only in 2021. But here comes the catch: first, that India "could" sign the deal by March 31, and; second, that the first delivery is "likely" by 2021. Going by past experience, both these "could" and "likely" perhaps will get delayed by couple of months if not years.
The big question that arises here is that with all the hype about India's focus having shifted to the Indian Ocean, and considering that decommissioning of the existing six MCMVs during 2016-2018 was well known, why was an overlap with fresh procurements not ensured? Who in the government is accountable for this major faux passé in degrading operational capabilities of the Indian Navy; creating a critical void at this juncture? Why or how did we ignore the Chinese designs on the Indian Ocean, aggressive moves by the PLA Navy (PLAN), and the China-Pakistan nexus that has adverse strategic ramifications for India? The new MCMVs are reportedly to be built at Goa Shipyard Limited (GSL) in collaboration with Busan-based Kangnam Corporation under the government's Make in India initiative. Though the deal was supposed to be closed in 2016, discussions on technology transfer to India have reportedly caused delays. All 12 x MCMVs are to be constructed in India, and are expected to have 60% indigenous content. The construction of the first vessel is expected to begin in April 2018, and deliveries likely to be completed between 2021 and 2026. Until now, the GSL has reportedly already spent Rs 800 crore on scaling up infrastructure to kick off construction of the minesweepers that will have a displacement of 800 to 1,000 ton; creating facilities are being created for building glass-reinforced plastic hulls, a design that reduces the ship's magnetic signature and allows safer navigation through waters that could be mined. All this is fine but the question remains of the critical void beginning 2018 up to at least 2021, or in most likelihood even beyond.
In the Indian Ocean Region (IOR), Chinese SSBN (nuclear submarine) bases are already coming up at Gwadar (Pakistan), Hambantota (Sri Lanka) and Djibouti on the Horn of Africa. While Hambantota to start may well be rest and recoup stops for PLAN SSBNs, plans for their deployment along with permanent positioning of Chinese Marines at Gwadar and Djibouti have already been put in motion. Deployment of Chinese air defence resources at these ports should be expected next. Chinese SSBN docked at Karachi during May 2016 was photographed by NASA. According to Chinese strategists, mines are easy to lay, difficult to sweep, possess strong concealment potential, high destructive power and pose long lasting threat. Offensive Chinese Mine Warfare strategy includes: blockading enemy bases, harbours and sea lanes; destroying enemy sea transport capability; attacking or restricting warships mobility; and crippling and exhausting enemy combat strength. Chinese doctrinal textbooks say, "We must make full use of units that can force their way into enemy ports and shipping lanes to carry out mine-laying on a grand scale".
China possesses an inventory of some 500,000 mines of multiple variety with different manufacturers and designs: C-1 to C-6 ground mines, M-1 to M-5 and EM 52 –57 ground mines, Piao 1-3 drifting mines, PMK 1 and 2 torpedo carrying mines, T-5 and Te 2-1 mobile mines and the Type 500 and Xun-1 training mines, for ships/aircraft and submarines respectively. Given the doctrine and huge inventory, it would be somewhat naive to believe that China will not use mines as part of hybrid warfare especially knowing that mine warfare at sea continues to remain one of the most neglected disciplines in India. What grave implications this has for our Navy, harbours and offshore installations should cause the government to sit up. Can't we ensure there is no gap in minesweeping capability?
Photo Credit: Indian Navy