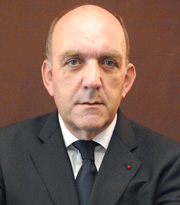 Jean-Louis Rotrubin Chairman & Chief Executive Officer Defense Conseil International (DCI)
SP Guide Publications (SP's): Can you tell us something about the concept of DCI and the reasons for establishing it?
Jean-Louis Rotrubin (Rotrubin): Defense Conseil International (DCI) was created in 1972 to ease the transfer of the French Armed Forces' know-how and operational experiences to countries purchasing French defence materiel. The company has gradually widened its perimeter through its four branches COFRAS, NAVFCO, AIRCO and DESCO and currently offers training, consulting and technical assistance services. The first three of these provide technical assistance for land, naval, and air armament customers, while the last essentially functions as a risk-management consultancy. It is important for me to stress at this point that our training services are not exclusively related to sales of defence materiel. For instance, we are also in a position to organise for foreign officer cadets to be trained at the major French military academies, and to provide a wide range of specialised courses. By the same token, consulting and assistance start well ahead of any materiel sale through support and advice for the formulation of the relevant requirements, and then continue during the acquisition phase with programme control and risk management activities and finally, during the operating phase, consulting for operational maintenance.
DCI currently has a staff of approximately 700 and activities in a dozen different countries, plus further contacts in over 100 countries via specialised training courses.
SP's: Can you tell us about DCI's mission and vision?
Rotrubin: We were created by the French Ministry of Defence, and our activities are covered by military cooperation agreements. We thus provide services with the "French Armed Forces" label. We are therefore in constant contact with the French Armed Forces, especially as some of the training courses are held in their academies and other schools. In addition, our personnel abroad are usually military seconded by the French Armed Forces.
SP's: As per the latest French White Paper on Defence and National Security 2008, under which Ministry do you function?
Rotrubin: We function with the French Ministry of Defense.
SP's: Apart from providing services for the indigenous consumption of the French armed forces, does the DCI have any presence in other parts of the world? Could you give details of such engagements?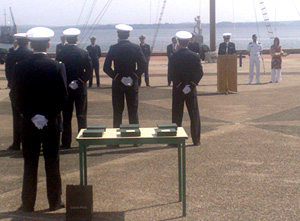 Rotrubin: About five years ago, we were mainly involved in very large-scale training programmes linked to foreign sales of French-built equipment (ex. Frigates to the Royal Saudi Arabian Navy). Now we are much more focused on smaller population of trainees but we are present in a far larger number of domains that before. In the past, we had 2 or 3 major programs in our portfolio; today we have more than 50 small-or-midsized programmes. Our main partners are the Middle-Eastern countries with which we have long-standing and lasting cooperation. In fact we have permanent offices in Saudi Arabia, the United Arab Emirates, Qatar and Kuwait. We also welcome UAE students in France, at either the French Naval School (Ecole Navale) or Saint-Cyr Military School (Ecole de Saint-Cyr).
In Saudi Arabia, we have widely backed up the development of the terrestrial and naval forces. With Qatar, we are developing technical assistance and training activities for Mirage fighter pilots, in addition to supporting helicopter fleets, like in Kuwait. We are present in the Asian-Pacific area too, especially in Malaysia, and we also have activities in other geographical areas such as Europe, Maghreb and South America.
SP's: What aspects of Homeland Security do you specialise in?
Rotrubin : Some nations require and demand two things from us—assistance with the development of their own training programmes and the provision of external specialists to help future missions-specific training issues.
We have in the past helped nations prepare for operations in Bosnia, Kosovo, etc, and this is one of the future faces of training. Homeland security is an important aspect of this also, especially operations in urban terrain.
It is important to train hard for reactive decision-making in small-unit actions. Better reflexive action can be supported by better training and simulation.
SP's: Do you train personnel of the equipment procuring country in France alone or in both locations, as per requirement?
Rotrubin: We train in both locations if it is required by our customers.
SP's: Do you also provide training to Special Forces personnel in the specialised equipment that they use for various types of roles and tasks? What type of expertise do you have in this field?
Rotrubin: In some countries, military training has become a subset of homeland security training and skills development. In addition, we are focused on developing training for Special Forces and specific equipment programmes. Through this plan, we expect us to increase our current level of activities by 50 per cent between now and 2012.
SP's: What type of consultancy in training, project management, design, construction and maintenance DCI can provide?
Rotrubin: DCI transfers the French military know-how to friendly foreign armed forces thanks to its military cultural background based on employees from the French Armed Forces and from the defence industry.
Our customers now demand and require training to prepare for new types of operations, in multinational task forces and facing different kinds of challenges than those for which traditional training might have prepared them. Generally, this is in the area of specific mission preparedness, not generic, we have to adapt to this dynamic and can no longer rely on basic training as the principal service.
Customised tailored training solutions will be the way forward, which means we all need to train like we operate.