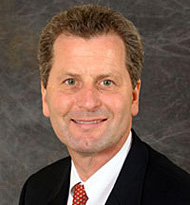 SP's Naval Forces (SP's): What does the company plan for the Singapore Air Show?
William Blair (Blair): We'll be showcasing many of our core military technologies. As it is an air show, we'll be focusing on our air-launched weapons and our suite of advanced surveillance, sensors, and radars. But we'll also have land-based technologies as well.
SP's: What is the relevance of the Singapore Air Show to India?
Blair: If a delegation from India were to visit our stand at Singapore, they would find many solutions that are relevant for India's requirements. For example, we'll display our platform independent suite of air-launched weapons which could go on either of the aircraft that are being considered for medium multi-role combat aircraft (MMRCA). Another example is some of the maritime surveillance technology we'll have on display, which is highly relevant to a nation with thousands of kilometers of coastline. You could almost say Singapore will be a sneak-preview for Defexpo, with the main difference being that at Singapore we'll be somewhat broadbased as this show is focused on all of Asia, while at Defexpo, we're properly focused on the needs of our Indian partners.
SP's: Can you give an example of what you'll be offering that would be of interest to the Asian market?
Blair: Well, one example that comes to mind is our intelligence, surveillance and reconnaissance (ISR) technology solutions. The capabilities we offer to our customers are very relevant to the broader Asian region and map directly to some of the pan regional challenges all our customers face. For example nearly 80 per cent of today's global trade is transported in ships' hulls and securing maritime supply chains against disruption presents an enormous challenge for the globalised world. Over 60,000 vessels transit the Straits of Malacca every year with much of the cargo aimed at meeting critical energy needs of Asia-Pacific countries.
Raytheon is a world leader in addressing a wide range of littoral and deep ocean threats. The company's maritime patrol aircraft capabilities provide an integrated solution for enhanced situational awareness and mission effectiveness that addresses a wide range of challenges customers currently face. These include border security, maritime surveillance, disaster relief, environmental monitoring and multiple military applications.
Empowered with exportable signals intelligence and unique tactical maritime technology, Raytheon's maritime patrol aircraft capabilities are designed to meet the needs of civil and military customers in the Asia-Pacific region.
Our maritime based reconnaissance, surveillance and target acquisition capabilities, versatile exportable sensor offerings and multi-INT integration expertise for multiple platforms enable us to create the right solutions for mission needs while providing a clear path for future upgrades as needed.
SP's: What are some other technologies you will show at Singapore that would be of interest to India?
Blair: I talked about our air-launched weapons portfolio of course, but we'll also have a suite of land combat weapons, such as the Javelin weapon system and man-portable Serpent launcher. We'll also have details on Excalibur there, as well as a range of sensors that focus on our maritime and littoral surveillance solutions, some already discussed here. Additionally, we have a number of other capabilities for international customers from the most advanced electro-optical/infrared sensors to cutting edge radar surveillance technologies. Surveillance and sensor capabilities for India include the AAS-44C (V) multi-spectral targeting systems for use on MH-60R and MH-60S helicopters and the APY-10 and SeaVue XMC surveillance radars. Onboard the MH-60R helicopter, our airborne low frequency Sonar and MK 54 lightweight torpedo provide the sensor and weapon for an anti-submarine warfare mission. The MK54 is also deployable from the P8 Poseidon aircraft.
The SeaVue radar family is known for its proven ability to detect small maritime vessels in high sea states, has been acknowledged for detecting stealthy self propelled semi-submersible crafts that pose a significant threat to the US homeland security. At Raytheon, we're ready to bring this capability to India where maritime and coastal surveillance are of paramount importance. This versatile airborne surveillance radar can also be used for commercial and military applications, including customs drug enforcement, border surveillance, exclusive economic zone (EEZ) monitoring, illegal traffic monitoring, and oil spill detection.
SP's: Does Raytheon view India as an important market?
Blair: The term 'market' implies a strictly business arrangement. And with Raytheon in India, you have a relationship that extends well beyond a contract on a piece of paper. Raytheon has been in India for more than 60 years, and after that length of time, I think it's safe to say we feel we're a trusted partner to India. We've expanded our company's footprint in India by moving our operations to a new, larger office in Delhi and adding more people to the team. Additionally, in the past few years we've developed tie-ups with a variety of Indian entities, to include defence public sector undertakings and private companies. We are in the process of finalising a number of additional arrangements. So, the answer to your question is, Raytheon wants to build on and expand its relationships in India, and be the trusted partner of choice to both private industry and government.