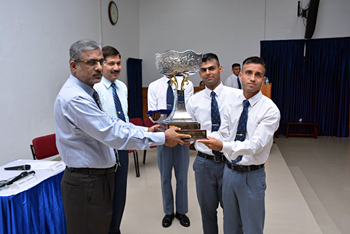 Rear Admiral KS Venugopal, Principal, INA presenting the Inter Squadron Debate Championship Trophy to Eagle Squadron Cadet Captain Prateek Naryal and Cadet Amarendra Narayan Singh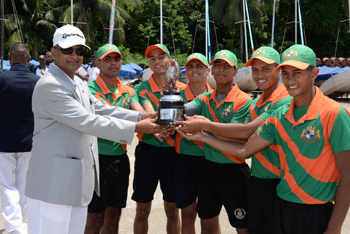 Rear Admiral MD Suresh, NM, Deputy Commandant, INA presenting the prestigious Inter Squadron Rowing Championship Trophy to Cheetah Squadron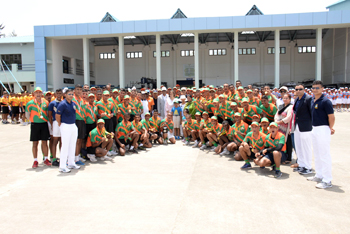 Jubilant cadets of Cheetah Squadron with Inter Squadron Rowing Championship Trophy
August 21, 2016: The Inter Squadron Debate and Rowing Championship for Autumn Term-16 was held at Indian Naval Academy (INA) on 20 Aug 16 (Saturday) and 21 Aug 16 (Sunday) respectively. Teams comprising cadets from all Six Squadrons of the academy participated with vigour in the much contested debate on the topic "In view of the massive influx of West Asian refugees to Europe, all countries have a moral obligation of allowing them entry on humanitarian grounds rather than blocking their arrival due to security concerns".
Engrossing oratorical skills along with factual awareness, rational thoughts and emotional appeal was displayed by all participating cadets. The winner's Trophy for the Inter Squadron Debate Championship for Autumn Term-16 was won by Eagle Squadron. Rear Admiral KS Venugopal, Principal, INA presented the trophy and individual prizes to the winners.
The intellectually invigorating event was followed by, the finals of Inter Squadron Rowing Championship which commenced from Kavvayi backwaters at 0730 Hrs. on 21 Aug 16 (Sunday). The prestigious event, which assesses team cohesion for pulling together, stamina, endurance and morale of the participants, was witnessed by Rear Admiral MD Suresh, NM, Deputy Commandant, INA and a host of Officers families and Cadets of the Academy.
A total of 420 trainees took part in the championship with each of the six squadrons of the academy fielding a team in five different categories. The event saw teams competing in rowing over a distance of two km in Kavvayi backwaters on Coxed 4 / Coxed 8 class rowing boats. A total of 27 Races were held during the championship, of which 18 were held on 20 Aug 16 (Saturday) as heats for determining the top teams in each category for the finals.
Cheetah Squadron emerged victors in the Inter Squadron Rowing Championship while Fighter and Daredevil Squadrons secured the Second and Third positions. Rear Admiral MD Suresh, NM presented the trophies and individual prizes to the winners.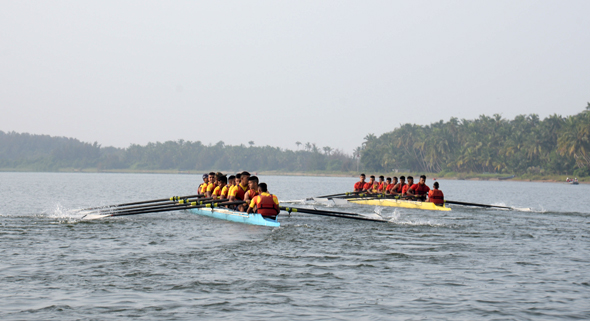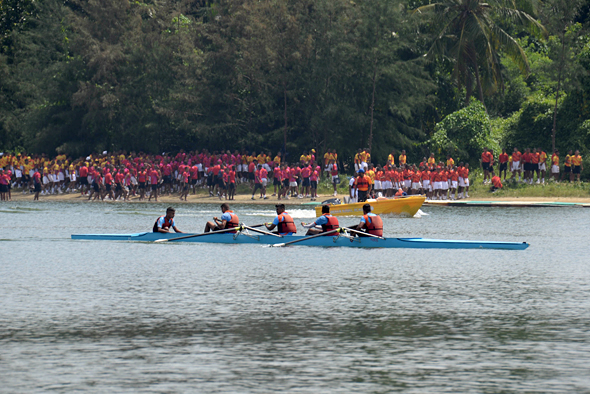 Cadets participating in the Inter Squadron Rowing Championship at
Kavvayi
backwaters

Photo Credit: PRO (INA)