At a time when China is increasing its presence in the Indian Ocean region, India has not been able to finalise the procurement of much required amphibious aircrafts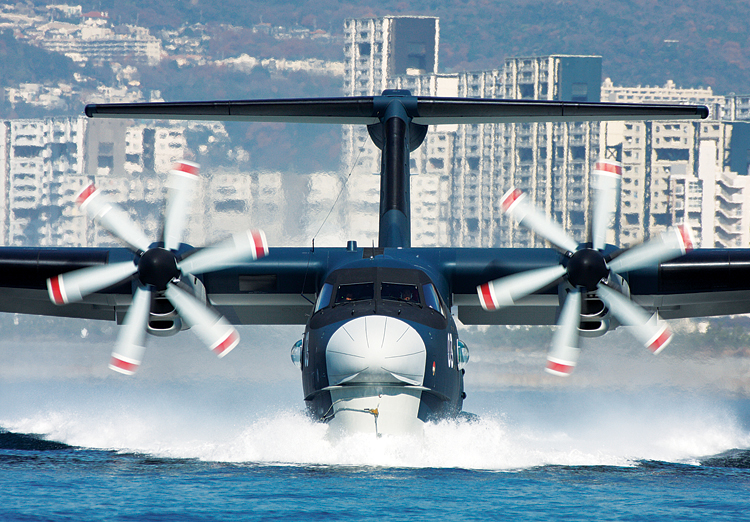 India is wary of the Chinese Navy making inroad into the Indian Ocean region (IOR). In last few years, the Chinese foot print has increased in the IOR region and they are very close to operating their very first naval base in the IOR at Gwadar, Pakistan. In August last year, there were 14 Chinese Naval vessel deployed in the Indian Ocean. At any given time, on an average, there are seven Chinese ships and at least one nuclear submarine in the IOR. This is exerting tremendous pressure on the surveillance assets of the Indian Navy.
Explaining the Navy's operational role in the IOR, Navy Chief Admiral Sunil Lanba, in previous annual press conference, said, "Prime Minister has initiated 'Security and Growth for All in the Region' i.e. SAGAR, and we have, being net security provider in the IOR, based on these initiatives, reexamined the deployment and philosophy. We are now on a Mission-Based Deployment where assets are deployed in our maritime areas of interest. We had an ongoing deployment since October 2008 in the Gulf of Aden. We now have a constant presence of a ship deployed in Andaman Sea and mouth of Malacca Straits. We have ships on deployment in the Gulf of Oman, the Persian Gulf, the North Arabian Sea, the North Bay of Bengal, and the strategically important Straits of Lombok."
"At the same time our long range maritime patrol aircraft are also deployed to cover our areas of interest. All this is to ensure that we have (an effective) presence in our areas of interest and we have maritime domain awareness. All the ingress and egress routes to the IOR are covered and we are operationally available to react to any emerging situation," he added.
Navy is also called to carry out humanitarian relief in the littoral states. During many such operations lack of airstrip on an island can lead to massive delay in providing the much needed relief. Similarly, in an operation cactus like situation, a small island runway may not support a large military aircraft carrying troops and weapons leading to delays in tactical operation with strategic out come. In these contingencies, an amphibious aircraft can come very handy. They can provide much needed operational flexibility to military planners.
India which has global ambition and calls itself a regional power needs to have assets and capability to respond to all kinds of contingencies. India cannot afford to request for assistance from external power in its area of influence and its time India should start acquiring assets and capabilities to become an operationally self sufficient nation. To this effect, India aspires to acquire amphibious aircraft. Indian Navy issued the request for information (RFI) for amphibian aircraft in 2011. ShinMaywa Industries Ltd, Japan responded to the RFI offering the US-2 amphibian aircraft.
Japan, in 2014, lifted ban on export of defence equipment to another country. An Indo-Japanese join working group has been discussing the possibility of sale of US-2 aircraft to India since 2013. Initially, India is expected to buy 12 aircraft for Indian Navy with option for another five.
During Prime Minister Narendra Modi's visit to Japan, in September, 2014, India and Japan agreed to "accelerate progress in the discussions and preparations for a road map for the development of the Indian aircraft industry through US-2 amphibian aircraft cooperation including the transfer of the aircraft and its technology to India."
The US-2 cooperation seeks to concurrently advance the aeronautics industry including maintenance, repair and overhaul and parts manufacturing of US-2 in India
As reported earlier by SP's Naval Forces, a technology scan of available amphibian aircraft clearly shows that the US-2 alone meets and in many cases exceeds these operational requirements. With an ability to operate in sea state 5, landing/take-off distances at about 300 m, transit speeds in excess of 550 kmph and a range of 4,500 km there is no other aircraft in its class. Combined with the world's only boundary layer control system on a cargo and transport aircraft, spray suppression features, marinised turboprop engines, glass cockpit, pressurised cabins and a highly sophisticated surveillance and communication suite the US-2 stands out as a product of renowned Japanese technology. With an accident free record it is testimony to high quality and sound design. The US-2 has proven credentials of successful operations in sea state 5 with surrounding wave height of 4 metres and a wind velocity of about 40 kts at a distance of about 1,200 km from mainland Japan.
As per the fact sheet later circulated by the Ministry of Foreign Affairs, Japan the US-2 cooperation seeks to concurrently advance the aeronautics industry including maintenance, repair and overhaul and parts manufacturing of US-2 in India. The US-2, it is learnt, may also be permitted to be exported to third countries under mutual agreement. It is evident that the cooperation on the US-2, between India and Japan is at the international level of immense diplomatic and strategic import, whilst at the domestic level the downstream benefits are across the military, technological, economic and social sectors.
In spite of Japan's offering concessional the $1.6 billion deal is not cutting much ice with the ministry which thinks this aircraft is more of luxury than necessity. The decline in defence capital budget has further weakened its case. The aircraft was to be manufacture in India and help in developing Indian aviation industry. But with the delay the very purpose is getting defeated.
In the mean time, China's underdevelopment amphibious aircraft AG600 made its first maiden flight on December 24, 2017. Code name 'Kunlong' AG600, considered as the world's biggest aircraft of its kind, made its second flight on January 24 in South China's Zhuhai city of Guangdong province.
The 39.6-metre-long aircraft, with wingspan of 38.8-metre is being developed by the state-owned Aviation Industry Corporation of China (AVIC). The 53-tonne aircraft can take 50 people to every part of South China Sea. AVIC has already received 17 orders from domestic customers.
It is high time that government should decide on the amphibious aircraft requirement of Indian Navy. The Navy's requirement for multi-role helicopter, landing platform dock and additional maritime reconnaissance aircraft are also getting delayed. Unlike these, US-2 just needs government's approval. Rest everything, more or less, has been worked out. The government cannot spend years discussing the deal with vendor without being sure whether it wants the hardware or not. This attitude is going to harm Indian interest in long term. Government need to worry.
US-2 (ShinMaywa): Specifications
| | |
| --- | --- |
| Dimensions & Performances | |
| Length: | 33.3m |
| Wing Span: | 33.2m |
| Height: | 9.8m |
| Engine: | Rolls-Royce AE2100Jx4 |
| Propeller: | Dowty R414 |
| Max Take-Off Weight/Distance: | 47.7t / 490m |
| Max Landing Weight/Distance: | 47.7t / 1,500m |
| Max Take-Off Weight/Distance (on water): | 43.0t / 280m |
| Max Landing Weight/Distance (on water): | 43.0t / 330m |
| Range: | over 4,500 km |
| Cruise Altitude: | More than 6,000m |
| Cruise Speed: | More than 480km/h |
| Max Speed: | More than 560km/h |
Source: ShinMaywa