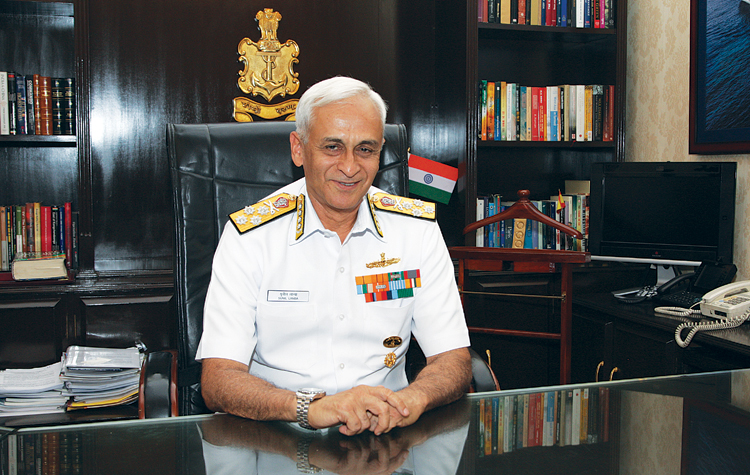 Jayant Baranwal (JB): How is the Strategic Partnership (SP) model progressing which seems to have taken a little longer than what was expected?
Chief of the Naval Staff (CNS): It is true that SP Model has taken time to fructify due to several complex issues. However, the SP as a Model now stands approved by the Government. For the Indian Navy Letter of Acceptance (LoA) for 111 Naval Utility Helicopter (NUH) has been issued and approval from Defence Acquisition Council (DAC) has been accorded. Likewise, LoA for six conventional submarines under SP Model has also been issued for Project 75(I). Shortly, the case will come up for DAC approval. While Indian Navy is very supportive of participation of private sector shipyards in the Navy's modernisation programmes, we have to very carefully assess the infrastructure, production and financial capabilities. The construction load of Project 17A is being shared between MDL for four ships and GRSE for three ships based on the modular concept of construction. In this programme the participation of private sector shipyards within the country is synergised very well.
JB: How about the acquisition of four Landing Platform Docks (LPDs)?
CNS: Based on an internal audit report the financial status of Reliance Naval & Engineering Ltd (RNEL) is being examined. Further the case is now referred to the Supreme Court.
JB: What is the current status of acquiring DAC approved 24 Multi-Role Helicopters (MRH)?
CNS: The Ministry of Defence has approved acquisition of 24 anti-submarine warfare and anti-ship MRH. The case is being processed through FMS.
JB: How is the IAC-1 progressing and what is the present status of IAC-2?
CNS: IAC-1 is getting on with the sea trial phase very well. The aircraft carrier is expected to be ready by 2020 and be fully operational for induction in the Indian Navy by 2021. Acceptance in Principle (AIP) of IAC-2 however, is still awaited.
JB: How about minesweepers or mines counter-measure vessels (MCMV)?
CNS: As you know, the acquisition of 12 MCMVs has been delayed for various reasons. It is now hoped that the nominated shipyard, Goa Shipyard Ltd will issue Expression of Interest (EoI) over design and technology transfer arrangements with the partner OEM, in the near future.
JB: Now that the mission INS Tarangini has made all of us so much proud and has indeed achieved remarkable success, do you foresee yet another mission on the same lines in near future?
CNS: Despite making very good progress in the Golden Globe Race, Commander Abhilash Tomy encountered severe cyclonic weather and adverse sea conditions in the South Indian Ocean as a result of which his boat was dismasted and he received severe back injuries. Unfortunately he had to withdraw from the race. As for present, there is no such adventure scheme being considered. In case any enthusiastic woman sailor volunteers for a solo circumnavigation of the globe, such a project can be considered.
SR: What is the status of Medium Repairs and Life Certification (MRLC) of conventional submarines of Shishumar and 877 EKM classes to be undertaken indigenously?
CNS: Government has approved MRLC of the first SSK, INS Shishumar to be indigenously undertaken at the Public Sector Shipyard, Mazagon Docks Shipbuilders Ltd. MRLC of the 877 EKM class is being assigned to Russian Shipyards. Currently there is no plan for MRLC to be undertaken indigenously for 877 EKM class submarines.