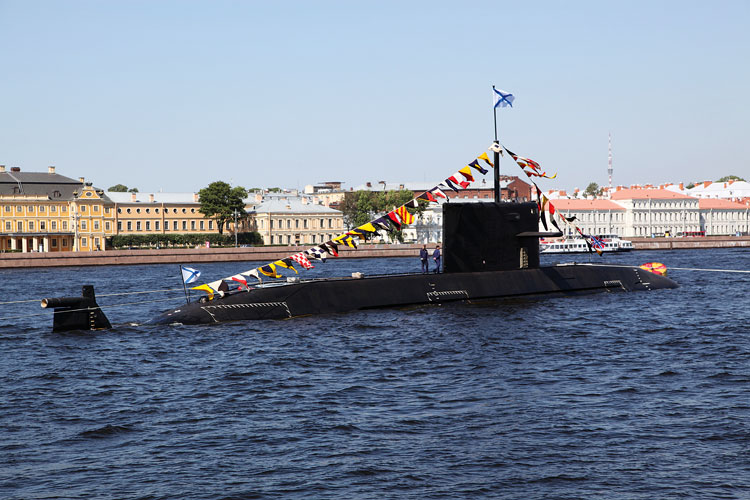 Amur-1650
Russia has extensive experience in the design and construction of warships, submarines and auxiliary naval vessels. Rosoboronexport, which celebrates its 20th anniversary in 2020, possess appropriate competence to supply foreign partners with these products. The company's portfolio includes successful projects that meet the 'Make in India' requirements. There is a high level of cooperation in this area.
Project 75I to build state-of-the-art diesel-electric submarines can become a large-scale project within the framework of military-technical cooperation between Russia and India. Today, Russia's state-of-the-art Amur-1650 submarines, which have incorporated the latest Russian submarine building solutions, are the most suitable prototype for them. In this case, the Russian-Indian submarines will become among the most advanced in the world.
The non-nuclear submarine Amur 1650, developed by the Rubin Central Design Bureau for Marine Engineering (St. Petersburg), belongs to a new generation of Russian submarines and is intended for warfare with the use of anti-ship torpedoes and missiles, destruction of shore targets with cruise missiles, reconnaissance missions, special sabotage operations and mine-laying.
Specifications
| | |
| --- | --- |
| Displacement | 1765 t |
| Length | 66.8 m |
| Maximum diving depth | 300 m |
| Endurance | 45 days |
| Complement | 35 |
| Full submerged speed | approx. 21 knots |
The Amur 1650 can operate on the high seas and in littoral waters in an antisubmarine warfare (ASW) environment and carry out missions while submerged and surfaced in any sea state.
The operational capabilities of the Amur 1650 give the submarine undeniable advantages over its counterparts on the world market. The submarine's armament includes the Club-S integrated missile system, which includes both anti-ship and land-attack cruise missiles for engagement of shore targets. The operational use of these missiles by Russian Navy submarines during the counter-terrorism operation in Syria was highly appreciated by the world expert community.
The Amur can also be equipped with vertical launchers. During its design, provision was made to deploy and use the BrahMos missiles developed by a Russian-Indian joint venture.
The submarine boasts a low radiated noise level. This was achieved through recent technology advances, including a unique hull coating, which almost completely absorbs sonar signals and the noise generated by the submarine's mechanisms.
The Amur 1650 features an energy-efficient propulsion motor, as well as high-performance electronics, including the latest sonar system, a combat information management system and an optronics mast.
Russian design bureaus offer submarine projects that can be built at the customer's shipyards using domestic components and materials, widespread implementation of innovative solutions and cutting-edge technologies.