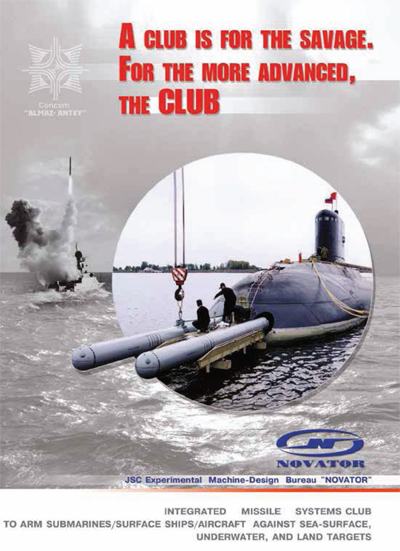 Covertness constitutes the key advantage of a submarine, and any submarine must carry a highly efficient strike system in order to benefit from this feature the best way.
The CLUB system incorporating anti-ship and land attack missiles has been in operational service with the Indian Navy for over 15 years to date. This system, on the one hand, qualifies for the latest efficiency and operational challenges, on the other, has its unique features, of which the best known is a supersonic combat stage of the anti-ship cruise missile detached after target is detected by the homing head. Reticent approach to the target in cruise, high speed and minimal altitude of the combat stage extremely complicate the detection and interception of even single missile for a ship's anti-aircraft system, not to mention a salvo launch, where hitting is largely a sure thing.
Coming down to the land attack missiles, everyone the world over has witnessed successful deployment of the Caliber cruise missiles against ISIS strongholds in Syria; however, Club is essentially an export version of Caliber and is only range limited to 300 km.
Submarines of the Indian Navy fitted with Club system seriously reason any aggressor to withhold its endeavour for security of India and its maritime domains.