Since its beginning in 1992, Malabar exercise, the annual maritime exercise of India and United States (US), is going from strength to strength. In 2018 edition the exercise travelled to Guam which suggests emergence of a new strategic framework in the Indo-Pacific.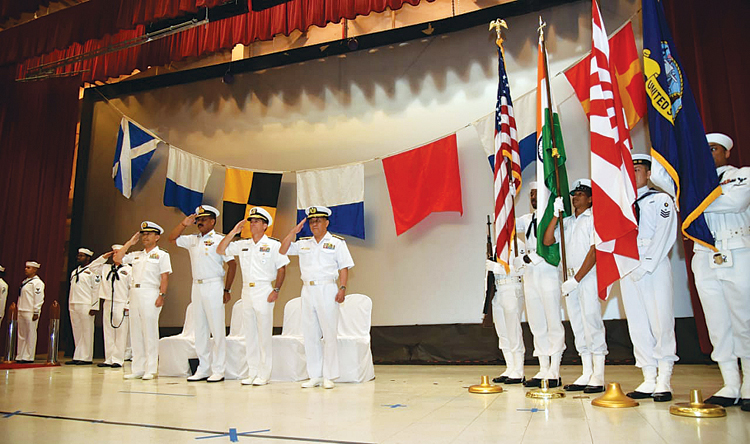 Vice Admiral Yamamura, Vice Chief of Staff of Japan Maritime Self-Defense Force, Rear Admiral D.K. Tripathi, FOCEF, Rear Admiral Marc Dalton Cdr CTF 70 and Rear Admiral Oban Cdr Commanding Flotilla 2 at the opening ceremony of Malabar 2018 at Guam, USA
The existin g geopolitical framework of the world was shaped by the winners of the World War II. They divided the world in their area of influence and used different pretext to maintain a military presence in those areas. The US who won the Asia-Pacific from Japan realized the danger of the combined strength of the communist duos – USSR and China who jointly held almost whole of the western shore of Pacific Ocean.
Had the US not entered into the Korean War, it would have been impossible for it to maintain its military presence in South Korea and Japan who were made to look at the USA as their protector from the looming threats of communism. This arrangement has worked for the USA for last 70 years as USSR (later Russia) and China could not challenge its naval supremacy in the region.
Learning the lessons of history, China, in last one decade, has added numerous modern frigates and two aircraft carriers. This has begun to change the tide in Chinese favour. The East Asian shores are witnessing US struggle to maintain its hard-earned military supremacy against a resurgent China which is reclaiming what it deems its birthright as the biggest nation of the region.
Indian, although not part of the security framework of East Asia but is concerned with the increasing footprint of the Chinese navy in India Ocean region (IOR). China, in the past, has questioned the Indian dominance over the IOR. In 1990s China made its intension for IOR very clear when it publically said, "Indian Ocean is not India's Ocean". Since then China has established several bases across IOR and is maintaining regular presence through deployment of its naval ships in the region. To counter Chinese expansion in the region, India changed its 'Look East policy' into 'Act East policy' which envisages strategic relationship with ASEAN countries. Both countries are competing to establish their strategic presence in each others neighbourhood.
The Australia based Lowy Institute's inaugural 'Asia Power Index', raising serious question on the US' ability to retain its position in the region said, "even if the United States continues to outspend China in military expenditure, future trends point to a relative decline in US power, with a second place finish only marginally ahead of India." No wonder, China is showing little regard for US power in the Pacific region.
China is expected to achieve economic parity with US in next one decade. In spite of its strength, the report finds China "vulnerable to a military and strategic counterweight led by other regional powers." This vulnerability is what India-US-Japan triad is trying to exploit through many strategic initiative including the Malabar Exercise.
The exercise
From June 7 to 16, India, Japan and US navies participated in the first-ever Malabar exercise conducted off Guam, a US Territory, in the Pacific Ocean. The maritime exercise began as a bilateral exercise between India and US in 1992. After initial hiccups including US sanction following Indian nuclear tests of '98, the exercise resumed in 2002 when the US realized the importance of defence relations with India in the post 9/11 world. Since then, the exercise has seen consistent expansion in its scope and has become the cornerstone of the Indo-US maritime relation.
In 2007, for the first time, the exercise saw the participation of Australia, Singapore and Japan. Since 2014, Japan is regularly participating in the exercise and from 2015 Japan is a permanent member which makes it a trilateral exercise. Singapore and Australia are the non-regular participants of the exercise.
Talking on the scope of this edition, Indian Navy in a statement said that "the Malabar-18 includes professional interactions during the Harbour Phase in Guam from June 7 to 10. The Sea Phase from June 11 to 16 includes a diverse range of activities at sea including aircraft carrier operations, air defence, anti-submarine warfare (ASW), surface warfare, visit board search and seizure (VBSS), joint manoeuvres and tactical procedures."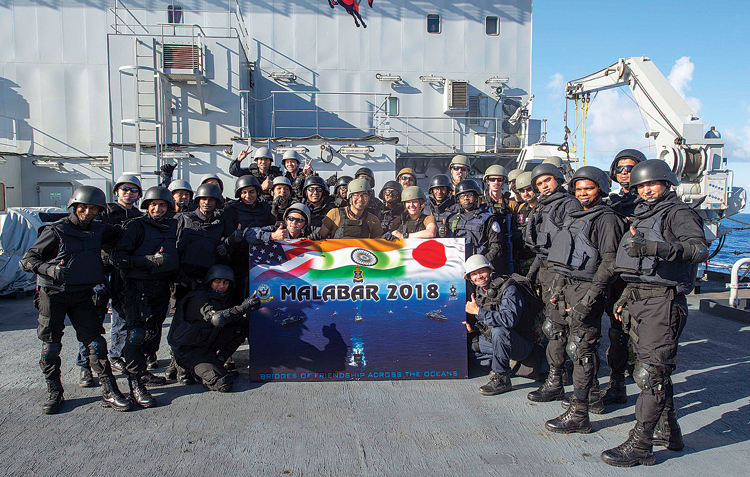 Sailors from the guided-missile cruiser USS Antietam, the Japan Maritime Self-Defense Force destroyer JS Fuyuzuki and the INS Shakti pose for a photo aboard the Indian Navy oiler after a visit, board, search, and seizure (VBSS) exercise during exercise Malabar
US Navy, in its post-exercise release, said, "The exercise accomplished maritime interoperability training objectives among the three maritime forces, emphasizing high-end warfighting skills, maritime superiority, and power projection."
"While ashore in Guam, training included subject matter expert and professional exchanges on operations, maritime patrol and reconnaissance operations, antisubmarine warfare, medical operations, damage control, helicopter operations, ship tours, and VBSS operations" whereas the "at-sea portions conducted in the Philippine Sea were designed to advance participating nations' military-to-military coordination and capacity to plan and execute tactical operations in a multinational environment."
This included liaison officer exchanges, "submarine familiarization, high-value unit defence, air defence exercises, surface warfare exercises, communications exercises, search and rescue exercises, helicopter cross-deck evolutions, underway replenishments, gunnery exercises, VBSS exercises, and anti-submarine warfare."
The Indian Navy participated with two indigenously designed and built ships, INS Sahyadri, a multi-purpose stealth frigate and INS Kamorta, an anti-submarine warfare corvette, and fleet tanker INS Shakti. From the Indian Navy's air asset side, US made Long Range Maritime Patrol Aircraft P8I participated in the exercise.
Participants from the US Navy in the exercise included the Nimitz-class aircraft carrier USS Ronald Reagan, the Ticonderogaclass guided-missile cruisers USS Antietam and USS Chancellorsville, the Arleigh Burkeclass guided-missile destroyer USS Benfold, a Los Angeles-class attack submarine and a P-8A Poseidon aircraft.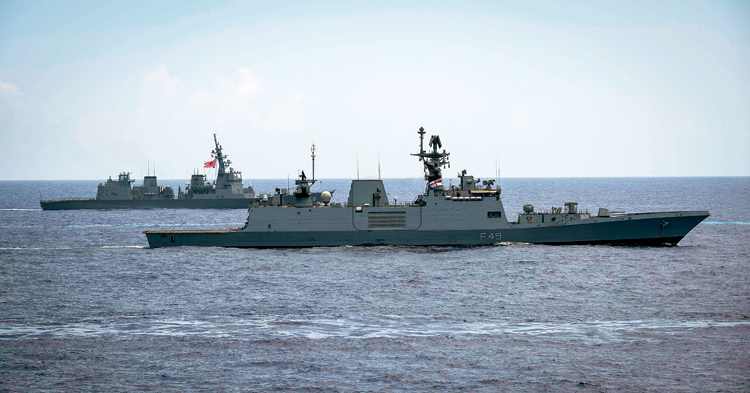 The Indian Navy Shivalik class stealth multi-role frigate INS Kamorta and the Japan Maritime Self-Defense Force Akizuki class destroyer JS Fuyuzuk in formation during exercise Malabar 2018
Japanese Maritime Self-Defense Force was represented by a Hyuga class helicopter carrier JS Ise with integral helicopters, Takanami class destroyer JS Suzunami; Akizuki class destroyer JS Fuyuzuki. Japanese Maritime Patrol Aircraft, P1 and a submarine.
Renaming of PACOM
US Secretary of Defense James N. Mattis, on May 30, "in recognition of the increasing connectivity, the Indian and Pacific Oceans, today we rename the US Pacific Command to US Indo-Pacific Command." The renaming did not come as a surprise to many since the US has been referring to the region as Indo-Pacific for quite some time. But the timing, just before the Malabar exercise, was certainly surprising. Not just the name, the command also got a new commander when Adm. Phil Davidson took the baton of the command from Adm. Harry Harris.
Recognizing the importance of the region in US National Defense Strategy, Mattis said, "Relationships with our Pacific and Indian Ocean allies and partners have proven critical to maintaining regional stability. We stand by our partners and support their sovereign decisions because all nations large and small are essential to the region if we're to sustain stability in ocean areas critical to global peace."
Hinting towards China, he said, "For every state, sovereignty is respected, no matter its size and it's a region open to investment and free, fair and reciprocal trade not bound by any nation's predatory economics or threat of coercion, for the Indo-Pacific has many belts and many roads."
This clearly means that the US wants India to guard the Indian side of the Indo-Pacific whereas it will hold the Pacific side in an order to restrict Chinese expansion beyond the South China Sea.
Australia Question
Australia, another major country of the Indo-Pacific region and close US ally, is also interested in joining the three nations against China forming what is called as 'Quad' – a four-nation bloc. But Indian reluctance to form a comprehensive military bloc against China doused Australian desire.
The four nations have been meeting diplomatically to discuss issues of common interest in the Indo-Pacific region. One such meeting took place in Manila on November 12, 2017, between the foreign offices of the four nations. "The discussions focused on cooperation based on their converging vision and values for the promotion of peace, stability and prosperity in an increasingly inter-connected region that they share with each other and with other partners," India said in a statement.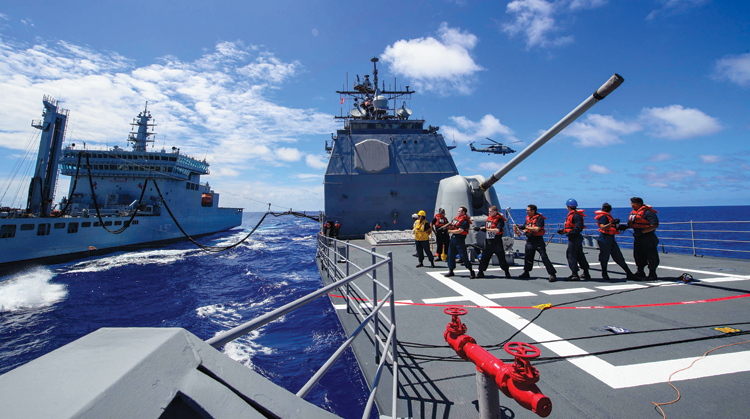 Sailors assigned to the Ticonderoga class guided-missile cruiser USS Antietam conduct an underway replenishment (UNREP) training exercise with the Indian Navy oiler INS Shakti during exercise Malabar
"They agreed that a free, open, prosperous and inclusive Indo-Pacific region serves the long-term interests of all countries in the region and of the world at large. The officials also exchanged views on addressing common challenges of terrorism and proliferation linkages impacting the region as well as on enhancing connectivity," it added.
Conclusion
On August 2, 2017, the US President signed into law the "Countering America's Adversaries Through Sanctions Act, which forbids countries from doing defence trade with Russia. This has stalled Indo-Russian deals like S-400 long-range surface to air missiles. India, if not given reprieve, is bound to retaliate with putting on hold some of the weapons deals with US. US administration, reportedly, is trying to find a way out.
The successful exercise is a mark of maturing of the relationship where both governments understand the problems emerging out of domestic politics. This is no mean achievement. US Navy, in its post exercise release, succinctly summing up the achievement of the exercise and said that three partner nations are "having an active role building regional partner capacity and maritime domain awareness" and "by doing so, they bolster the shared vision laid out by their respective governments to contribute to overall peace and security in the region." But only time will tell whether this partnership will be able to contain Chinese influence in the Indo-Pacific or will only act as deterrent to any Chinese misadventure in foreseeable future.