Navantia is highly devoted to 'Make in India' premises and offers a well proven design that will contribute to the national defence and security, as well as the transfer of technology, not only in the area of design, but also in expert technical support on production, planning, trials and life cycle maintenance. As a consequence, a very well educated Indian auxiliary industry will be developed and a very important local workforce will be created.
The setting couldn't have been better to unveil the Navantia – L&T offer to the Indian Navy's Landing Platform Dock (LPD) programme than the flight deck of the Spanish Navy's flagship vessel Juan Carlos I, which was in Mumbai from June 2-6 with the objective of showing her capabilities to the Indian Navy. The two companies have offered a LPD based on the Juan Carlos I to suit Indian requirements. India is planning to acquire four of these ships (built at Indian shipyard) for around 20,000 crore.
The Request for Information (RFI) for the programme was sent out in 2011 under 'Buy and Make (Indian)' procedure. A Capability Definition Document (CDD) was also sent to the Indian Shipyards which were short listed based on RFI responses. After procedural deliberations, reportedly, three Indian shipyards, namely, L&T, ABG and Reliance Defence were selected to participate in the programme. But later due to financial issues ABG was dropped. In May last year, Indian Ministry of Defence gave its in-principle approval to the programme.
According to Navantia, designer and builder of this type of ships, has successfully transferred technology for local construction which makes Navantia a riskless partner for this programme. "It is to highlight that (three) ships based on the LHD 'Juan Carlos I' have been recently acquired by the Royal Australia Navy and the Turkish Navy. Navantia has successfully developed the design in both programs; HMAS Canberra and HMAS Adelaide are in service for the Royal Australia Navy, and one unit is under construction in Turkey in collaboration with Sedef shipyard."
"Navantia is highly devoted to 'Make in India' premises and offers a well proven design that will contribute to the national defence and security, as well as the transfer of technology, not only in the area of design, but also in expert technical support on production, planning, trials and life cycle maintenance. As a consequence, a very well educated Indian auxiliary industry will be developed and a very important local workforce will be created," it added.
LPD for India: Specifications
Length overall
214.19 m
Maximum breadth
32.0 m
Design Draught
6.80 m
Full load displacement
27,000 tonne
Maximum speed
20 knots
Range
10,000 nm at economical speed
Accomodation
Accomodation for 530 crew members + 900 embarked troops
Propulsion plant
Diesel Electric Propulsion
Sensors
3D radar
E/F Radar
I band navigation radar
Beacon
EW Antennae
Satellite comms
Weapons
CIWS
Chaff launcher
SAM Missile System
12.7 mm Machine Guns
Capacities
Dock: 4 x LCM or 2 x LCAC or 2 x LCAT
Hangar: 12 x Helos AW-101
Light vehicles deck: 34 x 16.5 t Lorries
Heavy vehicles deck: 6 x 50 t Tanks, 6 x 16.5 t Lorries, 20 x 14 t
Armoured Vehicles
Containers: 5 x TEUs plus 25 t crane
Juan Carlos I
On her maiden visit to India, a selected group of journalist were invited on board of the visiting Landing Helicopter Dock (LHD) Juan Carlos I at Mumbai. The 27,000 tonnes and 231 metre multipurpose amphibious assault ship is the largest warship ever built for the Spanish Navy. Built using the modular design, the first block of the ship was laid in 2006 at Navantia's Shipyard in Ferrrol and was launched on March 10, 2008. It was commissioned in the Spanish Navy on September 30, 2010.
The LHD, named after Spanish King Juan Carlos I, single hull ship is designed to carry on four kinds of missions, namely, amphibious-transporting infantry and support cargo for land operations; force projection – ferrying armed forces to any theatre; aircraft carrier – as platform for launching helicopter and fighter aircraft and for humanitarian and disaster relief.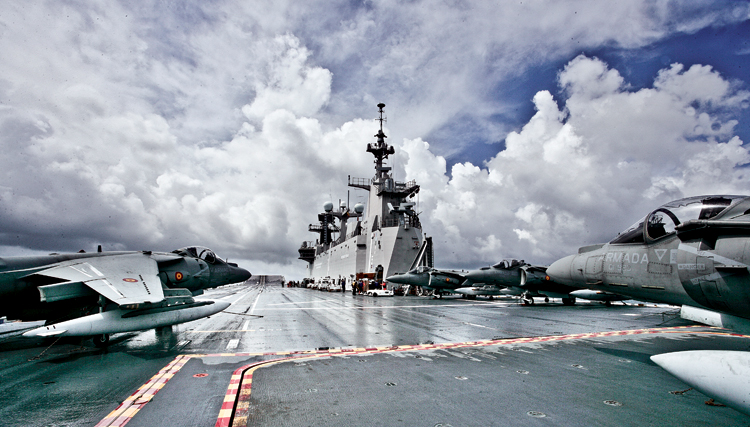 The impressive deck of Juan Carlos I
The ship can launch six medium size choppers like SH-60 Seahawk and NH-90, or four heavy lift like CH-47 Chinooks simultaneously and has a 12 degree ski-jump ramp to launch short take-off and vertical launch (STOVL) aircraft. It can launch the American F-35B Lighting II and V-22 Osprey tilt-rotor aircraft. In carrier mode it can carry a dozen each of helicopters and STOVL aircraft. It can operate as a carrier for duration of 50 days without needing any replenishment.
Global Orders
On February 7, Turkey began construction of its first Landing Helicopter Dock (LHD) TCG Anadolu, after the ceremonial keel of the ship was laid at the Sedef shipyard in Turkey. It is based on the Spanish naval shipyard Navantia's Juan Carlos I class amphibious assault ship, which is operational with the navies of Australia and Spain. The work on the Anadolu started with steel cutting in April 2016.
Andalou is expected to cost around one billion dollars and will join the Turkish fleet somewhere around 2021. Turkish President Recep Tayyip Erdogan, after the steel cutting ceremony, had said, "TCG Anadolu will be the first ship in the navy from which F-35B SVTOL planes will operate."
Turkish authorities in December 2013 announced that the Sedef shipyard will construct the vessel in collaboration with Navantia. In addition to construction, Sedef will integrate and conduct mandatory test of the vessel before its final delivery to the Turkish Navy. The amphibious assault ship project also includes four landing craft mechanics (LCM), 27 amphibious assault vehicles (AAV), two landing craft personnel vehicles (LCVP), one commander boat and one rubber hull inflated boat (RHIB).
Australia also operates two of the Juan Carlos I based ships known as Canberra-class LHD. The two ships, namely, the HMAS Canberra and HMAS Adelaide, were constructed by Navantia and the hull was transferred to Australia for completion. The Canberra class is designed not to support fighter jets. The Navantia design was selected over the Naval Groups's Mistral class – two of them were ordered by the Russian Navy as a helicopter carrier which later were procured by Egypt. The first ship of the Canberra class, HMAS Canberra joined the Australian fleet on November 28, 2014 which was followed by HMAS Adelaide on December 4, 2015.
Indian Requirements
According to the RFI 0f 2011, Indian Navy wants "design of the basic hull form, propulsion machinery and major equipment except the weapon and sensors fit, should be derived from a proven world class design of an LPD of similar dimensions" and "In case the design is being bought, the shipyard should have an MOU (memorandum of Understanding) with the designer for construction of LPD at the time of submission of tenders."
The vessel should be of around 200 m, draught not to exceed 08 m and an endurance of 45 days. The ship is to have a suitable well deck for amphibious operations and it "would carry amphibious crafts like LCMs or LCACs and LCVPs on davits and should have capability to launch these crafts when underway."
"The ship is expected to have a carriage of combat vehicles on one or more vehicle deck. This area should be adequate to embark Main Battle Tank (MBT), AAVs/BMP Class armoured vehicles and heavy trucks."
Navy wants the LPD to have "Point Defence Missile System, Close In Weapon System, Anti Torpedo Decoy system, Chaff System and HMGs/LMGs. In addition, ship would have one E/F band combined air and surface surveillance radar and one C/D band air surveillance radar."
Navy wants the vessel to be capable of simultaneous operation "by day/night of Special Operation Helicopters and Large Helicopters (upto 35 tons)."
There are two contenders for the contract Reliance Defence and Engineering Limited (RDEL) and Larsen & Toubro (L&T). The project is expected to cost over 20,000 crore to exchequers and will provided Indian Navy with much required amphibious capability for beach assault and humanitarian relief operations. For the project, L&T has joined hand with Navantia whereas RDEL has collaborated with Naval Group. Interestingly, India has been fiddling with this idea of LPD for a decade, in the mean time Australia and Egypt has been able to procure them and Turkey is executing them.
During the visit, the reporters met with the J.D. Patil, Whole-time Director, Larsen and Toubro, President of Navantia Esteban García Vilasánchez, Captain of Juan Carlos, Captain Jose Lago, and other senior officials of the two companies.
Welcoming the press, Captain of Juan Carlos, Captain Jose Lago, said that it is a historic moment to bring the Spanish Navy fleet flag ship to Mumbai. The Indian Navy had a good first impression of the ship. "We are very proud of the ship." This was the maiden visit of the ship to India.
Talking about the role of L&T in India in the programme, President of Navantia Vilasánchez said, "We are partners in India. They will build the ships. They are the builders and we are just supporting them in the functional design."
Adding further on the 'Make in India' in defence, he said, "We are fully engaged with the 'Make in India'. No doubt L&T will build the four ships here. Hopefully we are awarded with the contract and we will support with all the necessary knowledge and experience. We have already built in Spain, Australia and Turkey and hopefully in India."
"It is a ToT process, as in the Australia (where) two LHD are in service. So this model of ToT, putting together the engineering and design capability from L&T and our design and engineering knowledge," Vilasánchez added.
Speaking on his companies role in the partnership, J.D. Patil said, "In the past we have done the design ourselves because they were much smaller ships. This is a giant, as you all can see. This giant class is something that you look for a great partner. That is why we teamed up with Navantia because they have experience, they have class of ships which is virtually one can say a winner in terms of capability. So, we tied up with them for basic design, complete support during the manufacturing and detailed engineering onwards... we will do in India."
If selected, LPD will be built at the Kattupalli shipyard, Chennai.
Talking about the difference between the Indian LPD and Juan Carlos I, Patil said, "Indian Navy does not want fixed wing aircraft. There is no ski jump. As a result it has only helicopter capability which is what the Navy wants."
Talking about the helicopters which Indian Navy intents to operate from LPD, he added that the Navy will be using the current helicopters. "The ship is capable of taking varieties of helicopters as well as aircraft."
On the operational capability of the ship, Patil added, "it will do amphibious operation, it will do some amount of anti-submarine warfare with helicopters and it can perform other roles like humanitarian and disaster management and it can also use for beach out of full battalion of Indian army along with battle tanks and variety of equipments."
All the four ships will be manufactured in India and this will be the biggest naval vessel construction programme for Indian private shipyard. This could well give our private shipyards capability of building a fullfledged aircraft carrier. The timely execution of this project will go a long way in retaining Indian dominance in India Ocean.