26 nations, 47 surface ships, five submarines, 18 national land forces, and over 200 aircraft and 25,000 personnel participated in the RIMPAC from June 27 to August 2, 2018, in the Hawaiian Islands and Southern California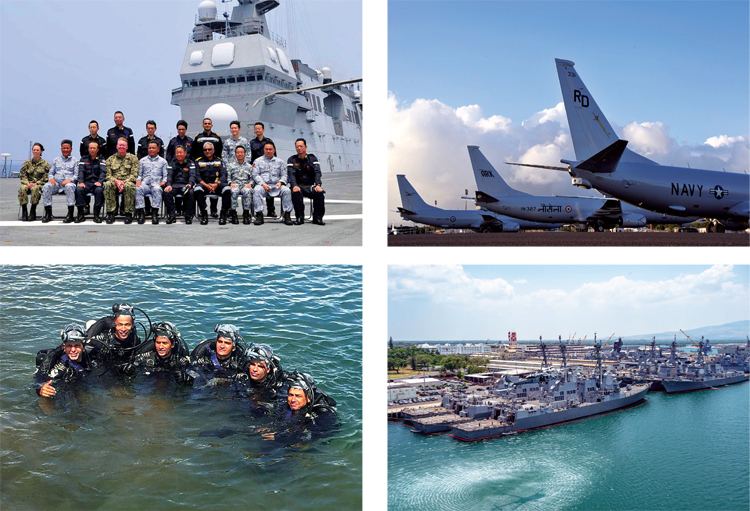 (Top) Commanding Officers of different Navies onboard JMSDF JS Ise; US Navy, Indian Navy, and Royal Australian Air Force P-8 Poseidon aircraft at the exercise; (above) Divers of participating Navies carrying our wreck diving; International ships participating in the RIMPAC at Joint Base Pearl Harbor-Hickam.
RIMPAC the world's largest maritime warfare exercise is held biennially during June and July of even-numbered year under the aegis of the US Navy Pacific Command from Honolulu, Hawaii. RIMPAC is held in and around the Hawaiian Islands and Southern California. It is hosted and administered by the United States Navy's Pacific Fleet, headquartered at Pearl Harbour. RIMPAC provides a unique training opportunity that helps participants foster and sustain cooperative relationships that are critical to ensuring the safety of sea lanes and security on the world's oceans. RIMPAC 2018 is its 26th edition and is founded on theme "Capable, Adaptive, Partners".
Twenty-six nations, 47 surface ships, five submarines, 18 national land forces, and over 200 aircraft and 25,000 personnel participated in the RIMPAC held from June 27 to August 2, 2018. Participating nations and forces exercised a wide range of capabilities and demonstrated the inherent flexibility of maritime forces. These capabilities range from disaster relief and maritime security operations to sea control and complex warfighting. The relevant, realistic training programme included amphibious operations, gunnery, missile, anti-submarine and air defence exercises, as well as anti-piracy operations, mine clearance operations, explosive ordnance disposal, and diving and salvage operations.
This was the first time that Brazil, Israel, Sri Lanka and Vietnam participated in RIMPAC. In addition for the first time New Zealand was assigned the responsibilities of Sea Combat Commander and Chile as Combined Force Maritime Component Commander. This was the first time a non-founding RIMPAC nation (Chile) was assigned the vital responsibility of Component Commander. RIMPAC 2018 witnessed some unique features such as live firing of a Long Range Surface to Air Missile from a US Air Force aircraft, surface-to-ship missiles by the Japan Ground Self-Defence Force, and a Naval Strike Missile from a launcher on the back of a Palletized Load System by the US Army. This was the first time that a land-based unit participated in the live firing serial during RIMPAC. RIMPAC 2018 also included international band engagements and highlighted fleet innovation during an Innovation Fair.
Hosted by Commander, US Pacific Fleet, RIMPAC 2018 was led by Commander, US 3rd Fleet, Vice Admiral John D. Alexander, who served as Combined Task Force (CTF) Commander. Rear Admiral Bob Auchterlonie, Royal Canadian Navy served as CTF Deputy Commander, and Rear Adm. Hideyuki Oban, Japan Maritime Self-Defence Force as CTF Vice Commander. Fleet Marine Force was led by US Marine Corps Brigadier General Mark Hashimoto.
Indian Navy in RIMPAC
The participation of Indian Navy in RIMPAC initially began as an Observer for the 2006, 2010 and 2012 editions of the exercise. INS Sahyadri was the first ship to be deployed in 2014, the 24th edition of the exercise. Two years later INS Satpura took part in 2016, the 25th edition of RIMPAC. Indian Navy's participation in RIMPAC 2018 is seen as a significant milestone in its efforts towards strengthening mutual confidence among navies of the region and is expected to further bolster India's contribution in ensuring peace and stability in the Indo-Pacific Region.
INS Sahyadri was adjudged Runner-up in innovation competition during harbour phase of RIMPAC 2018. The ship presented the 'idea of integrating yoga into daily life as technology for well-being during extended deployments for ships'.
For the first time Indian Navy's P8I Long-Range Maritime Reconnaissance and Anti-Submarine Warfare aircraft was deputed to Hawaii for participating in RIMPAC 2018 and has flown so far east into the Pacific. It is the first Indian Navy aircraft to cross the International Date Line, undertaking the longest ferry of nearly 3,300 nm from Guam to Hawaii and the first Indian Navy aircraft to participate in RIMPAC and undertaken tactical exercises including anti-submarine warfare and maritime reconnaissance missions along with participating foreign naval ships, submarines and aircraft to hone the interoperability skills.