Navy can use all type of UAS' like mini, micro, small, vertical take off and landing (VTUAS'), medium altitude endurance (MALE), high altitude endurance (HALE) and UCAS. They can be employed in dangerous, challenging and sensitive environment.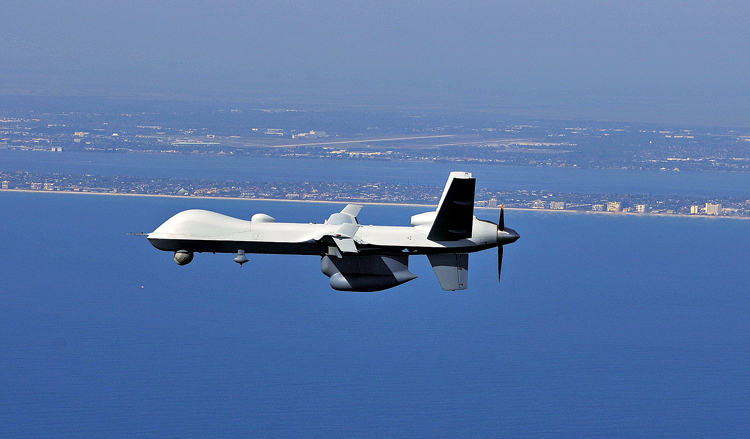 Guardian from General Atomics Aeronautical Systems
Unmanned Aerial Systems (UAS') are very versatile and can be used in a variety of roles to continuously carrying out of reconnaissance and surveillance, and acquiring of domain intelligence. It can also carry out limited domination with the use of armed UAS'. UAS' can be employed in all weather conditions by day and night without endangering any naval personal. They can thus be employed in dangerous, challenging and sensitive environment. US is leading in this field and they are developing UAS' as a multi-role option which are very cost effective. The possible roles are:
Provide real time imagery through reconnaissance, surveillance, targeting and intelligence gathering by using a combination of infrared/optical sensor and a laser target designator.
It could carry a common data link and serve as a radio/data relay platform. This could be expanded to the role of an airborne platform for tactical control systems. This could be further developed into carrying out time critical operations and network centric warfare.
Can enhance sensor capability for naval surface fire by reducing the sensor to shooter time.
Provide real-time battle damage assessment.
Search and rescue as amply proved during Tsunami search operations in Andaman and Nicobar Islands. The UAV would home in on an emergency beacon and drop a line when overhead.
Surveillance and overt action against piracy.
Unmanned Combat Aerial Systems (UCAS') being used for launching air to surface weapons.
Navy can use all type of UAS' like mini, micro, small, vertical take off and landing (VTUAS'), medium altitude endurance (MALE), high altitude endurance (HALE) and UCAS'. The bigger fixed wing UAS' operate from coastal areas as they need more elaborate infrastructure for landing and take of which is difficult from a ship except an air craft carrier. VTUAS' or rotary UAS' are more suitable for other surface platforms.
The advance navies are rushing to develop suitable UAS' for their naval fleet with US Navy in the lead.
Northrop Grumman's X-47B. X-47B is a tailless, strike fighter-sized unmanned aircraft developed by Northrop Grumman as part of the US Navy's Unmanned Combat Air System (UCAS) Carrier Demonstration programme. Under a contract awarded in 2007, the company designed, produced and flight tested two X-47B aircraft. In 2013, these aircraft were used to demonstrate the first ever carrier-based launches and recoveries by an autonomous, low-observable unmanned aircraft. The X-47B is powered by a Pratt & Whitney F100-PW-220U engine and exhaust system. The aircraft has a high subsonic speed of approximately 0.45M, range of roughly 2,100nm and a maximum altitude of 40,000ft. In April of 2015, the X-47B once again made aviation history by successfully conducting the first ever Autonomous Aerial Refueling (AAR) of an unmanned aircraft. It can be equipped with electro-optics (EO), infrared (IR), synthetic aperture radar (SAR), inverse SAR, ground moving target indicator (GMTI), electronic support measures (ESM) and maritime moving target indicator (MMTI) sensors apart from air to ground weapons. The navigation of the UCAS is controlled by hybrid GPS and vision-based system.
Boeing's MQ-25
Boeing is bringing the future of unmanned aircraft carrier aviation to the US Navy with its MQ-25 which will provide the needed refueling capability thereby extending the combat range of deployed Boeing F/A-18 Super Hornet, Boeing EA-18G Growler, and Lockheed Martin F-35C fighters. MQ-25 brings the right combination of refueling, autonomy, and seamless carrier deck integration to deliver a solution that meets the US Navy's requirement of developing a low cost unmanned aerial refueling aircraft.
MQ-4C Triton Broad Area Maritime Surveillance (BAMS) UAS'
Northrop Grumman's MQ-4C Triton unmanned aircraft system (UAS') provides real-time intelligence, surveillance and reconnaissance (ISR) over vast ocean and coastal regions for the US Navy. Based on the proven Global Hawk UAS', Triton's autonomous operations are supported by land-based command and control mission planners and sensor operators. Triton is equipped with a unique and robust mission sensor suite that provides 360-degree coverage on all sensors. Triton also incorporates a reinforced airframe, for increased internal payload, and wing for hail, bird strike, and gust load protection, along with de-icing and lightning protection systems. Built for the US Navy, Triton will support a wide range of missions including maritime ISR patrol, signals intelligence, search and rescue and communications relay. The aircraft can fly over 24 hours at a time, at altitudes higher than 10 miles (about 52000 feet), with an operational range of 8,200 nautical miles (about 15000 km). The Navy's programme of record calls for 68 aircraft to be fielded.
Northrop Grumman's Fire Scout UAS'
Fire Scout is a combat proven, autonomous helicopter system that provides real-time Intelligence, Surveillance, Reconnaissance, and Target-acquisition (ISR&T), laser designation, and battle management to tactical users. Fire Scout has the ability operate from any air-capable ship or land base in support persistent ISR&T requirements. There are two Fire Scout variants –MQ-8B and MQ-8C.
MQ-8B Fire Scout. The smaller MQ-8B Fire Scout has deployed on multiple frigates and is currently deployed on a Littoral Combat Ship (LCS). The MQ-8B advanced control stations incorporate the US Navy's Tactical Control System (TCS), Tactical Common Data Link (TCDL), and robust communications. MQ-8B Fire Scout has also been deployed in Afghanistan to support counter-improvised explosive device (IED) operations. This system has completed more than 16,600 flight hours over 6,200 sorties. The Navy has integrated a multi-mode maritime radar on MQ-8B and tested an onboard weapons capability, the Advanced Precision Kill Weapon System (APKWS). The MQ-8B Fire Scout has also demonstrated the ability to operate concurrently with other manned aircraft while operating at-sea. It has a speed of 85 knots, ceiling of 12,500 ft (3.8 km), range/endurance of 596 nmi (about 1000 km)/7.75 hrs with baseline payload and payload of 300 lbs.
UAS can be employed in all weather conditions by day and night without endangering any naval personal
MQ-8C Fire Scout. The MQ-8C Fire Scout is the US Navy's next generation autonomous helicopter. The MQ-8C Fire Scout's airframe is based on the commercial Bell 407, a proven helicopter with more than 1,600 airframes produced and over 4.4 million flight hours. It also has the ability to autonomously take-off and land on any aviation-capable ship and from prepared and unprepared landing zones. It has a speed of 135 knots (max), ceiling of 16,000 ft, range/endurance of 1,227 nmi (about 2000 km)/12 hrs, payload (Internal) 500 lbs, has EO/IR/LRF/Communication relay/AIS/Maritime Radar (future) and in the future COBRA Mine Detector will also be included.
ScanEagle
ScanEagle is a long-endurance unmanned aerial system (UAS') designed and manufactured by Insitu Inc., a wholly owned subsidiary of the Boeing Company. Having been introduced into service in 2005, the ScanEagle is now used by the US Marine Corps, US Navy, US Air Force, US Department of Defence, Australian Army and the UK Ministry of Defence.
Capabilities
Scan Eagle delivers persistent imagery on land or at sea for a variety of commercial and defence missions at a fraction of the cost of other surveillance methods. Latest ScanEagle features upgraded avionics, expanded payload options and a new heavy fuel purpose-built propulsion system that dramatically improves reliability and performance. Scan Eagle can operate up to 19,500 feet (5,943 meters) and loiter over a battlefield for extended missions of 24+ hours, depending on system configuration. The ScanEagle is not fitted with landing gear, but is catapult-launched from a pneumatically operated wedge launcher, propelling the aircraft at a velocity of 25m/s. When its mission is completed, the ScanEagle uses SkyHook technology for recovery, comprising of an arresting line suspended in the air from a 15.2m boom. A hook installed on the vehicle's wingtip catches onto the arresting line, suspending the aircraft. Flies in extreme environments and supports a range of imager configurations that can be quickly modified in the field. It has 6,000+ shipboard flights, 48,000+ shipboard flight hours and is operating on 13 different classes of ships.
Indian Perspective
The Indian Navy (IN) had acquired Heron and Searcher from Israel and the first UAS' squadron was commissioned on January 6, 2006 however they are land based and currently the Navy has no ship based UAS'.
IAI-HAL Project Naval Rotary UAS (NRUAS)
The configuration consists of a Malat-made Helicopter Modification Suite (HeMoS) fitted on HAL's Chetan, an upgraded Chetak with Turbomeca TM 333 2M2 engines. The helicopter is planned to be used for unmanned operations and advanced ISR missions from ship decks. However there seems to be no progress. However HAL has demonstrated during August 2018 a light weight RUAS which can fly 10 km with a payload of 2.5 kg. The Navy does not have at present adequate manned helicopters for their surface fleet thus budget wise NRUAVs would be on low priority.
Guardian Armed UAS'
Reuters had reported during July 2018 that the the US has offered India the armed version of Guardian drones that were originally authorised for sale as unarmed for surveillance purposes. If the deal comes to fruition, it would be the first time Washington has sold a large armed drone to a country outside the NATO alliance. It would also be the first high-tech unmanned aircraft in the region, where tensions between India and Pakistan run high. In April, President Donald Trump's administration rolled out a long-awaited overhaul of US arms export policy aimed at expanding sales to allies, saying it would bolster the American defence industry and create jobs at home. The plan included a new drone export policy that allowed lethal drones that can fire missiles, and surveillance drones of all sizes, to be more widely available to allies. General Atomics had earlier said that the US government had approved the sale of a naval variant of the drone. India has been in talks to buy 22 of the unarmed surveillance aircraft, MQ-9B Guardian, worth more than $2 billion to keep watch over the Indian Ocean. However now the armed version is also included apart from the number of UAS' may also increase. The environment has also changed with US liberalising its export policy for certain military platforms; India has signed the Communications Compatibility and Security Agreement during the '2+2 Dialogue' between the two countries in September 2018. It had earlier become a member of the Missile Technology Control Regime (MTCR) in 2016. MTCR is a 1987 missile-control pact signed by the US and 34 other countries which require strict export controls on Predator-type drones, which it classifies as Category 1, those with a payload of over 1,100 pounds (500 kg).
The Certifiable Predator B (CPB) class of Remotely Piloted Aircraft Systems (RPAS) has been optimised for ISR through the development of SeaGuardian and SkyGuardian to support a variety of homeland security and other nonmilitary roles. Details of Sea Guardian's unarmed version is only available from the website of General Atomics Aeronautical Systems, Inc. (GA-ASI). Its Payload Capacity: is 4,750 lb (2155 kg) across 9 hardpoints (8 wing, 1 centreline) 800 lb internal (363 kg) ; Max Altitude: 40,000+ ft MSL; Max Endurance: 35 hr; Max Air Speed: 200+(360+km/h) KTAS (True Air Speed) and Max Range: 5,500+ nmi (about 9,900+km). It carries a variety of High Definition EO/IR sensors to include SeaGuardian Mission Kit: – Multimode 360° Maritime Surface Search Radar – Automatic Information System (AIS); GA-ASI Lynx Multi-mode Radar; Dual VHF/UHF certified radios and has a Open mission systems architecture.