Israel Shipyards Ltd., has been in existence since 1959, providing a wide range of activities like Ship Design; Ship Repair; Project management and execution, and Technical and logistical support. It provides Smart design and stringent quality assurance.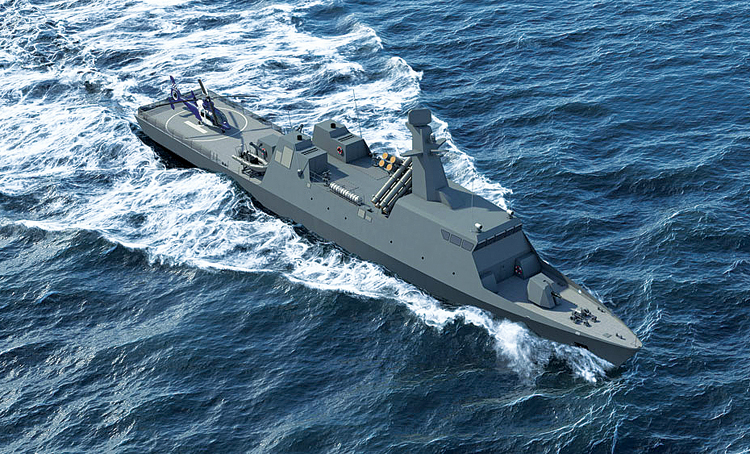 Latest Design Missile Corvette SA'AR S-72
Israeli Naval Industry is structured to cater for Israel's maritime security requirements. They have shipyards which cater for shipbuilding including for the merchant navy. Then there are support industries like Ramta manufacture Dvora class fast attack boats which the Indian Navy has also acquired. Other area of expertise is C4ISR, Situation awareness, anti-ship systems, ship based air defence systems, under water unmanned systems, naval sensors, naval UAVs and many more.
Israel Shipyards Ltd (ISL)
Israel Shipyards Ltd., has been in existence since 1959, providing a wide range of activities like Ship Design; Ship Repair; Project management and execution, and Technical and logistical support. It provides Smart design and stringent quality assurance. Some of its products include fast attack missile corvette, Shaldag Class is a combat-proven fast vessel for naval security missions and offshore patrol vessels for coastal defence. Some examples of their products are given below.
Missile corvette SA'AR S–72. This is the latest design of missile corvette with state-of-the-art next-generation operational capabilities. Key features include medium-size marine helicopter operations, hybrid propulsion and advanced combat systems. Key specifications are: over all length is 72 m, maximum beam is 10.25m, Displacement is about 800 tonnes and maximum speed is above 30 knots. The vessel can accommodate the IAI Elta EL/M-2258 Advanced lightweight Phased Array (ALPHA) multi-mission naval radar and a variety of weapons including IAI's Barak 8 type missiles, various anti-ship missiles and precision surface attack weapons.
Shaldag MK V. One of the ISL vessels currently in highest demand, the SHALDAG FPC was designed in the late 1990s. As the Mini Shaldag is the latest and the fastest family member, sailing at up to 55 knots and is the ideal solution for shortrange missions where speed and agility are required.
Fast Vessel Shaldag MK V
The Shaldag Class' largest family member is a combat-proven, all aluminium, light and fast vessel with higher payload capacity, designed for naval security missions. The Shaldag MK V provides a high level of maneuverability and seakeeping. Designed to operate in distant arenas for the protection of littoral and EEZ waters. Its key specifications are: overall length is 32.65 m, has a displacement of about 95 tonnes with maximum speed above 40 knots.
Offshore Patrol Vessel (OPV). In the 1990s, ISL used the naval architecture of the Nirit Class SAAR 4.5 as a base design to produce a special OPV, embedded with the firepower of larger naval vessels at lesser cost. The OPV is equipped with highly advanced weapons systems, produced by world-recognised Israeli designers. One of its many advantages is a weapon-carrying capacity equal to larger, more costly vessels. The seagoing power of the ISL OPV was further enhanced with optional helicopter carrying capability. The latest version is OPV 62 m which is even more versatile with extensive payload capacity including stabilized weapons, mediumrange missiles, ESM, and search radars. Key specifications are: overall length is 62 m, maximum beam is 7.60 m, displacement is about 500 tonnes and maximum speed is 32 knots.
IAI Ramta
Super Dvora Mark III. The Super Dvora Mark III-class patrol boat is the latest generation of the Dvora family of fast patrol boats or fast attack crafts (FPB/FAC). It is capable of travelling up to 50 knots (93 km/h) in littoral waters due to its state of the art, thrust vectoring control Articulated Surface Drives. It weighs 72 tonnes and is 27.4 m long. It carries a variety of armaments including automatic grenade launchers, AGM-114 Hellfire missiles, Spike NLOS missiles, and 30mm cannons.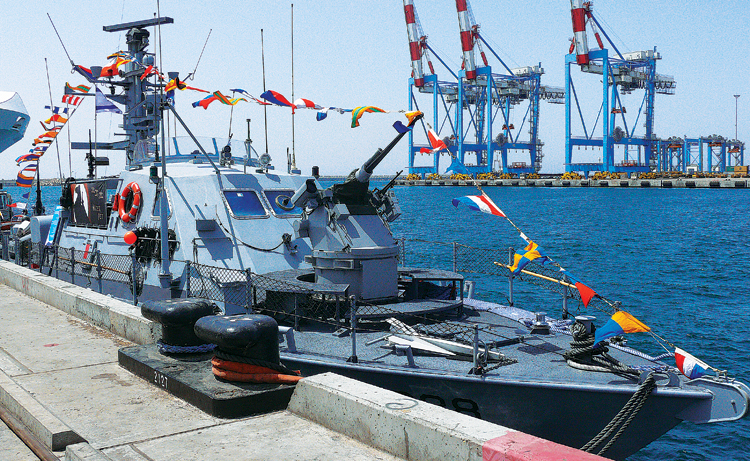 Super Dvora Mk-III patrol boat
Rafael
RAFAEL's naval systems are designed for both surface and the sub-surface environments, as well as for divers and underwater security. Comprehensive combat suits are available for ships of all sizes, and include weapon systems, sensors and command and control facilities. RAFAEL's defensive system suits include various types of decoys, ECM as well as hard-kill measures and torpedo countermeasures for surface ships and submarines.
Naval air defence. Rafael has developed a system specifically designed to counter existing and future anti-ship air threats, including supersonic sea-skimming missiles. Rafael is currently developing two new AD systems for rocket and missile defence, in partnership with Raytheon USA and the Israeli Directorate of Defense R&D (MAFAT). Barak is a most popular operational anti-missile point defence and naval surface-to-air missile system, designed to protect combat vessels against sea skimming missiles and airborne platforms. Barak is effective against highly maneuvering, supersonic and low altitude threats (sea skimmers), as well as low radar cross section targets. The system is designed to engage multiple targets simultaneously. BARAK is in operational service in the naval forces of several countries including India. Barak 8 is a joint venture with India's DRDO. The naval version is called LR-SAM (Long Range SAM) and the MR-SAM (Medium Range SAM) is meant for the Indian Army and Indian Air Force. It has been successfully tested on July 30, 2009. Its guidance system is expected to be two way data link with active RF/IIR seeker, speed is Mach 2 (680 m/s) and operational range is about 0.5–100 km.
C-DOME. It ensures full-circular surface vessel protection and high kill probability against a full spectrum of modern threats including maritime and coastal threats. It consists of TAMIR interceptors (Tamir missiles are short-range anti-missile kinetic interceptors that have a range of 2 to 40 km), a modular Vertical-Launch Unit, and a Command and Control component.
Defence against swarm attack for surface vessels. This multi-layered defence solution, utilises combat-proven capabilities such as PROTECTOR USV (unmanned surface vehicle fitted with a Mini Typhoon Weapon Station), SPIKE (anti-tank and antipersonnel missile), TYPHOON (complete Missile Naval system up to a range of 25 km), DRONE DOME (Counter Unmanned Aircraft Systems C-UAS is a powerful approach for securing airspace against hostile airborne platforms), SEWS-DV (Naval Electronic Warfare defense systems), UAVs, and other advanced systems – all in operational use by many navies worldwide.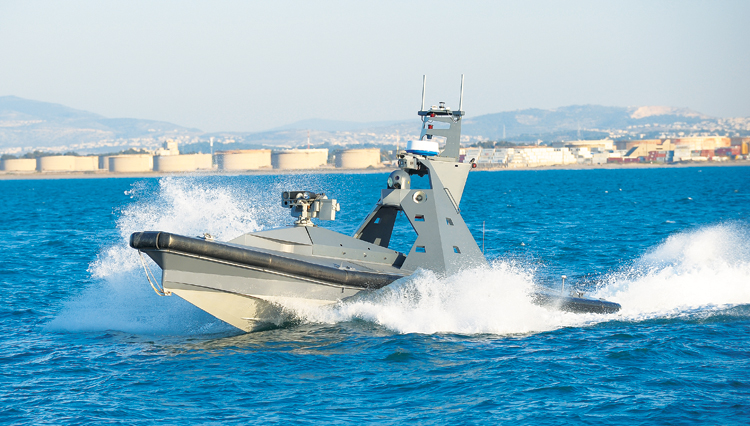 PROTECTOR unmanned surface vessel
Torpedo Defence. SHADE comprises the ultra-sophisticated Tactician threat modelling computer as well as the SCUTTER, a self-propelled, reactive and expendable soft-kill acoustic decoy that deploys and self-destructs automatically; and TORBUSTER, a soft-kill and hard-kill decoy that operates even in shallow waters. This torpedo neutraliser is the only hard-kill torpedo defense solution for submarines.
Naval UAVs
Israel has developed state of art technology for UAVs through their Malat division of Israel Aerospace Industries. India is already familiar with Searcher which is recce UAV and Heron MALE (Medium Altitude, Long Endurance) UAV which are held by its Defence Forces. As part of an ongoing evaluation, the Israeli Navy is considering a number of operational and developmental VTOL (vertical take off and landing) UAVs, including Israel Aerospace Industries' Panther which has a maximum take-off weight of 67 kg (148 lb) and has already been assessed by the South Korean Defence Forces. Hovermast 100 is an electrically powered, tethered hovering system that provides real-time ISR in virtually all-weather conditions. It can carry a payload up to 9 kg including CCD/IR (charge-coupled device/infrared) cameras, communication and additional sensors. It can carry out multiple roles including naval missions. They have also developed armed UAV like Heron TP.
IAI's Loitering munitions
IAI's loitering munitions systems like Green Dragon, Harpy and mini Harpy are capable of searching, identifying and neutralising high-value targets, precisely, effectively and independent of real-time intelligence in the maritime domain.
Naval Radars
ELTA's Naval Radars are state of the art digital multi-function systems which are scalable and can be modified to fit the new generation of naval vessels.
MF-STAR (ELM-2248). MF-STAR is a digital Active Electronically Scanned Array (AESA) multi-function radar which employs multi-beam and pulse Doppler techniques as-well-as cutting edge Electronic Coun ter Counter Measures (ECCM) techniques to extract low Radar Cross Section (RCS) targets from complex clutter and jamming environments. The MF-STAR antenna includes 4 scalable faces of active arrays in S-Band frequency. It has two ranges of >250 km and >450 km. It has also got ELM-2258 ALPHA Rotating Digital AESA radar suitable for OPV, Corvettes and Frigates and ELM-2238 STAR for surveillance and threat alert.
ELINT, COMINT, ESM and EW
ELTA's Naval Signal intelligence (SIGINT) and Electronic Warfare (EW) challenges comprises of various Electronic Intelligence (ELINT), Communication Intelligence (COMINT), Electronic Support Measures) ESM and EW systems which range from tactical level to national level. These systems are designed to cope with the challenges of modern, dense communications and radar environments, complex signal formats and evasive radiation patterns, and to build a real-time Electronic Order of Battle (EOB). They also provide time-critical intelligence, early warning Electronic Counter Measures (ECM) cueing. ELL-8385 Integrated UAV ESM/ELINT System is one example. EW systems focus on two main streams of ECM and Jamming and Communications Jammers (COMJAM). They are installed on the Israel's Navy Dolphin class submarines and are on-board submarines of several other navies worldwide. Some key systems are Combat Management Systems; Submarine electronic warfare system, Shipboard decoy countermeasure launching systems, Satellite communication systems, Data communication and data link systems and many more.
Unmanned Surface Vessel (USV) Seagull
Elbit Systems stated that the Israeli Navy has successfully deployed its USV Seagull in exercises while working with the Greece's navy along with its HELRAS "dipping" sonar. Seagull and HERAS can conduct mine counter-measures involving the detection, categorisation, localisation, recognition and neutralisation of seabed, tied up and floating naval mines. The Seagull, designed and manufactured by Israeli defence company Elbit Systems, is a 40-foot aluminium and composite boat usable in manned or unmanned situations, with a sonar system several feet below the hull. It can continuously operate on the sea for up to four days.
Sonar
Rafael has developed a new sonar which is operated on Dolphin submarines together with the original sonar systems installed. The algorithms used in the new sonar system enables it to ignore many of the noises that can disrupt the range of the systems' activity, while detecting noises at longer range. The new sonar increases our detection rate by up to 40 per cent, thereby enabling us to neutralise noises that interfere with the submarine's work. It is claimed that the new sonar also include detection of vessels with a low noise signature.
Technologies and Subsystems
Rafael develops and produces a wide range of components and subsystems for its own products and for companies worldwide. The technologies include technologies for radar and RF; propulsion and explosives and other unique technologies.
Research
Israeli companies are carrying out research in areas like acoustic warfare, directed energy weapons and active protection.