The Indian Navy - US Navy Passex conducted on July 20, 2020 was a timely initiative. With China persisting with its confrontational expansionism even in the middle of a global pandemic, it was important that other strong protagonists of current geopolitics, like India and USA, conveyed a meeting of minds.
Maritime operations, especially involving large numbers of ships, submarines and aircraft is a complex affair. Big Fleets physically occupy large parts of the oceans as they traverse, and remain capable of monitoring and influencing events within greater amount of areas on the surface of the sea, in the air above and under water. Efficient Doctrines, Communications, information sharing, situational awareness, weapon and sensor placements, replenishment and inter Fleet redeployments are critical elements of successful maritime operations.
"I want to highlight our increased defence cooperation with India, one of the all-important defence relationships of the 21st century. We conducted our first ever joint military exercise last November. As we speak, the USS Nimitz is conducting combined exercises with the Indian Navy in the Indian Ocean, demonstrating our shared commitment to stronger naval cooperation and supported by free and open Indo-Pacific." —US Defense Secretary Dr Mark T. Esper
Since each Navy tends to develop what is optimum for themselves under their geographical, geopolitical, technological, fiscal and operational realities, operating philosophies differ from Navy to Navy. Navies of friendly nations which share operational challenges therefore conduct joint exercises to learn about each other's operational philosophies and procedures, and to gain familiarity. The aim is to prepare for cooperation at sea and joint operations if necessary. This is not easy to achieve.
The centrality of the Indian Ocean to world trade, the position of the Indian Navy as the dominant Navy in the IOR and Indian Navy's sheer competence has resulted in a large number of Navies teaming up with the Indian Navy for joint exercises, for many decades. With several editions of Exercise Malabar with US Navy behind us since 1992, much familiarity exists between Indian Navy and US Navy. Passexes, viz, exercises between forces as they pass by each other, as the term suggests, are not planned well in advance and are quickly rustled up events. That a Passex involving the kind of large formations that we saw on July 20 was possible, is proof, that the Indian Navy and US Navy are comfortable with each other and can easily combine in operations if and when the need arises. It was a timely signal to those who require it.
US Navy and Indian Navy at Sea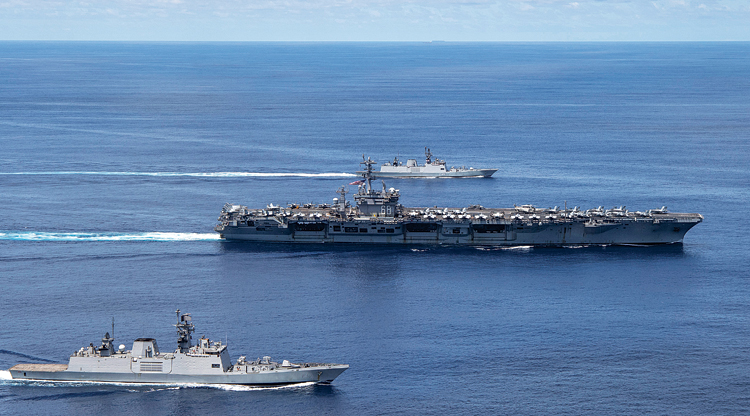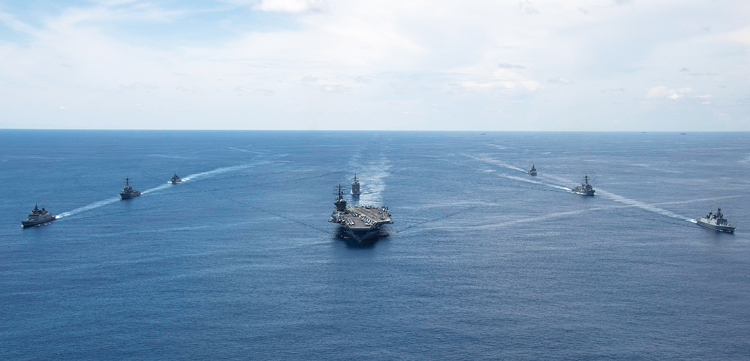 (Top, Middle and Above) The Nimitz Aircraft Carrier Strike Group including Ticonderoga-class guided missile cruiser Princeton and Arleigh Burke-class guided missile destroyers Sterett and Ralph Johnson, alongwith the Indian Navy ships INS Rana, INS Sahyadri, INS Shivalik and INS Kamorta in formation during a cooperative deployment in the Indian Ocean Region.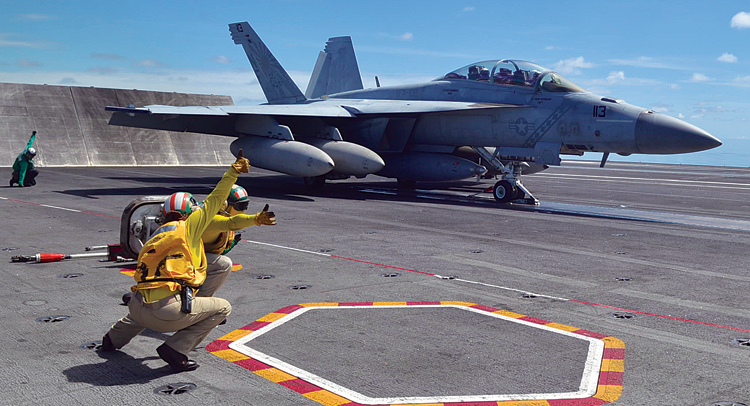 An F/A-18F Super Hornet launches during flight operations aboard the aircraft carrier USS Ronald Reagan conducting operations in South China Sea, in support of a free and open Indo-Pacific.