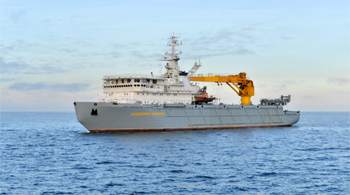 Northern Production Association Arktika (member of United Shipbuilding Corporation) was founded in 1952. Main directions of activity are wiring works, adjustment and tests of all electric systems and electrical equipment in warships under building and repair. There are already more than 200 of such ships, including diesel-electric submarines and aircraft-carrier Vikramaditya of Indian Senior Service. Professionals perform adjustment, service maintenance and repair of radio communications systems, radiolocation and radioreconnaissance, television, navigation, hydroacoustics and hydrolocation, automation of handling the torpedo and missile weapon, ship mechanisms of protection and handling nuclear reactors. The company also develops and assembles unique optical-fiber cable marine lines, manufactures and repairs ship electrical engineering: boards and control panels, hermetic cable junctions, busbars, luminous-signal gears and other similar items. Besides, manufactured production is delivered to space centers Baikonur and Plesetsk.

At present JSC "NPA "Arktika" takes part in construction engineering of nuclear submarines of the fourth generation, repair and modernization of the Admiral Nakhimov cruiser, the Admiral Kuznetsov aircraft carrier. The Association is actively working on opening regional production branches in Russia. The creation of technical-scientific center is also planned for coordination of wiring works at building and repair of ships and vessels with designers of ship systems, complexes and equipment.
The Company has central factory laboratory featuring the newest equipment enabling to hold all types of electrical, climatic and mechanical tests. High technical activity level of the laboratory is confirmed by approval of Ministry of Defense of Russia, by recognition of the Russian Maritime Registry of Shipping and Russian River Registry of Shipping.
JSC "NPA "Arktika" has licenses, certificates and approvals for all types of its activity. Quality management system efficiently functions according to requirements of standards.
Oleg Loginov, General Director of Arktika said that the Association is proud that huge experience, unique equipment and professional staff help handling serious challenges and solving all tasks which arise. Mr. Loginov confirmed that Company used extend scope of interests, develop various directions of activity and always ready for collaboration with new partners.